Fine lines, wrinkles, age spots…
Sooner or later, each and every of us will have to face these dreaded symptoms of maturing skin.
And even though aging is inevitable, this doesn't mean you can't do your best to mitigate the already existing damage.
Moreover, if you've already noticed some of these symptoms on your skin, there are a number of ways you can relieve them and shield your tissue from even more harm.
Of course, this might require a bit of extra effort on your part – both in terms of skin care and your day-to-day habits.
Luckily, with a little bit of planning and persistence, you will be able to see your skin gradually change for the better. 
Here are some tips on how to keep premature signs of aging at bay and preserve healthy, youthful complexion.
Moisturize Like You Mean It
As we age, the production of natural oils in sebaceous glands slowly decreases.
The thinning of fatty tissue translates to loss of volume and dewiness in your skin. Moreover, you might start experiencing increased flakiness and dry patches.
Moreover, when your skin is robbed of moisture, fine lines and wrinkles gradually become more pronounced. 
And that's not all. When the cells are parched, your skin also loses some of its ability to protect itself from environmental pollutants.
The key to avoiding these issues is simply to make sure your skin is always moisturized.
To do this effectively, it's handy to remember that hydration in skin care does not begin and end with moisturizers.
Precious H2O can be extracted from other formulas that should be included in your everyday skin care regimen.
For example, when it comes to cleansing, this means ditching the astringent, alcohol-laden face washes and opting for something creamier, like a cleansing balm or jelly.
If you want to find that holy grail formula which will wipe away all the daily grind and prevent occurrence of breakouts, try out cleansers enriched with salicylic acid, a component which has gentle exfoliating properties.
To prevent the initial loss of moisture in your skin right after cleansing, skip the towel and dive right into your hydrating toner while your face is still damp.
Once your skin is toned and the pH balance is restored, it's time for a nourishing serum, which will infuse all those precious active ingredients deep into the skin cells.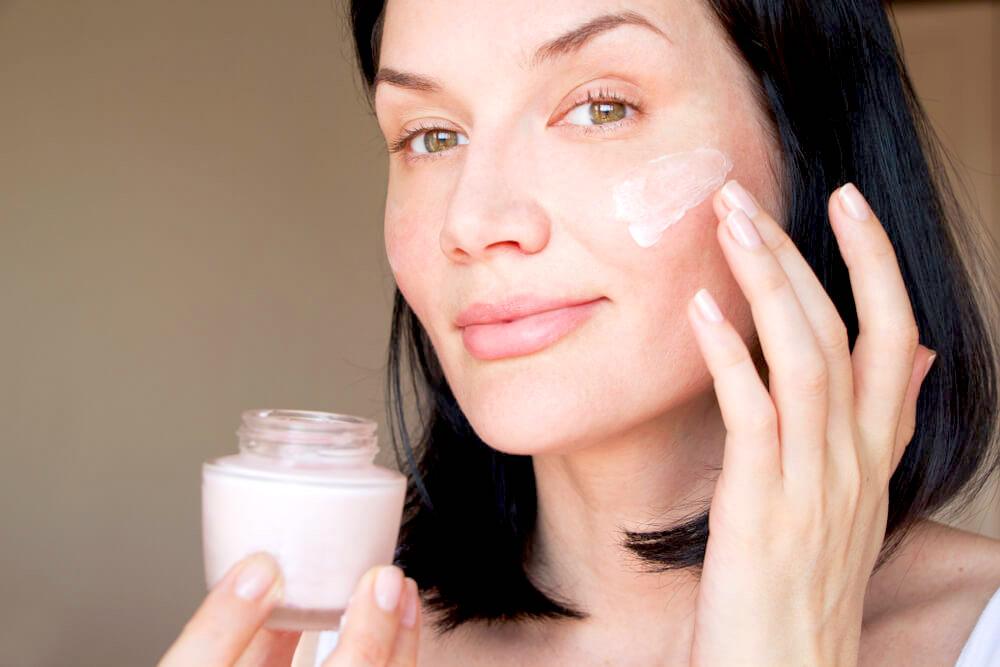 Lock in all the hydrating layers you've just applied with a nutrient-packed moisturizer.
At night, you can also take your routine a step further and incorporate a sleeping pack into your regimen.
Know Your Ingredients
Once you start noticing first signs of aging on your skin, you might want to interpret that as an sign to take your skin care up a notch.
This means those generic face washes and moisturizers you've been using all these years might not do the trick anymore.
So, how do you identify the right kind of products for your skin concerns?
Hitting the drugstore might seem a little daunting, especially when you're faced with shelves stacked to the gills with anti-aging-labeled products.
To make sense of the cosmetics industry's fast-growing offer, it's important to get to know the essential ingredients that have notable rejuvenating powers in terms of skin care. 
Also, always read the labels.
Ceramides have been gaining more traction in the beauty business and, nowadays, you can see them marketed on cosmetic product of all sorts. 
These lipids (oils) are one of skin's natural components. They are in charge of forming skin barrier, which helps lock in the moisture in your skin. 
By incorporating formulas that contain this protective ingredient, you will ensure your skin is shielded from outside pollutants.
Hyaluronic acid has long been one of the most raved about active ingredients, and for good reason, too. 
This active ingredient is a godsend for people who suffer from dull complexion, but also for those who are experiencing fine lines and other imperfection. 
It also absorbs moisture from the air, contributing to soft and supple appearance of the skin.
Co-enzyme Q10 is another ingredient that often gets mentioned when people discuss anti-aging skin care. This powerful antioxidant provides protection for the collagen and elastic tissue that are contributing to the plumpness and firmness of your skin. 
If you regularly treat your skin with product infused with co-enzyme Q10, you will promote smooth texture and balanced complexion.
Put On Sunscreen Religiously
If you can get your hands on only one anti-aging skin care product in this lifetime, make that a sunscreen.
No amount of toners, serums and moisturizers will do your skin good until you shield it from its number one enemy – sun's harmful rays.
Increased exposure to sun without any protection can be a disaster for your cells. Other than drying and irritating your skin, the UV rays will also exacerbate any existing skin conditions (such as redness or rosacea), but also cause your wrinkles, fine lines and age spots to become even more prominent.
Needless to say, none of this is a good look.
So, before you even think about stepping outside in daylight, always make sure to arm your self with heavy-duty sunscreen.
Unfortunately, this doesn't include your SPF-infused makeup products.
To maximize on sun-proofing properties, you'll need the real deal: broad spectrum with an SPF of at least 30.
Sunscreen can be applied at the very end of your skin care routine, after moisturizer and just before your makeup or primer.
You shouldn't be willy-nilly about it either – go for a generous amount (about one tablespoon) and apply it all over your face, neck and décolletage. Since ears, like any other high point of the face, tend to be most prone to burning, make sure not to neglect them, either.
Since the effect of sunscreen decreases as the day progresses, make sure to reapply it often, especially if you plan on spending prolonged periods of time in direct exposure.
If you want to elevate your sun protection game, invest in a pair of oversized sunglasses and a chic, wide-brimmed hat. This way, not only will you be shielded with your skin care, you will carry shade wherever you go.
Fight Dehydration with Sheet Masks and Mists
Sometimes, our AM and PM skin care routine isn't quite enough to feed our cells completely.
This is especially the case for people whose skin tends to be on the drier side.
And when the skin is feeling parched and you can't afford to go into a full-on routine, you might need to find alternative means of supplying your cells with the precious H2O.
Luckily, there's a revolutionary product that's been designed for this very purpose – face mists.
These thin, water-based formulas are incredibly lightweight, yet packed with all the skin-boosting ingredients that can bring back the radiant look in an instant.
Due to their barely-there formula, face mists can be applied under or over your makeup. Since they're designed to be compact, you can carry them around wherever you go and use whenever your skin need a little lovin'.
Another product that has reached a superstar status among beauty connoisseurs are sheet masks.
This fun, insta-worthy skin care tool can quickly make your skin go from dull to downright amazing, thanks to being soaked in essences which contain a high concentration of skin-pepping ingredients.
They can be applied when you're lounging around your house and have an extra 30 minutes to spare for a DIY facial. Simply slap one on, do something else for about 15-20 minutes and – voila – your skin will feel refreshed and rejuvenated once you take it off.
Alternatively, if you plan on wearing a full beat, you can use a sheet mask as a tool for prepping your skin and creating a smooth, supple canvas that will be easier to work with.
Fight Hyperpigmentation with Vitamin C
As you go on through life, you might notice your skin developing age spots, or that certain areas on your skin are becoming darker than usual.
Moreover, old acne scars may rear their ugly heads again, this time even darker than before.
You shouldn't despair, however.
In most cases, you can at least partially minimize the appearance of hyperpigmentation.
And your most valuable weapon in that fight shout be Vitamin C.
This powerful antioxidant is known for its incredible brightening properties, which is why you'll often find it many beauty products targeted at people with mature skin.
To treat your skin with this potent ingredient at its most concentrated, go for Vitamin C-enriched serums or spot treatments.
Keep in mind that introducing Vitamin C into your skin care routine comes with a couple of footnotes.
Namely, you should always store your serum or other Vitamin C-infused product in a cold and dark spot to keep it from oxidizing.
Additionally, since Vitamin C is photosensitive, you should apply it in the evenings. If you plan on using it as a part of your AM routine, always follow up with a decent amount of sunscreen.
Tackle the Area Around Your Eyes
The area around your eyes is one of the first places where you will start noticing signs of aging.
The so-called crow's feet (fine lines formed from laughing and squinting), as well as emphasized dark circles are only some of the symptoms of aging skin in the eye area.
And since skin around your eyes tends to be thinner and more delicate than the rest of your face, you should treat it with extra care.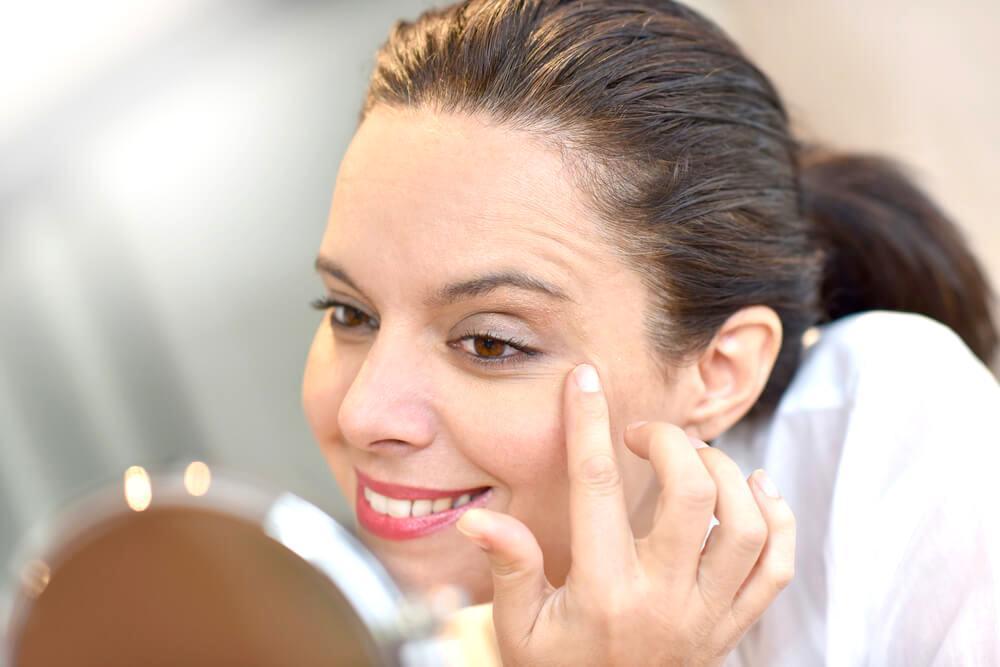 The first step would be to treat your under-eye area with a nourishing eye cream. If you want to address dark circles, look for products with brightening properties, such as Azelaic acid and Vitamin K.
And when you feel like your eyes need an extra dose of TLC, you can pamper them with skin-relieving eye patches.
If this area also experiences some puffiness, you can make your own soothing ice cubes that you can apply in the morning, just before your skin care.
All you need to do is fill up an ice tray with water and add green tea or cucumber slices to make it even more refreshing.
Tweak Your Makeup Routine
As we've already established, main concerns of aged skin are fine lines, wrinkles, hyperpigmentation and loss of shine.
Just like it's the case with skin care, your choices in makeup should be adapted so they can address you skin concerns in an optimal way.
For example, if your skin is prone to dehydration, you might want to ease on powders and other mattifying formulas.
When choosing your base products, i.e. concealers and foundations, you should gravitate towards liquid formulas, as they will plump up your skin without further emphasizing your imperfections.
When it comes to minimizing dark spots, opt for a salmon-toned correctors, as this will cancel out the purples and browns of the hyperpigmented areas.
Instead of a traditional blush, try out a cream or liquid one. Simply dab it onto the apples of your cheeks using a makeup sponge or even your fingers for a super-natural look.
Keep the eyes minimal and stay away from harsh pigments if you don't want to bring attention to imperfections in this area.
Instead of black mascaras and liners, opt for brown and dark purple ones. They will look flattering on the eyes without appearing overly harsh or dramatic.
Since lips also tend to lose volume as we age, give them an illusion of plumpness by coating them with a moisturizing lipstick or lip tint.
You can always cheat the glow by adding a touch of highlighter on the high points of the face. Go for a subtle formula (not overly icy or glitter-laden) an apply it to your cheekbones and on your cupid's bow.
If you need to powder, do so strategically: a light dust of translucent powder on the nose, forehead and chin is all you need if you want to avoid the overly dry, matte look.
Hopefully, this essential guide on how to combat signs of aging has helped you realize that it's entirely possible to sport a healthy, beautiful complexion regardless of your age. With a few tweaks and a little bit of patience, we are positive you will start seeing results on your skin as well.