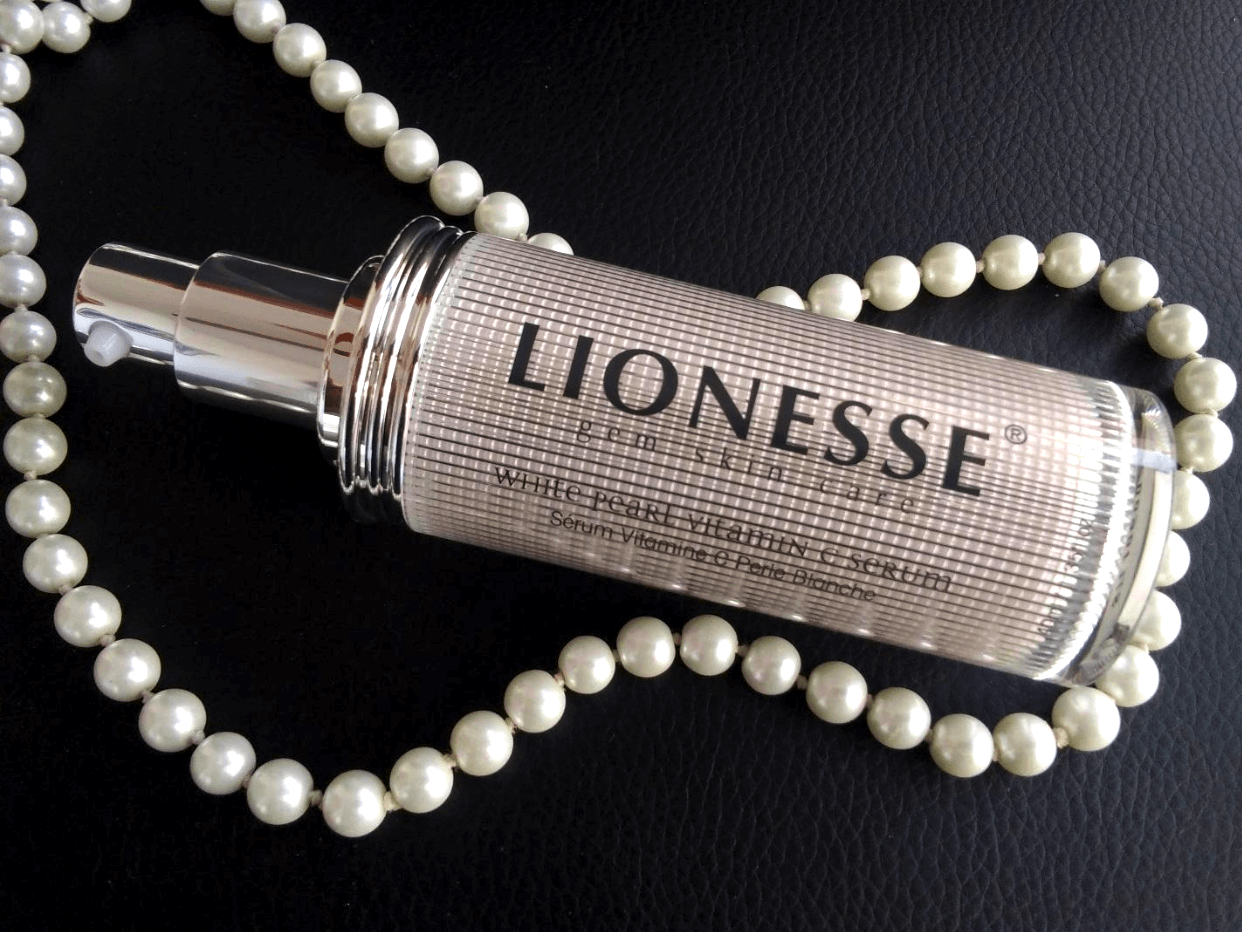 I Tried Out Lionesse Gem Skincare and Here's What I Think
|
Pearls are actually the only type of luxury jewelry that I like; black and gray ones (known as Tahitian pearls) are my favorite, while white and cream toned pearls are a classic. Want to hear a little truth about pearls?
They're actually good for your skin, too.
Shine the Light on Pearls
Pearls can be natural or cultured, natural when another organism enters a mollusk, and cultured when a human inserts something like a mother of pearl bead or a piece of tissue into the mollusk.
Natural pearls are very rare, most are cultured. Not all mollusks produce a pearl, and different types of mollusks produce different looking pearls. This is why not all pearls are round, some are oval, pear-shaped or "misshapen", which are called baroque. There are also differences between pearls cultured in saltwater or freshwater. You can also have imitation pearls which are coated glass beads, and unless you are a gemologist (yes, that exists) you won't be able to tell the difference.
When I think of pearls, I think of glamour, vintage fashion and Hollywood divas. I have a pair of cream pearl and gray pearl earrings that I wear most of the time (and makes me feel like a Hollywood diva — within the safe walls of my home). 
And now I will also think about the White Pearl Collection from Lionesse and the type of woman of who would use these skincare products.
A Little About Lionesse
Lionesse has about nine different skincare collections, seven of them under the Gem Skin Care name. They have Amber, Black Onyx, diamond, Golden Sapphire, Opal and Morganite. They have products for all skin types and skincare concerns, they offer skincare devices with LED technology, plus their collections can be mixed and matched if you so desire. I am all for mixing and matching products but this time I am sticking to these two products from the White Pearl Collection.
Lionesse White Pearl Facial Peeling
Let's start with the White Pearl Facial Peeling which is a gommage-type of peeling/exfoliator. 'Gommage' is the French word means "to erase" because to take it off you have to rub off as if using an eraser.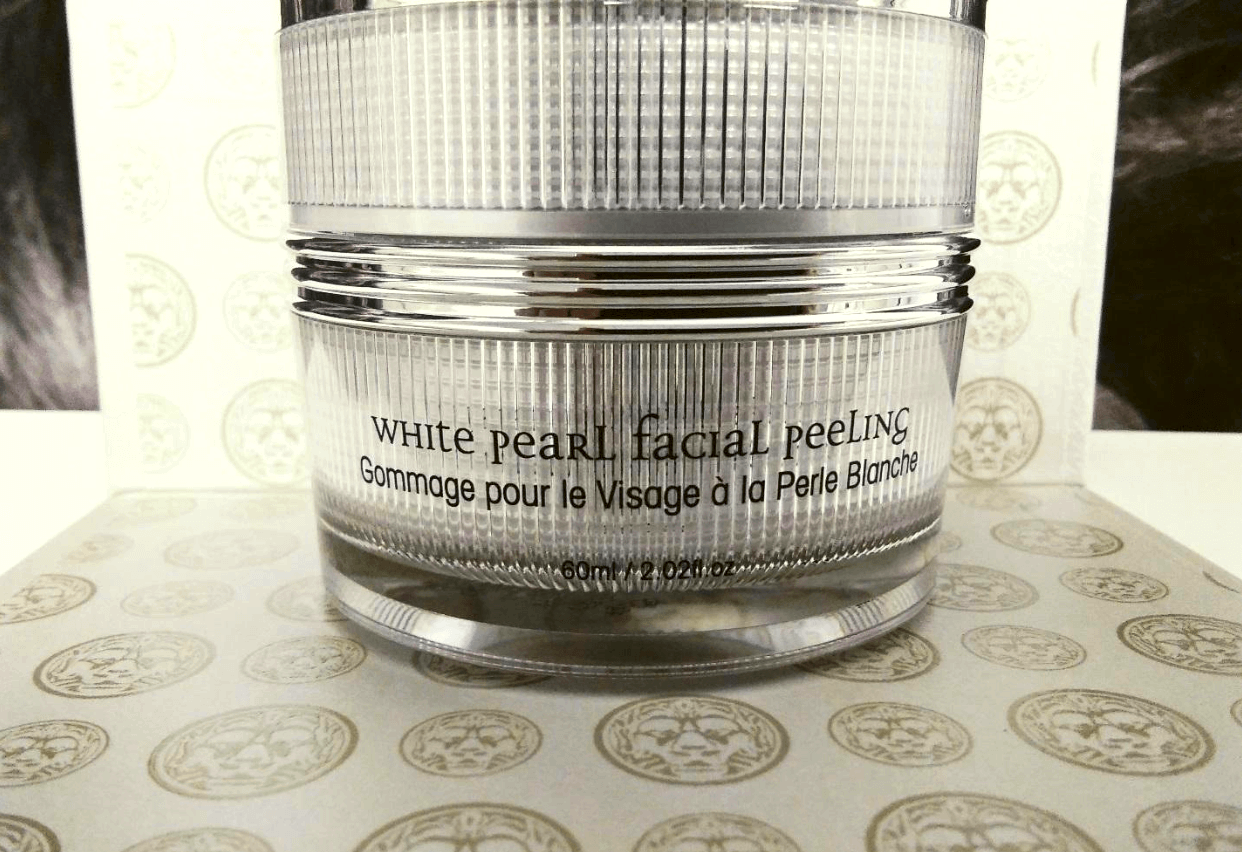 It sounds harsh but it's actually a gentle form of exfoliating compared to products that have rough plastic beads (that damage the ocean when rinsed away) or chemical exfoliators that should be done by a dermatologist, or a skincare professional in a spa or an estheticians cabin.
Take note: Gommage peelings are not recommended for people with older, thinning facial skin or pimples that are about to break, because of the rubbing motions that are needed to take off the gel textured product.
Besides having to rub it off, gommage peelings usually have an ingredient that helps to exfoliate in a powder form.
This facial peeling is made with:
Glycerin and Propylene Glycol: Two very common and natural occurring alcohol compounds that are mainly used as humectants and viscosity controllers in many cosmetic products.
Carbomer: Don't be afraid, it's a weird name but it's what is used to get that gel texture.
Nut Shell Powder: The star of the show. You can see some brownish specks in the clear gel of the product, its this ingredient. Nut shell powder can be made of shells form many nuts (even coconuts) but walnuts tend to be the ones mostly used. The hard, outer shells are grinded into a fine powder to work as a gentle exfoliator.
Pearl Powder: Now, let it be known that I consider it a travesty to take beautiful pearls and grind them down to a fine powder, but it works as a gentle exfoliator just like the nut shell powder, and has a shimmery effect to it. Pearl powder has been used since Cleopatra allegedly, and people in some parts of Asia even add it to their diets. Pearl powder has amino acids and over 30 trace minerals such as: calcium, magnesium, copper and iron.
Now that you have a better idea of what the product is made of, you can decide if this product is potentially suitable for your skin. It is important to do research on what we put on our skin and in our bodies. Understanding that many ingredients might have weird names but work as humectants or just for texture is important too. There are so many products for skincare, so always remember to follow the correct order for skincare products: cleansers, peelings/exfoliators, masks, serums, moisturizers.
After cleansing the skin, pat dry with a soft cloth and take a small amount of the gel textured peeling and apply it to your face, massage with gentle circular motions (this is the rubbing part) for about 30 seconds and then rinse until skin feels free of residue. When massaging anything on your face and neck remember to always use uplifting motions nothing that will "drag" your skin down, you want to fight sagginess and loss of elasticity not promote it.
What you notice is softer skin but not red or irritated, if you do, then your skin might be too sensitive for this type of peeling. This peeling can be used one to two times a month depending on skin type, age and lifestyle. I use peelings once a month not to overstimulate my oil producing glands which can be easily triggered. The same for dry skin types, you don't want to dry out your skin.  
This is where you would apply a facial and/or eye mask if you are doing a full at-home skincare treatment. After rinsing the mask, you would apply a serum.
Lionesse White Pearl Vitamin C Serum
This is where the White Pearl Vitamin C Serum would step in. This serum represents one of my favorite skincare products ever, vitamin C in serum texture.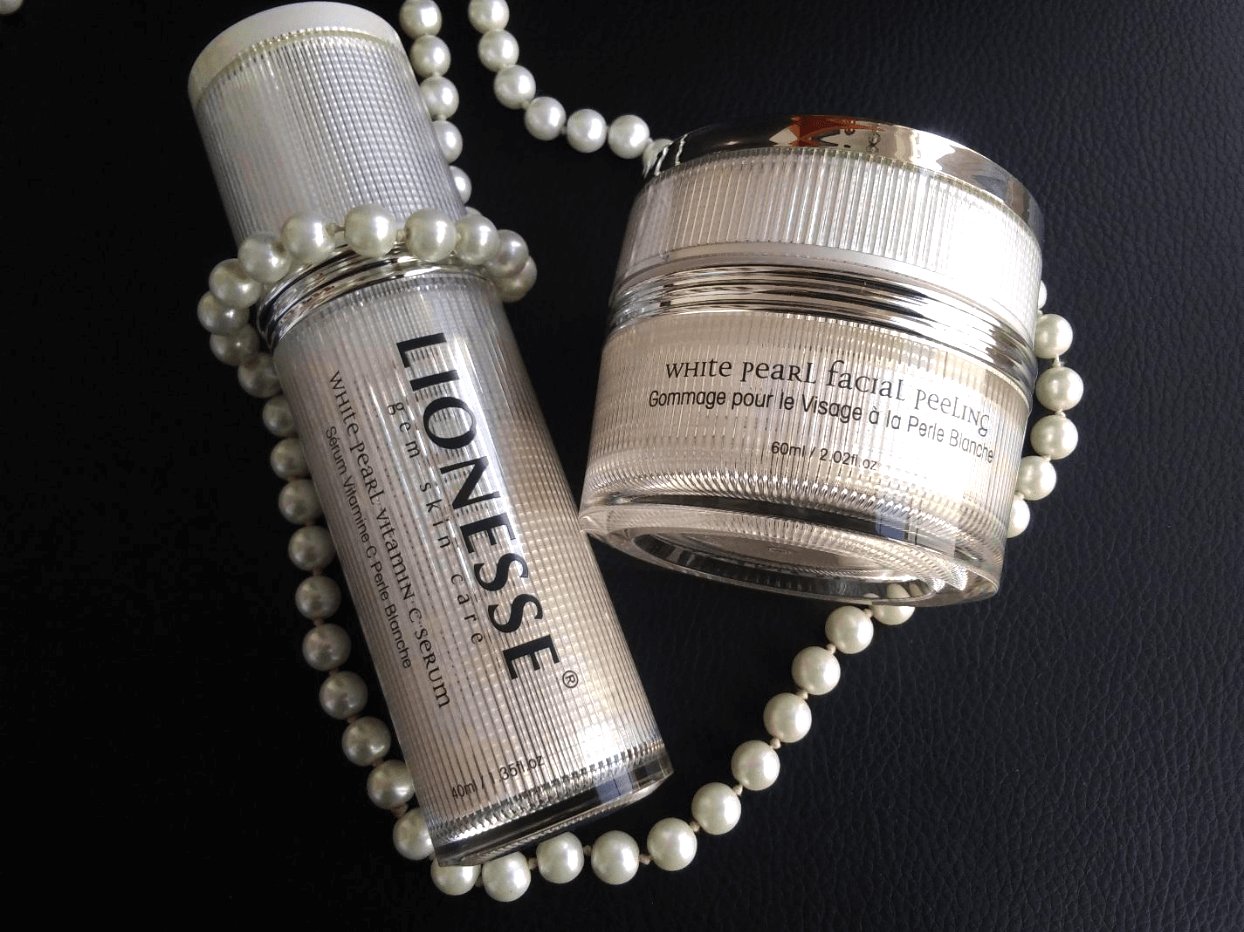 Now, this type of product works wonders for me because I have combination to oily skin, and on top of that I live somewhere where it's sunny and hot most of the year. Given that serums are lightweight but full of efficient ingredients, they leave my skin well hydrated but without clogged pores or any heavy feeling residue.
Serums can also be used by themselves for oily skins, for hot and humid climates, and under moisturizers for drier and more mature skin types, and anyone living in colder climates with dry air or lots of pollution.
The other thing about this serum is that it's a vitamin C serum. I love the use of vitamin C in skincare products because it helps mitigate some of the harsh skin effects of the sun.
Don't know what the sun does to your skin?
It can cause dark spots, premature aging signs like fine lines and wrinkles, and a loss of glow. I spend a lot of time under heavy sun especially on the weekends, and when I was younger I would go to the beach about three to four times a week. I remember a skin care professional telling me at 18 that I was going to need to use skincare products with vitamin C to deal with all the sun exposure. At that young age, however, I thought that vitamin C was just a vitamin you took as a health supplement.
You might have heard about this already, but I am going to double down on it. Vitamin C has great antioxidant properties, which means that it helps inhibit oxidation and it deals with the damaging effects that free radicals have on our bodies and skin (photodamage). Besides applying vitamin C in topical form, we can also eat more vitamin C rich foods such as peppers, kale, broccoli, papaya, berries, brussels sprouts, pineapple, kiwi, mango and of course oranges.
You will see vitamin C identified with various scientific names, because everything in life is a chemical and has a scientific name (science is great):
Ascorbic acid: being the most common and most effective for topical administration
Ascorbate phosphate
Ascorbyl palmitate
3-0-ethyl ascorbic acid
The thing with vitamin C is that it can get unstable when exposed to air, so make sure that when you buy products with vitamin C that the packaging and the container are sealed and that they preferably have a pump nozzle.
Since serums carry more skin-loving ingredients in a lightweight texture it is recommended that you wait for your skin to dry a bit or pat dry with a soft cloth before applying just a bit of serum (two to three small drops) and gently massaging in lifting motions, so the skin can fully benefit from the hydrating effects without it being dissolved too fast which might be irritating to some excessively sensitive skin types.
Don't Forget…
It's easy to forget about your neck and décolleté when applying skincare products like masks, serums and moisturizers, unless you have a product specifically designed to hydrate those areas. This is why I use my day serum down to my cleavage and then at night I have a special product for my neck and chest area. This serum can be used day and night up to three times per week, but I prefer using a product with SPF during the day and then using a vitamin C infused serum at night.
Always do a skin patch test 24 hours before using the product to make sure that you won't have an adverse reaction. Both products have a shelf life of 20 months after opening them.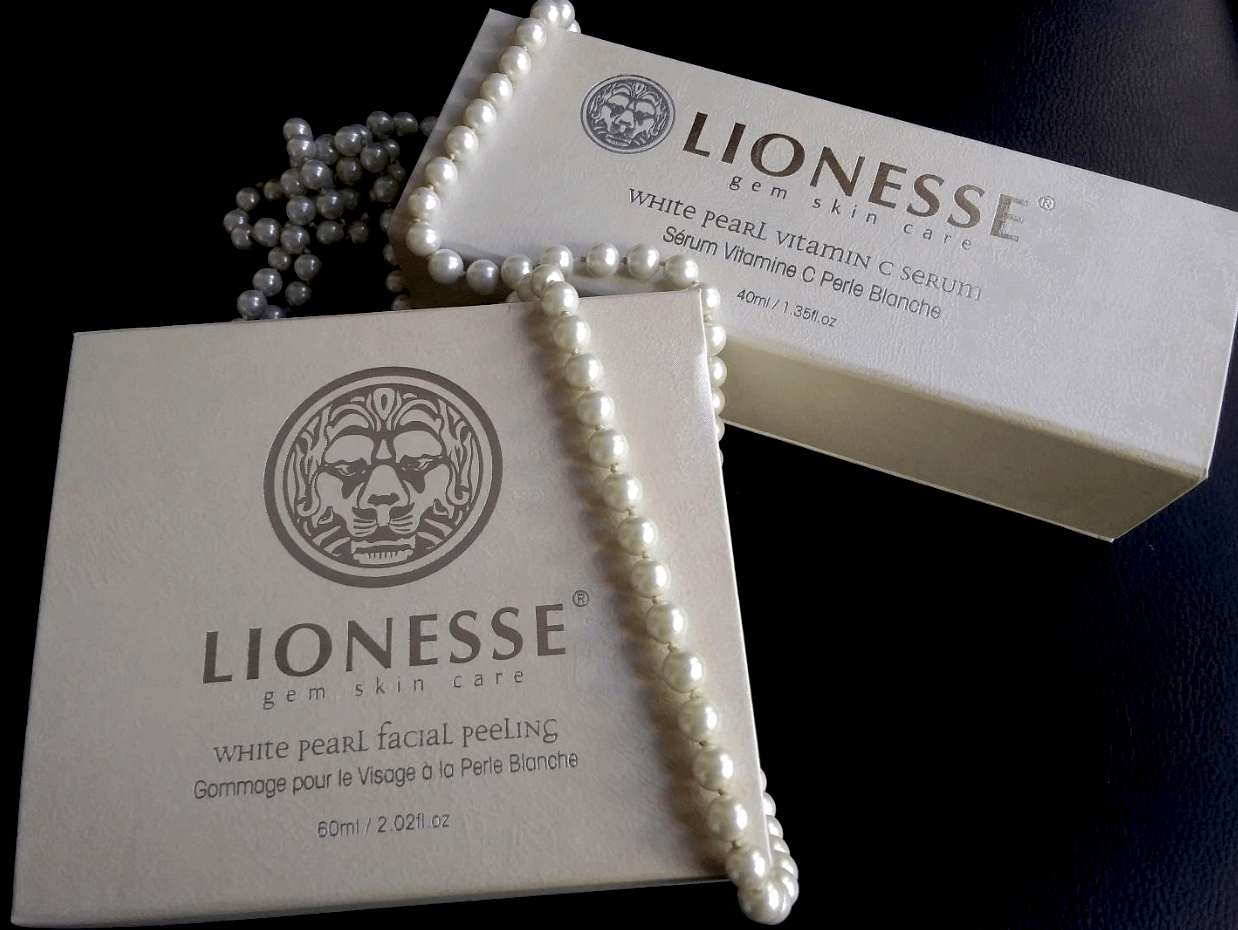 Now that we have covered all the most important aspects of these two skincare products from Lionesse, let's move on to packaging, packaging has to with the brand also and nobody wants ugly looking cosmetic bottles and containers in their rooms or bathrooms.
Both products come in recyclable boxes with a magnetic closure, with shiny cream-colored hues that simulate texture, the Lionesse logo is seen repeated across the sides of the boxes. The facial peeling comes in a 2.02fl oz. clear and white hard plastic container (they can fall, and nothing will happen) with a mirror-like silver lid. The vitamin C serum comes in a 1.35fl oz pump nozzle style container, clear and white with silver and cream-colored details.
The White Pearl Collection also has a cleanser, a day moisturizer, a night cream, a facelift filler and a 2-step cleansing kit. (you can buy them online too and they have free shipping on all USA orders)
If you want to check out any other products from Lionesse, they also have hair tools, also, if you own a salon or work as a skincare professional they offer wholesale opportunities.
You can also check out their social media channels: Instagram, Facebook, Twitter and Pinterest.