Flakiness, feeling of tightness (the bad kind!), rough patches… does this sounds like something that happens to your face?
We've got some bad news for you: you might be suffering from the dreaded dry skin syndrome.
Not only is the feeling of moisture-deprived skin uncomfortable, it can also be a pain when it comes to makeup. Fail to treat your skin properly, and you may end up emphasizing every miniscule imperfection on your face once you apply foundation.
However, you shouldn't despair: there are still ways to restore moisture levels in your skin and achieve soft, supple complexion.
All it takes is patience and a little bit of skin care know-how.
Check out our guide to help you prevail in the battle with dry skin.
Steer Clear of Moisture-robbing Cleansers
One of the easiest ways to establish whether you have dry skin is to wash your face. If you are experiencing tightness, then your skin will undoubtedly benefit from extra moisture in your everyday routine.
And, as we all know, every good beauty regimen starts with cleansing.
However, if your skin is experiencing some dryness, you may want to avoid using just any old cleanser.
Especially when you take into consideration that some of them can actually strip your skin off its natural oils and contribute to even more dryness.
So, what kind of face washes should you reach for instead next time you find yourself in a drugstore?
The most important thing is to pay attention to is formulas.
For example, when it comes to removing make up after a long day, people with dry skin may benefit from using oil or balm cleansers, which can help break down even the most stubborn of makeup without drying out your skin even more.
For subtler cleansing options more suitable for your day-to-day wash, get your hands on milk or jelly cleansers. They will rinse off all the pollutant that accumulate throughout the day, but still remain gentle on your skin.
Avoid Alcohol-infused Toners
Toning is an essential part of every thought-out skin care routine.
And yet, a lot of people with dry skin still shy away from toning their skin, in a belief that most toners are laden with alcohol and other moisture-stripping substances.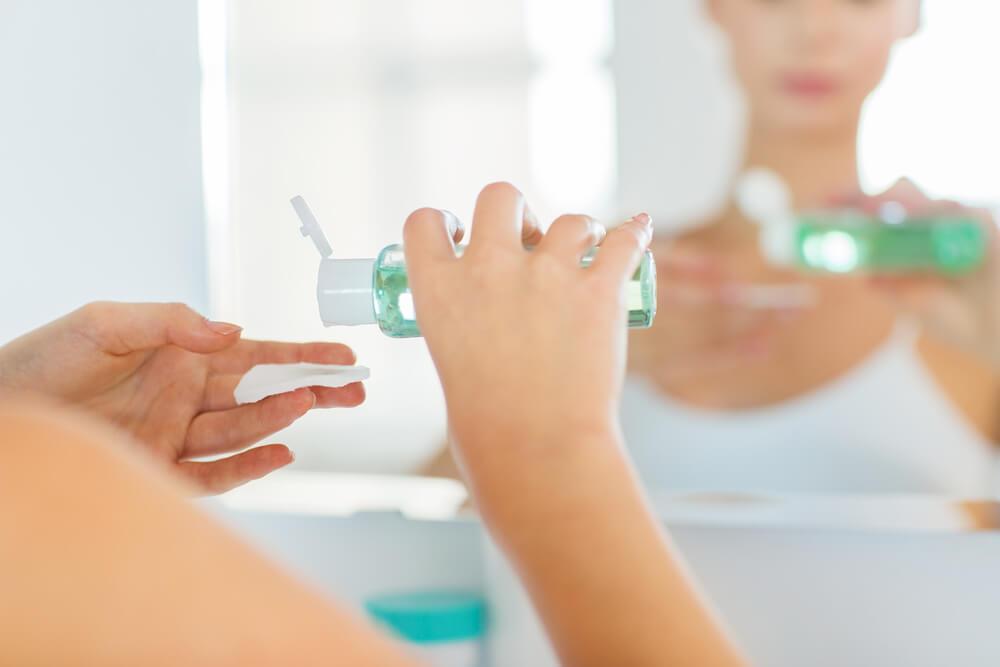 Luckily, skin care formulas have greatly evolved in recent times, so the new generation of toners has a twofold power – as product that balances out your skin tone and replenishes it with moisture.
To find out where to get your hands on one of these skin-soothing products, look into Korean or Japanese beauty brands, which are known for their moisture-enriched toners.
Opt for Gentler Exfoliation Methods
If your skin tends to get patchy, your natural instinct might be to reach for a scrub that will banish the flaky outer layer of your skin.
And while gritty face washes might give you that instant satisfaction of smooth, squeaky-clean skin, they actually reduce the amount of sebum or naturally produced oil. This, of course, leads to even drier skin.
Luckily, there are ways to battle flaky, cracked skin without resorting to harsh exfoliants. The solution lies in products infused with ingredients that are effective in breaking down and removing dead skin cells without robbing your skin of the much-needed moisture.
These ingredients are known as AHAs (alpha hydroxyl acids) and BHAs (beta hydroxyl acids), which can do magic when it comes to shedding old skin layers and boosting cell turnover.
People who fall into the dry skin type category might especially benefit from introducing AHAs into their everyday routine, as this acid variation tends to be more gentle on the skin.
When you go on a hunt for your ideal acid-based exfoliator, here are the AHAs to look out for on the ingredients list:
Glycolic acid
Lactic acid
Citric acid
Due to their incredible exfoliating properties and presence of photosensitivity, AHAs and BHAs should always be followed with a thorough moisturizing routine and high-SPF sunscreen.
This conveniently leads us to the next dry skin tip, which is…
Learn to Layer
We all known the age-old skin mantra, repeated in beauty magazines like A-B-C: cleanse, tone, moisturize.
And while this is a good foundation for an effective skin care regimen, if you are battling cracked or itchy skin, you might want to step up your game.
In recent years, cosmetics connoisseurs around the globe have been raving about the 5, 10 or even 12-step skin care routines that are already hugely popular in Korea and Japan.
And while these elaborate beauty routines might seem excessive to the casual observer, most of the steps actually entail nourishing your skin with different types of hydration-packed products, which can immensely help your cells with absorbing and locking in the moisture.
If the whole process still seems a little overwhelming to you, here are some basic pointers that can help you build your very own K-beauty-inspired skin care regimen.
Firstly, if you are not sure in which order the products are supposed to be applied on the skin, remember one simple rule: go from the lightest to the thickest.
This means that, after you've cleansed and toned your skin, you should follow up with an essence. These water-like skin superchargers are chock-full of soothing ingredients that will help restore the pH balance in your skin and prep it for additional moisture.
Essences are usually followed by serums, which you can think of as more concentrated moisturizing agents that have the superpower to penetrate deep into your cells and supply them with all those active ingredients that will help perk up your skin's overall appearance.
Once you've applied a serum, you can follow it with a sheet mask, which are explained in more detail further down the article.
Finally, lock in all those skin-energizing ingredients with a rich, rejuvenating moisturizer.
Seal in all your hard work with a high-SPF sunscreen and your extensive beauty routine is complete!
Choose a Skin-drenching Moisturizer
No matter how simple or elaborate your beauty regimen is, when it comes to defeating dry skin, it all boils down to one product.
You've guessed it right: it's moisturizer.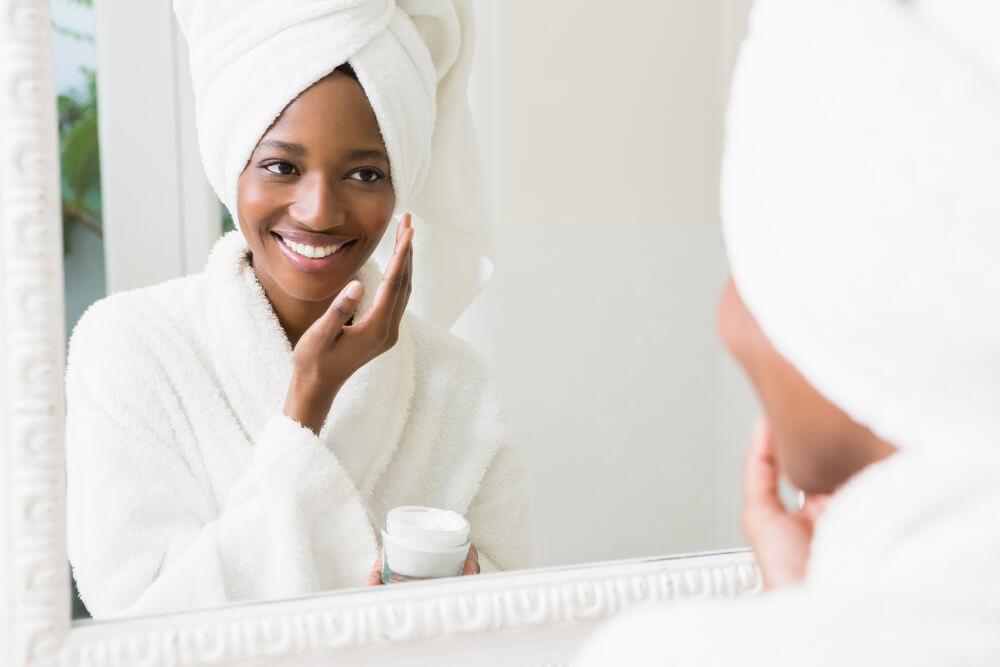 And while whatever cream you're using right now might be effective in replenishing your skin with some moisture, if you want to eliminate the symptoms that come with having dehydrated skin, you will want to put more consideration into choosing just the right kind of moisturizer for your face.
Even though the ideal moisturizer may vary from person to person even when it comes to people with dry skin (due to other factors, such as prior skin conditions, proness to irritation or sensitivity), there are still some basic ingredients that are beneficial for parched cells on the whole.
These include:
Ceramides, lipid molecules that retain moisture levels and protect your skin from environtmental pollutants
Hyaluronic acid, which plumps the skin and promotes elasticity
Emollients such as shea butter, coconut oil and fatty acids, which nourish the skin and give your complexion a glow
These skin care superstars are indispensable when it comes to combating low moisture levels. With dedicated use, your skin should become dewy and radiant.
Prep Your Skin with Moisture-boosting Primer
If, even despite the rigorous beauty routine, your dry skin still makes you dread putting on your favorite foundation, there is still one more step you can take to minimize this problem.
After you've slathered your skin in all those nutrient-packed, cell-drenching moisturizing products, make sure to prep it with a hydrating primer before moving onto base products.
This will help with even application of your base makeup and prevent the foundation from emphasizing dry and flaky patches.
Moreover, a good primer will help your makeup stay put for the rest of the day. Sounds like a win-win, no?
Another thing you can do to avoid bringing attention to the parched areas of your skin is to stay away from drying, heavy-duty foundations.
Go instead for something hydrating and lightweight, such as BB creams and moisture-packed cushion foundations which can be incredibly useful for dry skin types.
Try Out Sheet Masks
Sheet masks, a truly revolutionary product that's taken the beauty world by storm, could be one of your most valuable weapons in the battle against dry skin.
Sheet masks consist of individually packed thin layers of cotton (although these days you can find them in hydrogel, rubber and other kinds of materials), which have been cut into face shape and drenched in nutrient-packed essence.
Once you've gotten your hands on one of these skin care power tools, all you need to do is unfold it, place it on your face and wait anywhere between 10 and 30 minutes.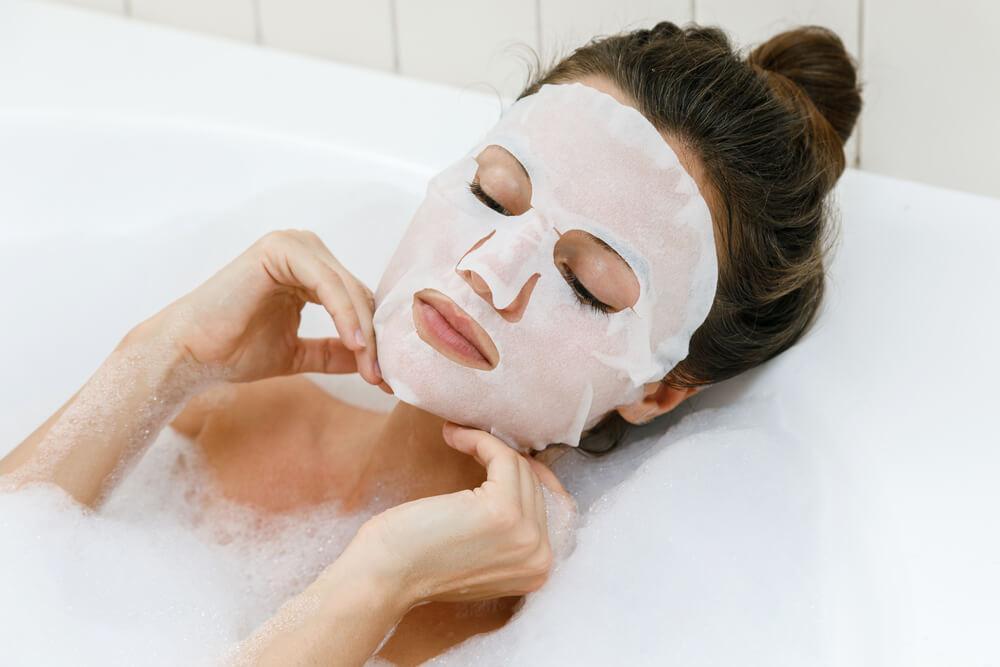 If you have leftover essence in the packaging, you can slather it on your neck, décolletage area, arms and legs.
After you feel like your skin has been pampered enough, take off the mask and throw it away. Pat the excess essence onto your skin.
Sheet masks are an amazing way to treat your skin to an extra bout of hydration, especially when you feel like even the most heavy-duty moisturizer can't seem to do the trick.
Not only will your skin be thanking you, sheet mask time is also a great excuse to snap a couple of insta-worthy selfies!
Change Your Everyday Habits
While dry skin is caused by internal factors in some cases, a good chunk of people who battle this problem could benefit from incorporating certain changes when it comes to their everyday surroundings.
The number one environmental culprit for dry skin is lack of humidity in air. If you tend to spend prolonged periods of time in an office or apartment where the air is noticeable dry, you might want to invest in a humidifier.
This way, you can help retain moisture on the surface levels of the skin.
We've got bad news for people who like to pamper themselves with scorching showers and baths: as relaxing as it may be, hot water strips the skin on your face and body off its intrinsic moisture and contributes to that dry, itchy feeling.
Next time you step into the shower or bath, make sure to wash yourself using lukewarm water.
Keep in mind that temperature of the water might not be the only factor worsening your skin condition – the amount of time you spend in shower or bath can also be the cause.
Reducing your shower or bath time will not only be beneficial for your skin, it is also more friendly towards the environment!
Once you get out of the shower, try not to rub the skin on your face and body too vigorously, as this can cause your skin to dry out even more.
Instead, try patting the towel gently and absorbing the water that way.
When it comes to applying products on your face, make sure to do so while your skin is still moist after showering. This way, you will avoid the air from drying out your skin and causing tightness.
If you feel like your skin is still thirsty throughout the day, you might want to invest in a face mist. These moisture-boosting, compact products can be easily slipped into your bag and used even over makeup to give your skin an extra dose of radiance.
Now that you've learned a little more about all the methods you can use to combat dry skin, it's time to go out and do your best to replenish all those parched cells with moisture. With a couple of tweaks in your beauty regimen and day-to-day activities, we are sure you will achieve healthy, hydrated skin in no time.