Face masks can make such a huge difference to the health of your skin, really boosting the appearance of your complexion.
However, many people shy away from purchasing face masks.
Why?
Because the sheer abundance when it comes to different types and different products can be overwhelming.
Need some help understanding the world of face masks?
Here is a rundown of the different types of face masks out there, as well as a few recommendations for each.
Clay Masks
Clay and mud masks are some of the oldest forms of face masks out there, with these natural ingredients having been used for medicinal and therapeutic purposes as far back as 384 BC.
Clay can help the skin in numerous ways, because not only is it rich in skin-boosting minerals, it also naturally draws out and binds to toxins, meaning that when you wash away the clay, you are also washing away so many other impurities from your skin.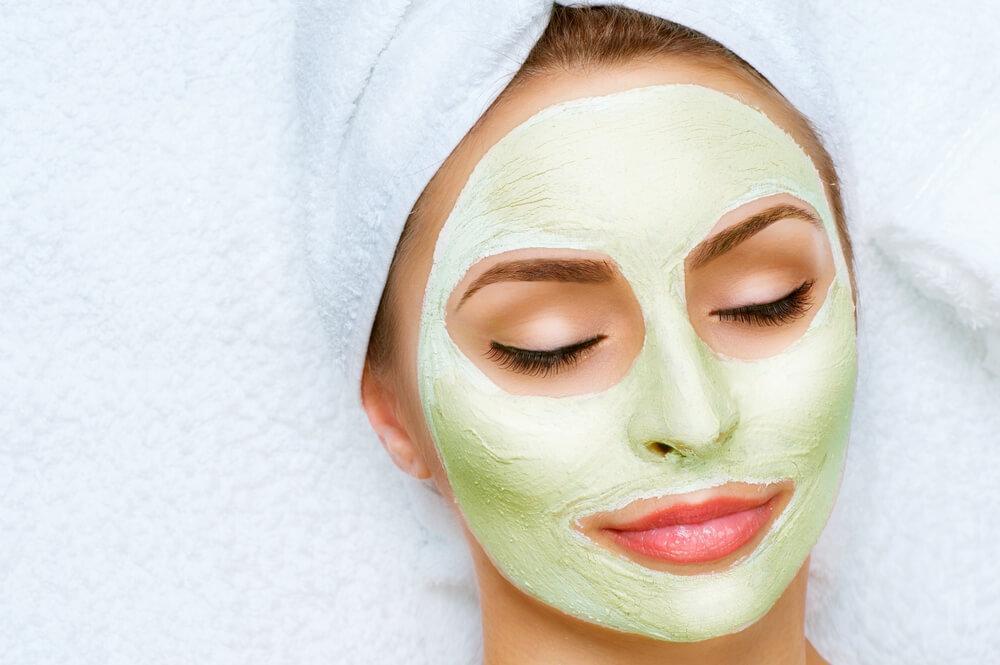 Specifically, clay can help with:
Eczema, Psoriasis and Dermatitis –

thanks to the way in which it also pulls out bacteria and pathogens from the skin

Detoxification and Purification –

clay can eliminate just about every type of environmental pollutant, whether this may be heavy metal, chemical, or anything else

Oxygenating Cells –

by pulling out hydrogen from skin cells, there is more room for oxygen within them

Unclogging Pores –

thanks to the way in which it cleanses the skin and pulls dirt and oil out of the pores

Softens and Smooths the Skin –

this is all down to its minerals, especially its high silica content
Here are a few of the different clay types that are usually used in face masks:
Bentonite clay –

fantastic for absorbing excess oil, and is effective at drawing toxins out of the skin. However, bentonite clay can be quite drying, meaning this is one that dry and sensitive skin types should avoid

Kaolin clay –

has medicinal qualities but is extremely gentle and mild

Rhassoul clay –

an ancient clay packed with minerals that is great at detoxifying and will not dry your skin out 
Want to start using a clay face mask?
The Vivo Per Lei Mineral Mud Clay Mask is a great product to try. 
This mask has been formulated with Kaolin Clay, meaning that it is gentle enough to be used by all skin types, and also contains other ingredients, such as bamboo charcoal, to help boost the effects of the clay.
Cream Masks
If you are looking for a face mask that is incredibly gentle and nourishing, then a cream mask is likely to be your best bet.
These will be packed with moisturizing ingredients to really hydrate and protect your skin, making them ideal for those who have dry or sensitive skin.
Not sure which cream mask to go for?
Try the Shea Hydrating Radiance Milk Cream Mask from Institut Karite Paris. This mask contains an impressive 20% shea butter, giving it a beautifully soft and smooth texture along with gentle but powerful moisturizing properties. 
Sheet Masks
Sheet masks have become extremely popular lately, and you have likely seen them all over your favorite celebrities' social media pages.
What exactly are they?
They are cotton-based sheets that are usually soaked and infused in serums and other essences, with each one able to target a different range of skin concerns.
Due to the way in which they are made, these masks are not designed to give your skin a deep cleanse, but are instead fantastic for providing hydration and nutrients.
They are also quite easy to use, since there are already holes cut out into the masks for your eyes, nose and mouth.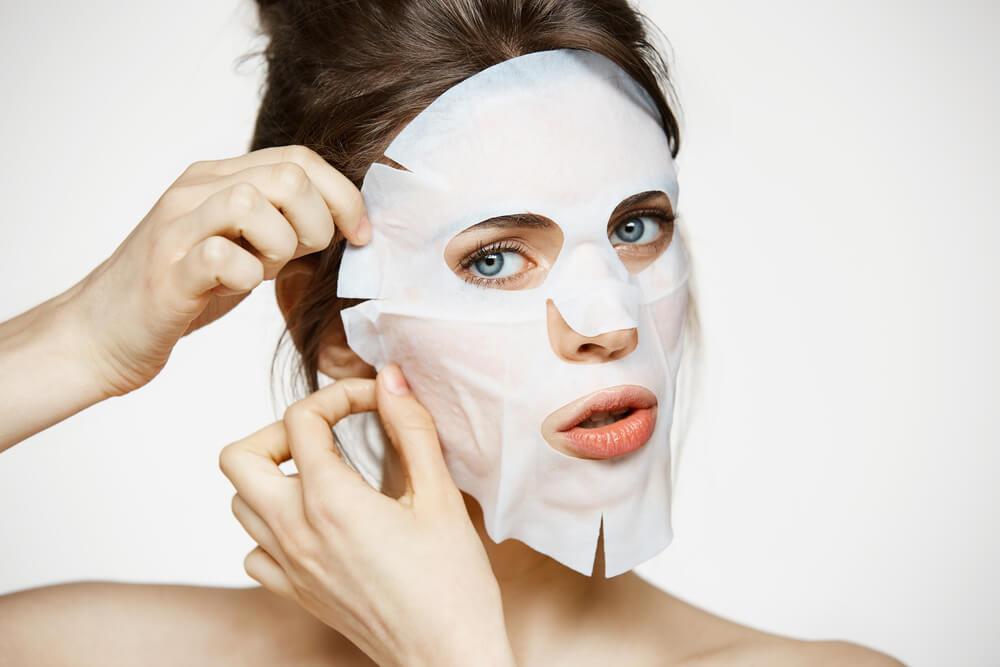 If you want to maximize the effects of a sheet mask you are using, you can even apply a serum underneath it, so that the mask traps it into your skin. 
Find it hard to get sheet masks to properly fit your face?
This is a common problem, as sheet masks usually come in just one size, whereas everybody's face is a different size and shape.
To find the best fit, begin at your forehead, lining the mask up with your eyes and ensuring that there are no pockets of air trapped beneath. Pat the mask down onto your cheeks and towards your chin, and then lie down for 15 minutes so that the mask does not slide out of position.
Hydrogel Masks
Hydrogel masks are actually very similar to sheet masks, but they do have one big difference…
This is all down to the material in which they are made from.
As mentioned above, standard sheet masks are usually cotton-based, whereas hydrogel masks are made from, as you may have guessed, hydrogel.
Although they look similar to sheet masks, the material is much thinner. Hydrogel is used widely in the medical industry for healing and cooling the skin, and is effective at holding large amounts of liquid.
Wondering what hydrogel masks can help with?
They are most effective at hydrating the skin and minimizing the appearance of fine lines and wrinkles.
Thermal Masks
Also known as self-heating masks, thermal face masks are quite the revolutionary concept, and really do deliver such a spa-like experience.
Wondering how they actually work?
They contain certain chemicals that are able to instantly generate heat when they come into contact with water. As you likely already know if you have ever been to a sauna or done a stream treatment, heat helps to open the pores up, making your skin so much more receptive to other ingredients and giving you such a deep clean.
Thermal masks also boost blood circulation, making them ideal for those who suffer from clogged pores, blemishes and oily skin. 
So, what exactly are these chemicals that cause thermal masks to heat up?
They vary depending on the mask that you use, as there are quite a few chemicals that can trigger this reaction.
For example, the Biore Self Heating One Minute Mask makes use of zeolite, which is a mineral found in volcanic ash and rocks. When zeolite comes into contact with water, the chemical bonds within it break, and all of this energy is released as heat.
If you would like something a little more luxurious to really pamper your skin, try the OROGOLD 24K Termica Energizing Mask. Not only does this contain a wide range of vitamins, but it is also formulated with gold to give your skin a fresh, glowing radiance. You can even purchase the Termica 24K Activation Serum to apply over your mask, and this will magnify its heating effect. 
Exfoliating Masks
Exfoliating masks are face masks that contain exfoliating ingredients, meaning that they help to clear away the top layer of dead skin cells on the surface of your skin.
These can be extremely effective, but many exfoliating mask formulas out there can actually be quite drying, meaning that you do need to be careful when choosing a mask.
Need some help?
Give the Ole Henriksen Moment of Truth 2-in-1 Polishing Sugar Mask a try. 
This mask is designed to be applied to the skin and left for ten minutes, during which time its pumpkin and pomegranate extracts dissolve away the glue-like substance that holds dead skin cells to the surface of the skin. Then, you add some water, and massage the mask in, using it like a scrub, before rinsing it all off.
As with any exfoliating product, exfoliating masks need to be used in moderation, because over-exfoliating can lead to everything from inflammation to dryness.
Peel-Off Masks
Peel-off face masks are another product that have recently gone mainstream, thanks to the number of celebrities that have been using them.
Why have they become so popular?
Because they are extremely effective at lifting away dirt, oil, and more from the surface of your skin.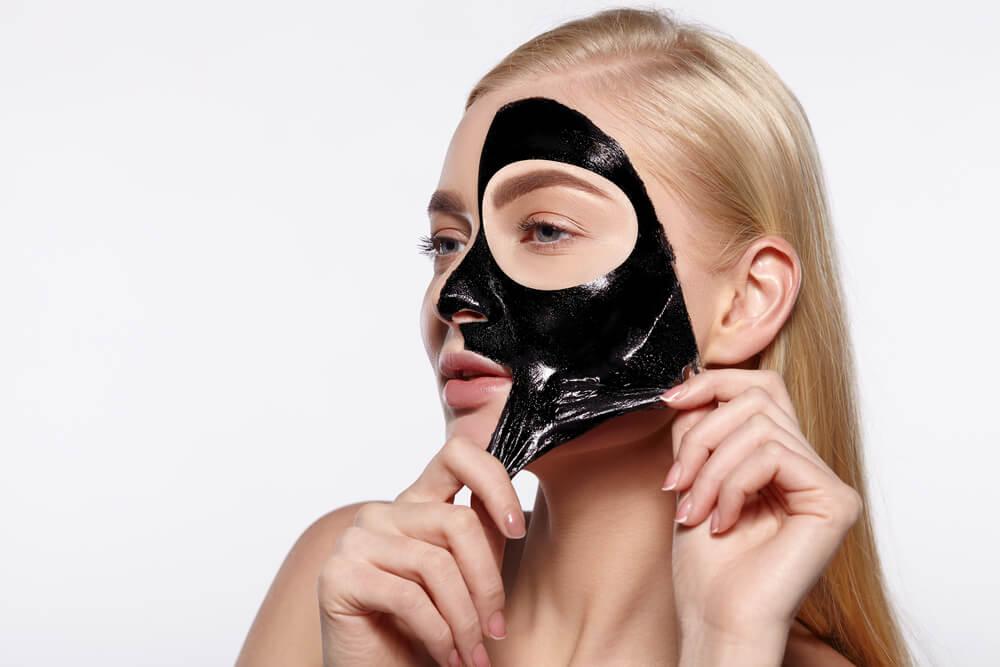 You may be thinking…
"Yes, I have seen peel-off masks all over social media. But I have also seen so many posts about how much they hurt when it comes time to peel them off. Why would I want to use one?"
This all depends on the mask that you choose. There are many formulas that simply lift and glide off, resulting in no pain or frustration whatsoever.
Here are a few to try:
Elizabeth Arden Prevage City Smart Double Action Peel Off Mask

GLAMGLOW Sonic Blue Gravitymud Firming Treatment

Nugg Mermaid Marine Peel Off Mask

Omorovicza Deep Cleansing Mask

Origins GinZing Peel-Off Mask 
Water Sleeping Masks
Even if you have never heard of a water sleeping mask before, you can probably tell what it is from its name…
These masks are designed to be worn overnight, and help to add moisture back into your skin.
They help with all skin types, but are extremely effective for those who have dehydrated, dry or sensitive skin.
Not sure which one to try?
The Laneige Water Sleeping Mask is a great choice, as this mask also contains rose, sandalwood and orange flower to help induce sleep.
Point Masks
Point masks are still quite a niche product, but are destined to become the next big thing when it comes to face masks.
Have you ever heard of multi-masking?
Multi-masking is when you use two or more face masks at the same time, applying them to different parts of your skin so that you can target different skin issues around your face.
This is a great technique if you use cream, clay or exfoliating masks, but what about for those who prefer sheet masks?
This is where point masks come in…
They are much smaller than sheet masks and come in a few different shapes, allowing you to mix and match different masks, applying different sheets to different parts of your face.
DIY Masks
DIY face masks have been used for centuries, because they allow you to really be in full control over the ingredients you are putting on to your skin.
They are extremely easy to whip up, with many requiring no more than two or three ingredients.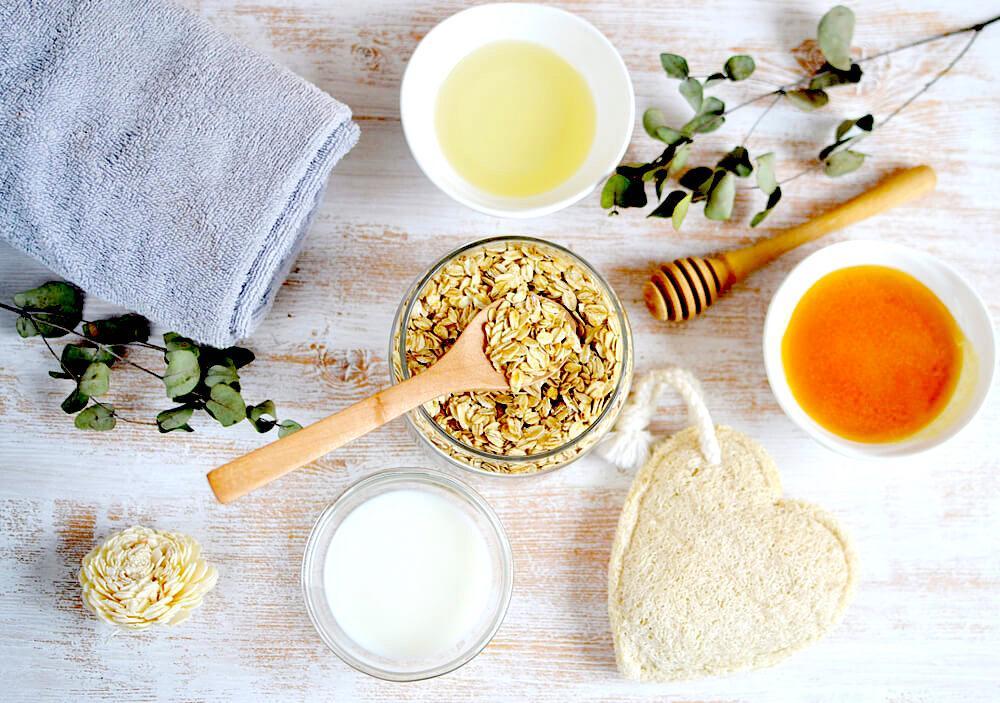 Need some inspiration?
Here are a few mixtures to try out:
Mashed banana, and you can also add some plain yogurt and honey for extra benefits

Apple cider vinegar and water

Oatmeal, yogurt, honey and egg white

Lemon and olive oil

Papaya and honey
Preparing Your Skin for a Face Mask
Face masks can really work wonders on your skin, but in order for them to be at their most effective, they need to always be applied to cleansed skin.
Even though some face masks are designed to give the skin a deep clean, the ingredients will take so much longer to penetrate into your skin if you haven't cleansed it first.
If you want to take your face mask prep a step further…
Try doing a face steam after cleansing, as this will help to dilate your pores and make them even more receptive to the ingredients in the mask.
Never done a steam before?
Simply fill a bowl with boiling water and hold your face over the steam that rises, making sure to keep your face at a safe distance from the bowl to prevent burning your skin. You can place a towel over your head and the bowl to keep the steam in close proximity, creating your very own miniature sauna.
Face masks are something that everybody should be using on a weekly basis, as they can really make such a huge difference to the health of your skin. No matter what your skin type may be, there are face masks out there that can help you, as well as any other skin issues you may be dealing with.
So, if you have never used a face mask before, let this week be the week you take the plunge!