OROGOLD 24K Caviar Collection Reviews – Series of Amazing Surprises – ORO GOLD Reviews
OROGOLD Reviews – Gold in skin care? Now that's an interesting concept. Have you ever heard of gold in skin care? I certainly have, called OROGOLD! Gold has been used in beauty and skin care ever since it was discovered. Common, don't tell me you haven't heard of those Queen Cleopatra stories about her lustful desire for gold. Well, before you start to wonder what I am blabbering about, let me give you an important piece of information. OROGOLD just sent me their unique 24K Caviar Collection for review. Yay.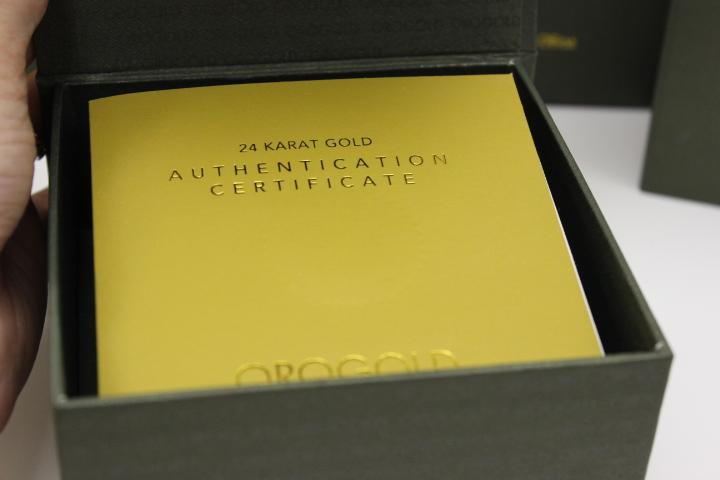 Now, before I bombard you about my experience with the Caviar Collection, let me give you some insights into the brand. OROGOLD is a luxury skin care brand that uses gold in each and every one of its products. I just logged onto their website www.orogold.com, it certainly does its bit in inspiring people to try out the products! According to their site, OROGOLD was born in the year 2008 and it has been offering customers lustrous skin care products and collections that have been infused with the brilliant wonders of pure gold. The brand offers its customers with more than 100 products to choose from and it states that it has something for all skin issues and all types of skin.
The company says that they designed the 24K Caviar Collection to help restore lost elasticity of the skin and reduce the signs of aging by replenishing the lost collagen. Before, I move on to reviewing these products, just check out the way these products have been packaged. Each of those containers screamed out the world "splendor" and I almost felt like Denise Richards holding them in my hand. Each item of the collection was individually packaged in these beautiful dark green colored boxes with golden letters. The products themselves seemed like exotic black pearls that were lying gracefully on a golden colored satin bed. They even had a certificate of authenticity that proved the use of real gold packed into each product box. 10/10. Superb presentation, I must say.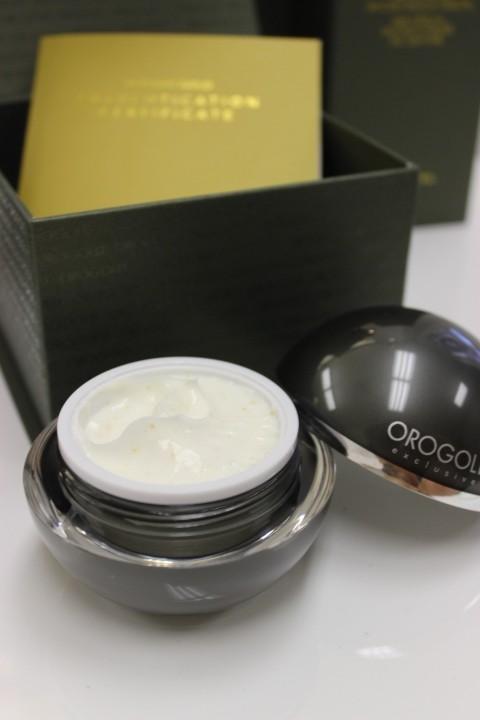 Moving onto the collection itself, the 24K Caviar Collection offers four "gold flavored" products – the 24K Caviar Micro-Beads Serum, 24K Caviar Micro-Beads Cream, 24K Caviar Elastin Restoration Capsules and the 24K Caviar & Sea Kelp Mask. Each product is supposed to work wonders for your skin, but they say that they work best when used as an entire collection. OROGOLD says that when these products are used together they "providing a radiant and energetic finish to your complexion". Lets see whether they their products are actually as good as they claim to be.
The 24K Caviar Micro-Beads Serum: I started off with the 24K Caviar Micro-Beads Serum. As directed, I used just 3 drops of the serum and massaged it on my face until it was fully absorbed. Now, iv applied a serum or two in my life and I usually have this sticky sticky feeling every time I apply a serum. What makes the Caviar Micro-Beads Serum so unique is that it is silky smooth. No stickiness here. What's more, the product also has ingredients like green tea extracts, caviar and chamomile. And I really don't know of anyone who could go wrong choosing such beautiful skin care ingredients. Another thing that stuck out was that my skin felt super moisturized after using the serum. It's not at all heavy and it is extremely refreshing. Come to think of it, if this is what the serum can do, I couldn't wait to get my hands onto the cream. 9/10. Reserving another point until I can figure out how my skin feels after one month. I am hoping that this product helps to reduce facial expression lines with regular use. Well, we will just have to wait and see, won't we.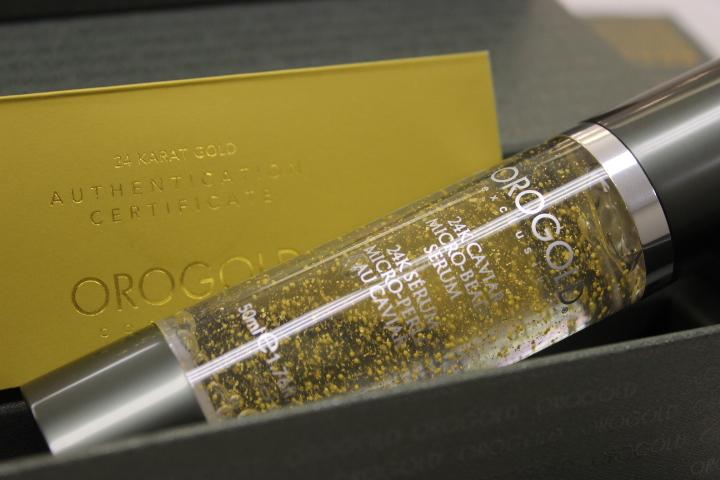 24K Caviar Micro-Beads Cream: I followed the Serum with the 24K Caviar Micro-Beads Cream. Again, as directed, I applied the cream right after applying the serum. I have already said a lot about the amazing packaging, so I'll leave that alone. Talking about the product, one of the first things that I noticed was the pleasing scent. OROGOLD says that this product helps to "reduce the appearance of fine lines and wrinkles". Well, when you consider the fact that they put in ingredients like Vitamins A and E, sunflower oil and caviar extracts along with gold in this cream, their statement hardly comes as a surprise. I liked the fact that my skin instantly began to radiate the moment I applied this moisturizer. Again, not very surprising when you open it and see the beautiful little flecks of gold. It literally melts into your skin and it doesn't leave behind an oily residue either. Giving this product a 9/10 again. Not saving any points for the future. I'm already impressed and convinced by the 24K Caviar Micro-Beads Cream. If it can make my skin glow with a single application, I really cannot wait to see what it does after a month.
24K Caviar & Sea Kelp Mask: The 24K Caviar & Sea Kelp Mask contains caviar, gold, jojoba oil, a number of mineral and vitamins such as Vitamins A, B2, B6, B12 and D, iron and magnesium. This alone makes me want to use the Caviar & Sea Kelp Mask. If you're as crazy about beauty as I am, you would instantly realize that each ingredient in this list is supposed to work wonders for your skin. I applied the mask on my face and left it on for 20 minutes while I listened to All About That Bass by Meghan Trainor on repeat. They said rinse with warm water and I did. What left me shocked was that they didn't mention the most important part in their how to. Well, let me help you realize what they missed out on. Make sure that you sit down before you look into a mirror or you'll end up fainting out of shock. I almost did. I mean it's my face I see in the mirror, but it's definitely not meee. It's the angel me. The "me" that I would imagine in a white dress flying her way to heaven. That's how serene my face looked. Damn. How do they do this in just 20 minutes? Ladies, please prepare yourself mentally for this mask. It's un-REAL. 10/10. Unfortunately, that's all I can offer for the Caviar & Sea Kelp Mask. Hate being limited by mathematics.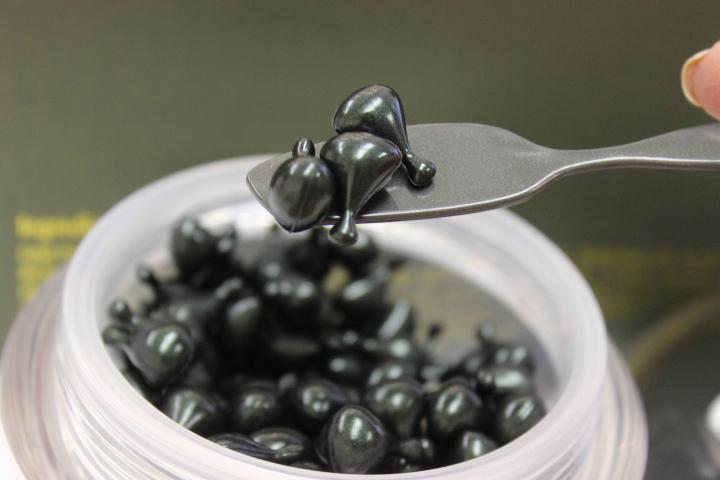 24K Caviar Elastin Restoration Capsules: Coming onto the last product in the collection, I almost didn't have the enthusiasm of going through another shock again. One shock was enough for a day. I might just die out of joy if my skin looked any better today. And the product costs $1500. Might as well enjoy the sensations properly if I am going to use such a luxurious skin care product. So I think I shall put off using the OROGOLD Elastin Restoration Capule for another day.
I have my days. Good days and bad days. Overworked days and nothing to do days. But, now I also have OROGOLD days and OROGOLD moments. I dedicate one day every week to the mask and the capsules and about 10 minutes to the serum and the cream. Heck, I even went and brought the 24K Cleanser. Why leave one aspect out!!!