Review by Ariel Frankeny
Over the past two weeks, I was given the amazing opportunity to receive and test the state-of-the-art Vou Pre Thermal Collection. As an avid skincare junkie who is always on the hunt for the next best thing to add to my routine, I was ecstatic to have the unique chance to give this collection a try for myself.
After two full weeks of testing and using these products as directed, here are my first impressions, later impressions and overall takeaways on the collection, as well as each individual product within.
About the Products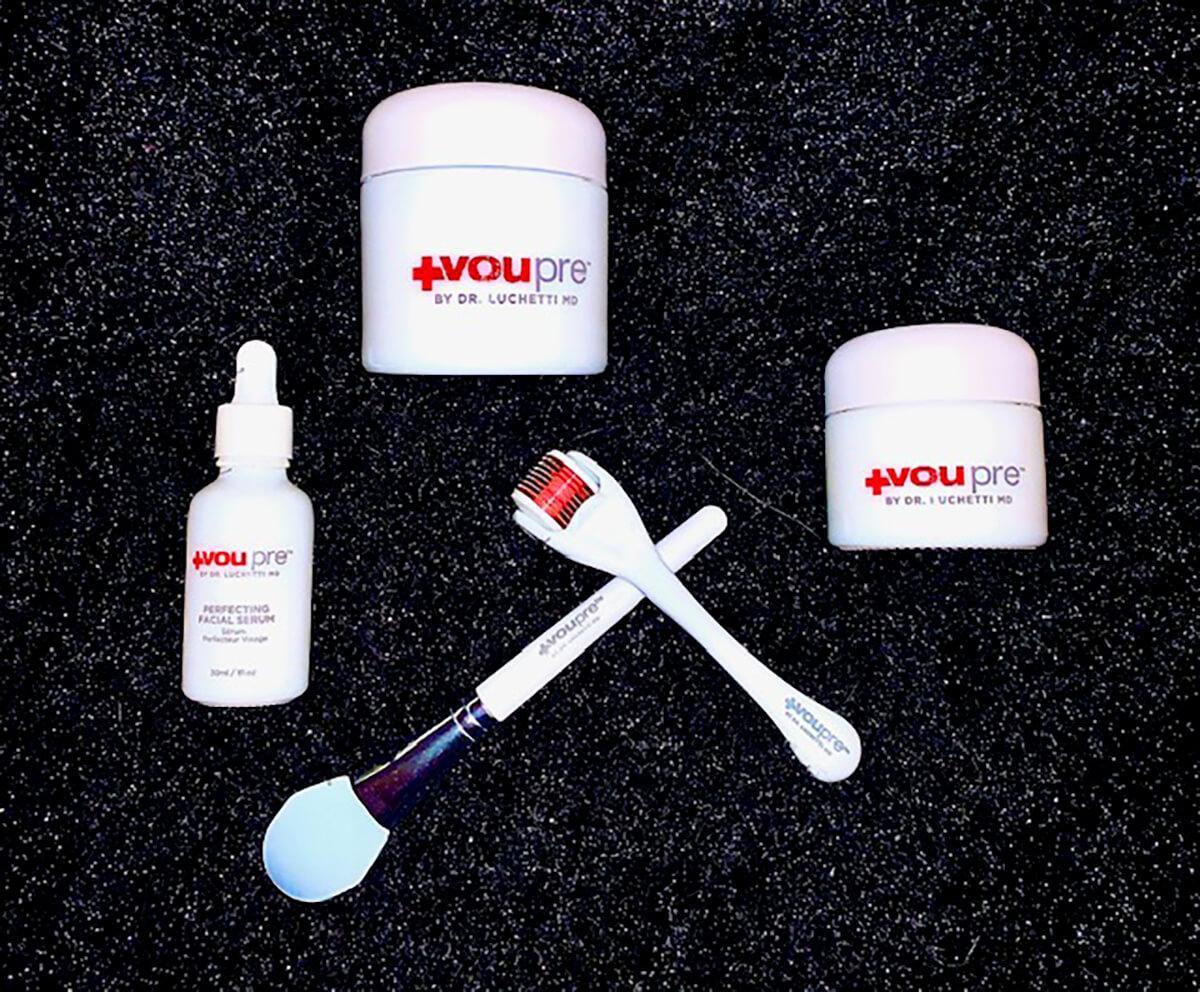 The Thermal Collection by Vou Pre is a four-piece set crafted to help renew and enhance your skin's vitality and overall appearance. Each product in the collection is designed to be used with the others in order to reduce the appearance of fine lines and wrinkles, improve the skin's overall texture and provide a clean, fresh appearance for the face and neck. This collection is dermatologist approved, paraben-free and not tested on animals.
The Collection
Over the past two weeks, I tested four items from the Thermal Collection: the Microneedle Roller, the Detoxifying Thermal Mask, the Perfecting Facial Serum and the Facial Cream.
Microneedle Roller
The Microneedle Roller is a state-of-the-art device that is designed to help improve absorption and work as an overall skin-corrector. This 0.25mm roller helps open the pores to allow for the rest of the products to work more effectively.
Detoxifying Thermal Mask
The Detoxifying Thermal Mask is carefully crafted to help detoxify the skin, reducing impurities and provide an invigorating feeling that will help freshen the skin and leave it feeling lively and more awake. With ingredients such as organic citrus limon fruit extract and organic coffee Arabica seed extract, your skin will be brightened, tightened and refreshed.
Perfecting Facial Serum
The Perfecting Facial Serum is a two-in-one product that can be used on its own or to amplify the effects of the Detoxifying Thermal Mask. This unique skincare essential combines revolutionary anti-aging ingredients, such as vitis vinifera (grape) cell extract, that help to combat inflammation and the other signs of aging.
Corrective Facial Cream
The Corrective Facial Cream is the ultimate finishing product, with a lush formula that's packed full of anti-aging and moisturizing ingredients. These include Vitamins E and A as well as organic rosa canina fruit extract and organic rosmarinus officinalis (rosemary) leaf extract.
Product Usage

Microneedle Roller
The Microneedle Roller is the first step of the Vou Pre Thermal Collection routine, working to stimulate the skin and open the pores, maximizing the effectiveness of the other products.
According to Vou Pre, this product should be used on a clean face in a gliding motion across targeted areas for approximately 60 seconds, for a total of 4 – 10 minutes. You can, however, spend more time on areas that are more stubborn or have more wrinkles or enlarged pores.
Detoxifying Thermal Mask
The Detoxifying Thermal Mask is the second step of the Vou Pre Thermal Collection skincare routine. It should be applied to clean, dry skin on the face and neck before being left on for 15 minutes, allowing the warming sensation to take effect. It can then be gently rinsed away with water.
Perfecting Facial Serum
The Perfecting Facial Serum can actually be used in two different ways – alone applied to clean skin after the Detoxifying Thermal Mask OR applied directly on top of the mask to amplify its effects.
Corrective Facial Cream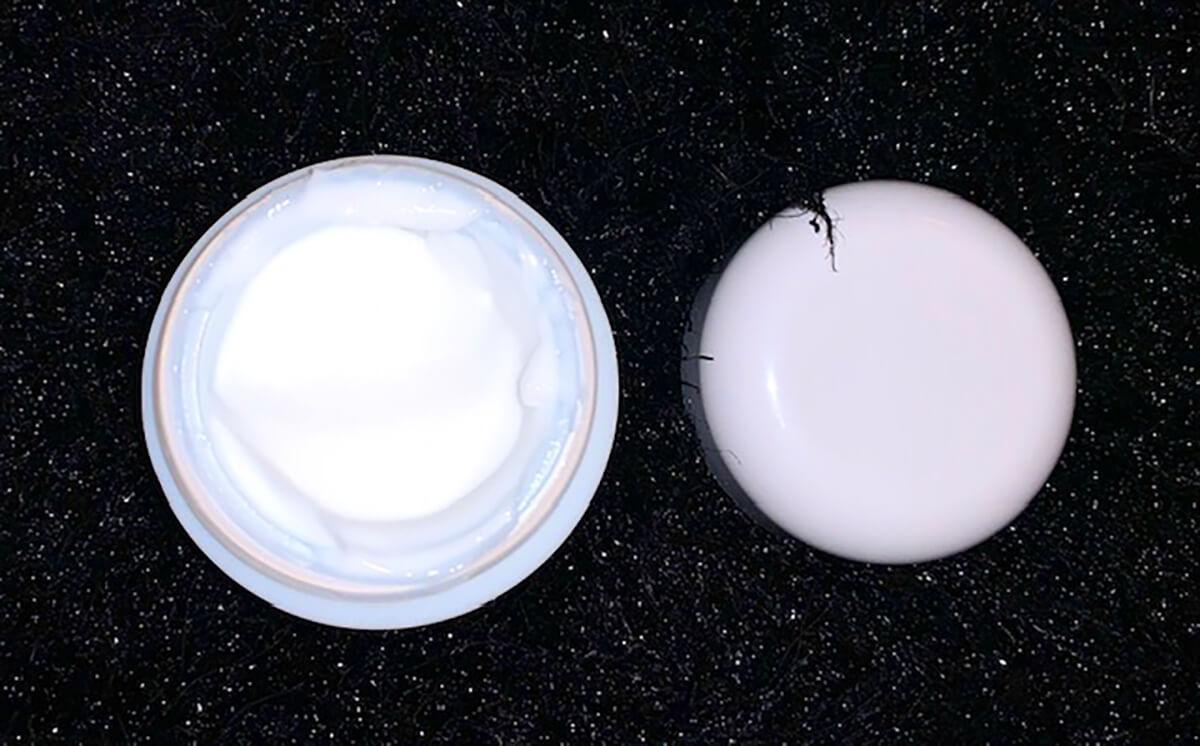 The Corrective Facial Cream is the final step in this essential skincare routine, applied after the mask and serum to the face and neck with a massaging motion until fully absorbed.
Features and Benefits
Microneedle Roller
While there are many benefits of microneedling, the Microneedle Roller's primary feature is that it has fantastic anti-aging properties. By puncturing the skin on a micro level, the skin's production of collagen and elastin is stimulated up to 400%, giving it a tighter and smoother appearance. Additionally, this product helps to open the pores and increase the level of absorption of other skincare items used afterwards.
Detoxifying Thermal Mask
In addition to providing a lightly tingly, warming  sensation, the Detoxifying Thermal Mask is packed full of antioxidants and anti-aging ingredients. When used in combination with the Perfecting Facial Serum, the effects of these revolutionary ingredients are multiplied.
Perfecting Facial Serum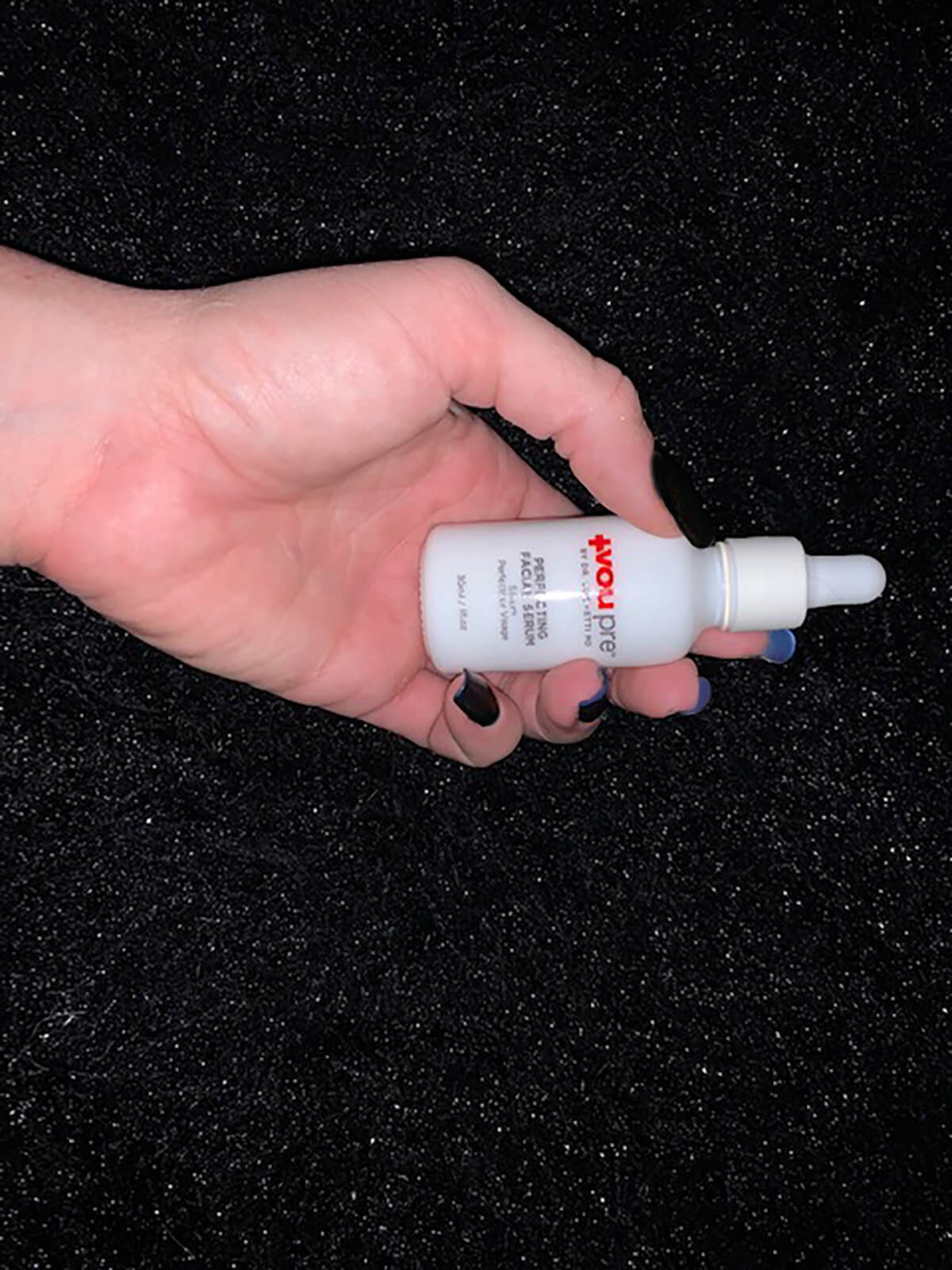 This serum is definitely packed full of antioxidants and anti-aging ingredients galore that are designed to help fight the signs of aging and improve the appearance of the skin. Additionally, it can serve as a power booster for the Detoxifying Thermal Mask as a special bonus feature.
Corrective Facial Cream
The Corrective Facial Cream takes the benefits of all of the Vou Pre Thermal Collection products and lumps them together for one glorious finale. It combines antioxidants, high-powered anti-aging ingredients and a moisture-building finish that makes this cream ideal for improving skin texture and elasticity.
First Impressions
Let's get down to how the first week using this collection actually played out from start to finish with my first impressions…
The Packaging

The Outer Packaging
I found myself hating the outer packaging of this collection upon first glance – it seemed a little cliché and overdone, especially in the high-end skincare industry. However, once I laid everything out on my vanity and looked at it altogether, felt the weight of the products in my hands and took everything in from top to bottom, I actually really liked it. I appreciate how clean and organized the packaging looks and how clear the directions for usage are.
The Products
Pulling each product out of the outer packaging left me pleasantly surprised – they all have a nice, heavy weight to them that automatically communicates a luxe feel. The ability to stack the Detoxifying Thermal Mask and Facial Cream was another unexpected surprise! It definitely helped to condense these products on my already-crowded vanity.
What surprised me the most was the Microneedle Roller – I wasn't sure what to expect in terms of weight or anything, but it was the perfect balance.
The Feel
Microneedle Roller
As someone who has never had the opportunity to use a microneedle roller, I was a bit worried about how this would feel on the skin. I tested it first on the back of my hand to see if I would feel any pain or itchiness, then moving on to my forearm. Once I realized that the roller didn't cause any sort of pain or uncomfortableness, I moved on to trying it gently on my face. It feels slightly sharp if you press too hard, which I unfortunately did on my first try, but is very light and gentle overall. I was pleasantly surprised!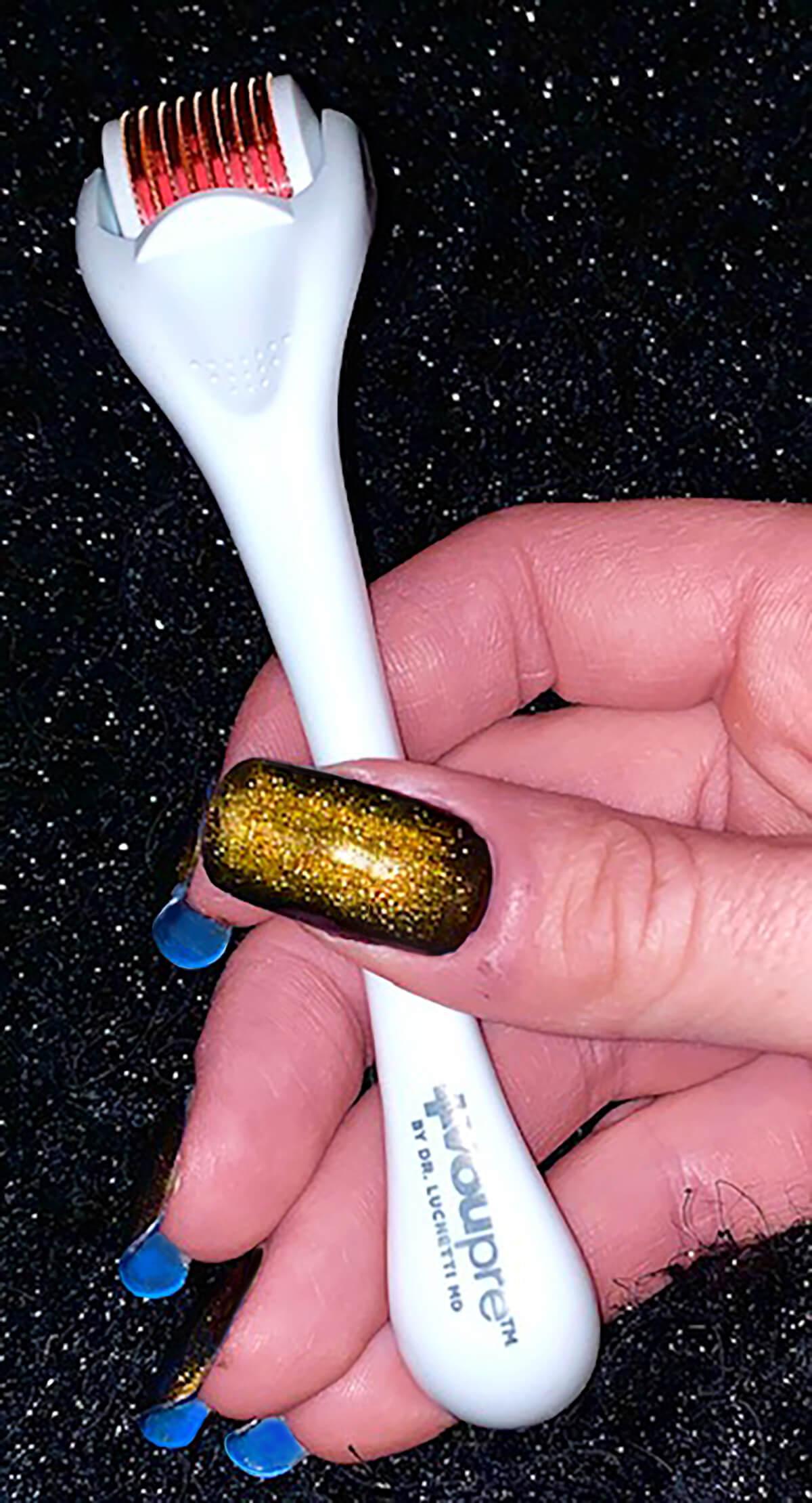 Detoxifying Thermal Mask
As someone who is hopelessly addicted to masks of all varieties, I was especially excited to give the Detoxifying Thermal Mask a try. Much to my delight, it feels thick and creamy with a rich silky effect that simply glides over the skin. It doesn't go on too chunky and blends out very easily.
Perfecting Facial Serum
Since serums can range from anything to a cream to a liquid, I wasn't sure what to expect in the Perfecting Facial Serum. Much to my surprise, I found the serum to be light, silky smooth and not oily at all. This serum has a touch of richness to it, too, especially when you rub it between your fingers.
Corrective Facial Cream
The Facial Cream was everything I expected and more from Vou Pre – creamy, rich and absolutely delightful.  It has a slightly lighter feeling on the fingers than I anticipated, but I appreciated it overall. It felt easy to blend and not too heavy on the skin.
The Usage
Microneedle Roller
I will definitely admit now – I did not use this properly the first time. Even though the directions specified 'gentle' gliding across the skin, I absolutely pressed too hard the first time around and felt a few pinches.
However, the following days were much more successful. I found this product super easy to use and the handle very well sized to fit into my hand.
Detoxifying Thermal Mask
As a mask junkie, I was thrilled to give this baby a try. It was thick yet super easy to apply with the included brush. I did make the mistake of pulling out way too much on my first attempt, but found that I was able to evenly apply it over the skin and remove the excess to add back to the container for next time.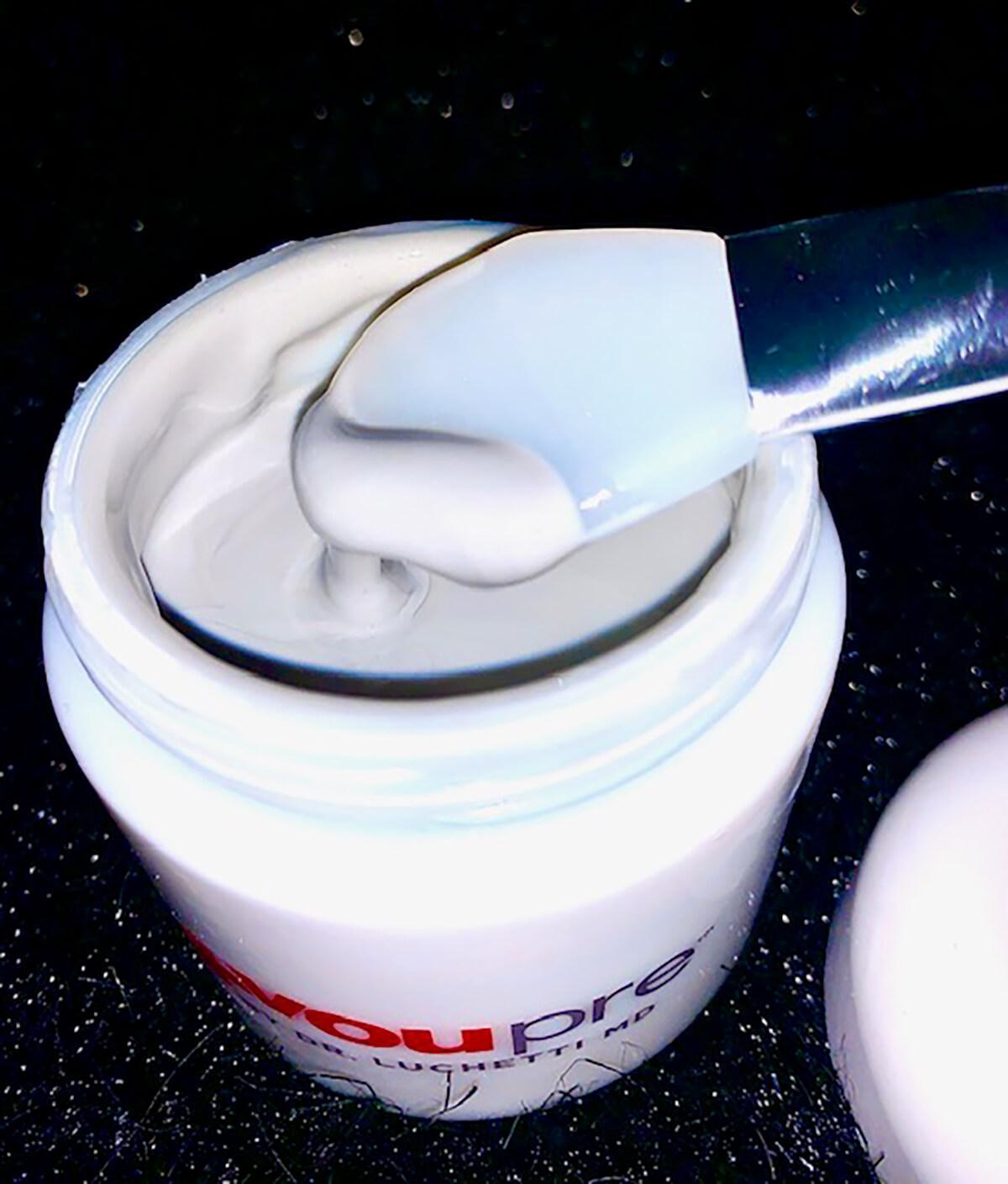 The warming sensation was a bit lighter than I anticipated, but in the best possible way. I have had poor reactions to 'tingly' or 'warming' masks in the past, but am happy to report that this was not the case.
Perfecting Facial Serum
The first few times I used the serum, I almost felt like there was nothing on my face at all. I even applied a second layer at one point, since I felt like I had probably not used enough. However, I did appreciate how light it felt on my skin and that it didn't have that weird oily residue that some serums tend to have.
Corrective Facial Cream
As someone who is super picky with creams, I was a little wary to give this one a try. However, much to my delight, my usual cream-related complaints didn't actually apply here! This cream felt thick and rich on my fingers, but blended out and absorbed beautifully into the skin rather than sitting on top of it.
The Effects
While I haven't noticed a crazy difference in the texture of my skin or the fine lines around my eyes (to be fair – it's only been a week!), I actually have noticed some changes. The skin around my nose isn't quite as red – a surprising find, since it's cold season and it's always flaming red for me in that area.
Additionally, the little crow's feet starting to form at the edges of my eyes and lips seem to be fading! The one large line at the corner of my right eye that is leading the wrinkle race seems a little less daunting and scary!
So far, so good – I'm finding that I'm actually enjoying incorporating this collection into my skincare routine! I haven't had any negative reactions to any of the products (even the Microneedle Roller!) and have been seeing a little bit of improvement on the outer corners of my eyes.
Later Impressions
After using these products for a single week and seeing some pretty quick improvement in tone and fine lines, I was excited to jump back in it for a second week of testing. Here are my later impressions following a full two weeks of testing this collection.
The Effects
Safe to say, the effects I saw last week are just getting better and better! The redness around my nose is still completely gone (although I did notice it on a particularly cold day) and the enlarged pores that usually accompany it seem to have shrunk in size! In fact, I can barely notice them at this point.
Additionally, the lines around my eyes, particularly the big bad one on the right side, have all but faded. I can still see faint outlines, but you can definitely tell that the skin in that area looks more plump and rejuvenated. The lines beginning to form around the jowl area and at the corner of my lips have shown some improvement as well, although not to the same degree as those by my eyes. I'm assuming that with continued use, these effects will only grow.
Other Notes
I was only able to use the mask a few times over the two weeks, per the included directions, so my overall conclusions on its effectiveness are still to be determined. However, I did enjoy using it overall and plan on keeping it in my weekly rotation until I (sadly) run out and have to repurchase.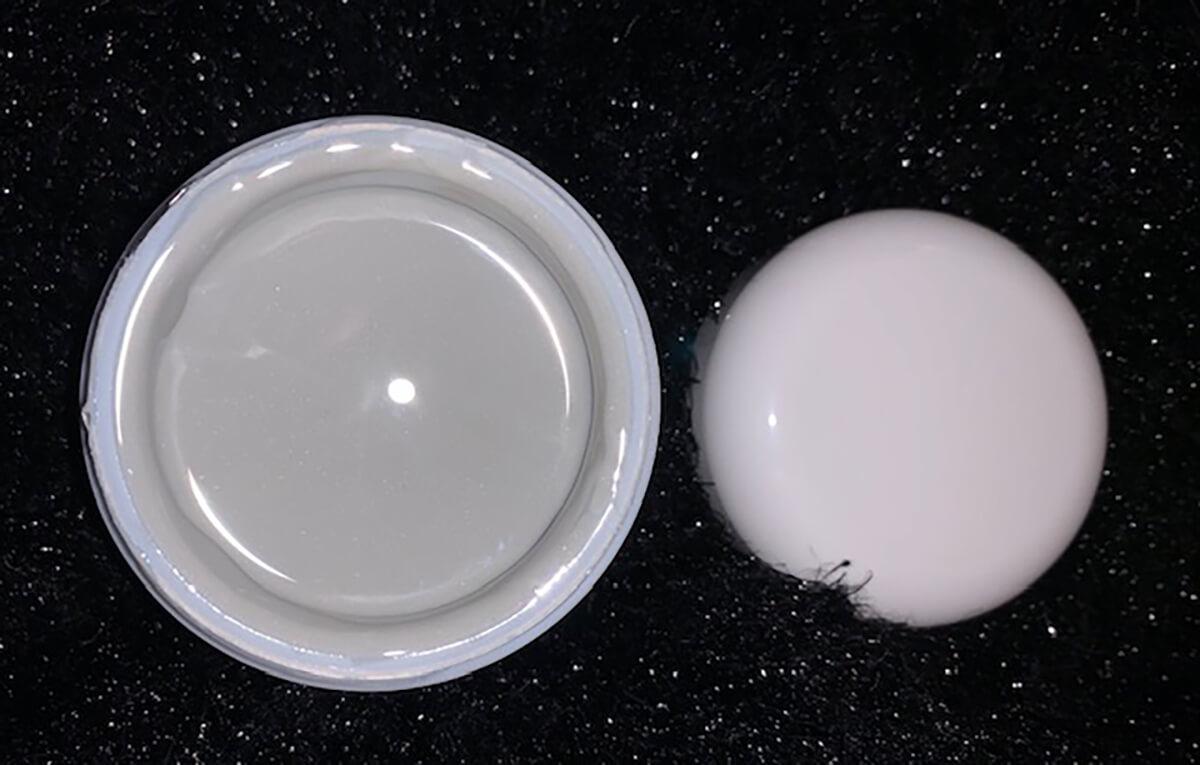 Overall Takeaways
What I Liked About the Products
Let's start off with the biggest thing that I liked about these products – how well they worked! I wasn't sure what to expect and went into this testing period with very low expectations (after all, it was only two weeks!), but found myself pleasantly surprised. I was able to actually see a reduction in the fine lines starting to form at the corners of my eyes and lips!
The other aspect I like about these products is how they feel on the skin. None of these products felt heavy or oily – they actually felt light and airy once applied! I'm not a huge fan of heavy creams or masks and was delighted that these products could do the job of one without sitting on top of the skin.
What I Didn't Like About the Products
My only real complaint or issue with this collection is storage – altogether, the products are rather large and difficult to stack with many of my other products. The included brush and Microneedle Roller were especially challenging. As someone who is very conscious of hygiene in their skincare routine, I found myself puzzling and worrying about the safest and most effective ways to store these products so that they weren't just lying on any old surface. In the end, I had to purchase a clear cup to house them in hygienically and resorted to cleaning them thoroughly before and after each use.
What Can Be Improved?
One suggestion I have is to make the products a little more compact or add a 'nesting' element that makes them easier to store together as a whole. Additionally, I would recommend adding some sort of storage cup or protective container to the set in order to effectively and hygienically store the brush and microneedle roller.
Who Would These Products Work For? 
In terms of whom this product would work best for, I can't say specifically, as I believe it would work well for any man or woman who wants a truly effective anti-aging skincare regimen. Personally, I saw great results over a two-week testing period on the fine lines starting to form around my eyes and mouth. Based on this, I believe that anyone with similar aging concerns would definitely benefit from this entire collection.
On the other hand, the included Microneedle Roller may not be for everyone. While it worked wonderfully for me, once I had the method down, I do not have sensitive skin. I would be a little wary of incorporating this product if I had skin that may react poorly.
Overall, I really enjoyed testing these products and discovering a whole new section of the skincare industry that I had not previously been exposed to. I'm excited to continue using these products until I run out, but may not be able to repurchase immediately due to the high price tag. However, if luck serves me well, I will someday be able to afford buy another round of the serum, mask and cream – because the price is totally worth it.