Review by Ariel Frankeny 
Over the past several weeks, I was fortunate enough to be given the opportunity to receive and test out the brand new CbGäRDN CBGold Basic Collection. As someone who is obsessed with skincare and is always interested in testing out the latest and greatest trends and innovations, I was beyond excited to have the opportunity to try out these brand new products with one of the hottest new ingredients on the market – cannabis oil.
After two full weeks of testing these products, here are my first impressions, later impressions and overall takeaways on the full collection as well as on each individual product within.
About the Products
The CbGäRDN CBGOLD Basic Collection was designed with the ever-evolving needs of your skin in mind, with products that are infused with groundbreaking skin-enhancing sativa cannabis oil. Each product works seamlessly with the others in the collection to rejuvenate the skin and leave you feeling refreshed.
The Collection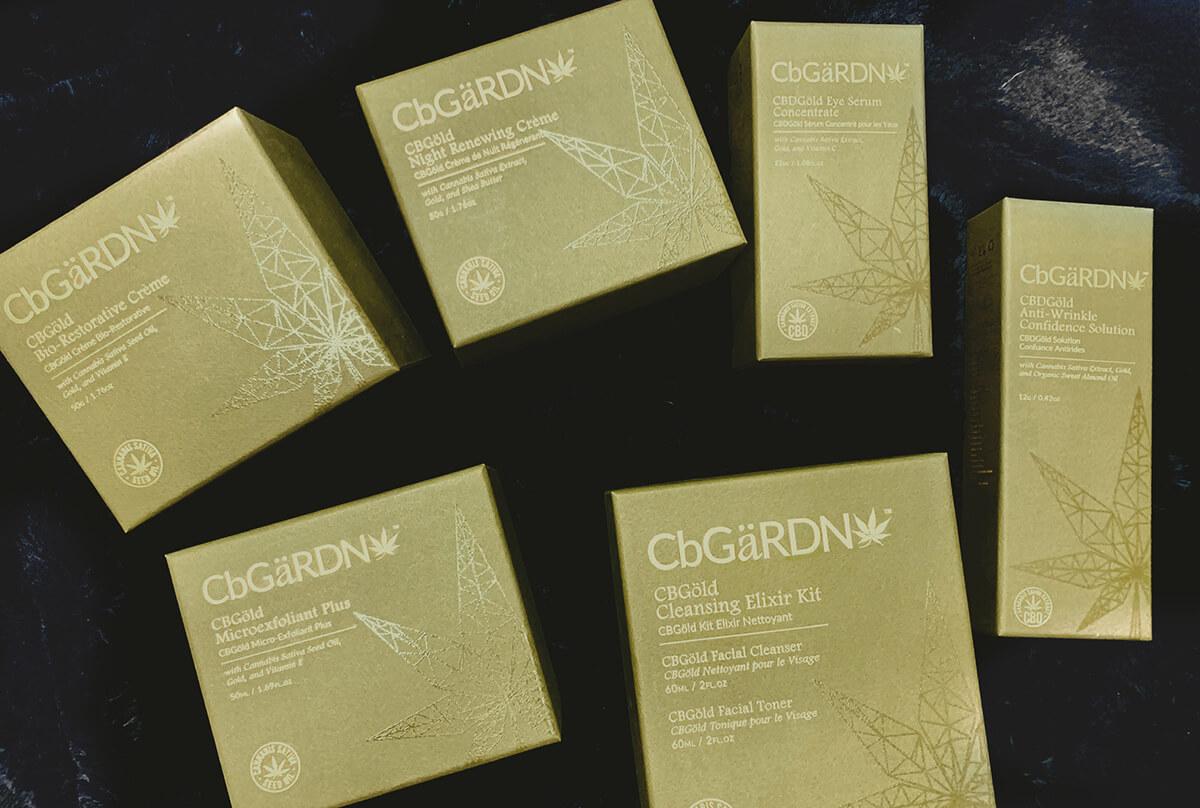 Over the past week I tested all seven items from the CBGold Basic Collection: the Anti-Wrinkle Confidence Solution, the Eye Serum Concentrate, the Bio-Restorative Créme, the Cleansing Elixer Kit, the Microexfoliant Plus and the Night Renewing Créme.
CBDGÖLD ANTI-WRINKLE CONFIDENCE SOLUTION
The Anti-Wrinkle Confidence Solution is a non-surgical concentrate that is infused with botanical ingredients to leave you skin looking and feeling smoother, tighter and firmer.
CBDGÖLD EYE SERUM CONCENTRATE
The Eye Serum Concentrate is a high-powered innovative serum for use under the eyes to combat the appearance of dark circles and puffiness with daily use.
CBGÖLD BIO-RESTORATIVE CRÉME
The Bio-Restorative Créme is a lightweight daytime cream that is ideal for daily wear. It works throughout the day to plump, brighten and replenish the skin.
CBGÖLD CLEANSING ELIXR KIT
The Cleansing Elixr Kit is a two-piece set that contains a Cleanser and a Toner. The cleanser works to wash away impurities from the skin prior to using the toner, which works to brighten and refresh the complexion.
CBGÖLD MICROEXFOLIANT PLUS
The Microexfoliant Plus is a cleansing gel that works to cleanse and exfoliate the skin as you wash your face, leaving you with a rejuvenated and brightened complexion.
CBGÖLD NIGHT RENEWING CRÉME
The Night Renewing Créme is a decadently rich cream designed for use at the end of your routine before you go to bed. This cream restores the skin overnight, leaving it softer and smoother when you wake up each morning.
PRODUCT USAGE
CBDGÖLD ANTI-WRINKLE CONFIDENCE SOLUTION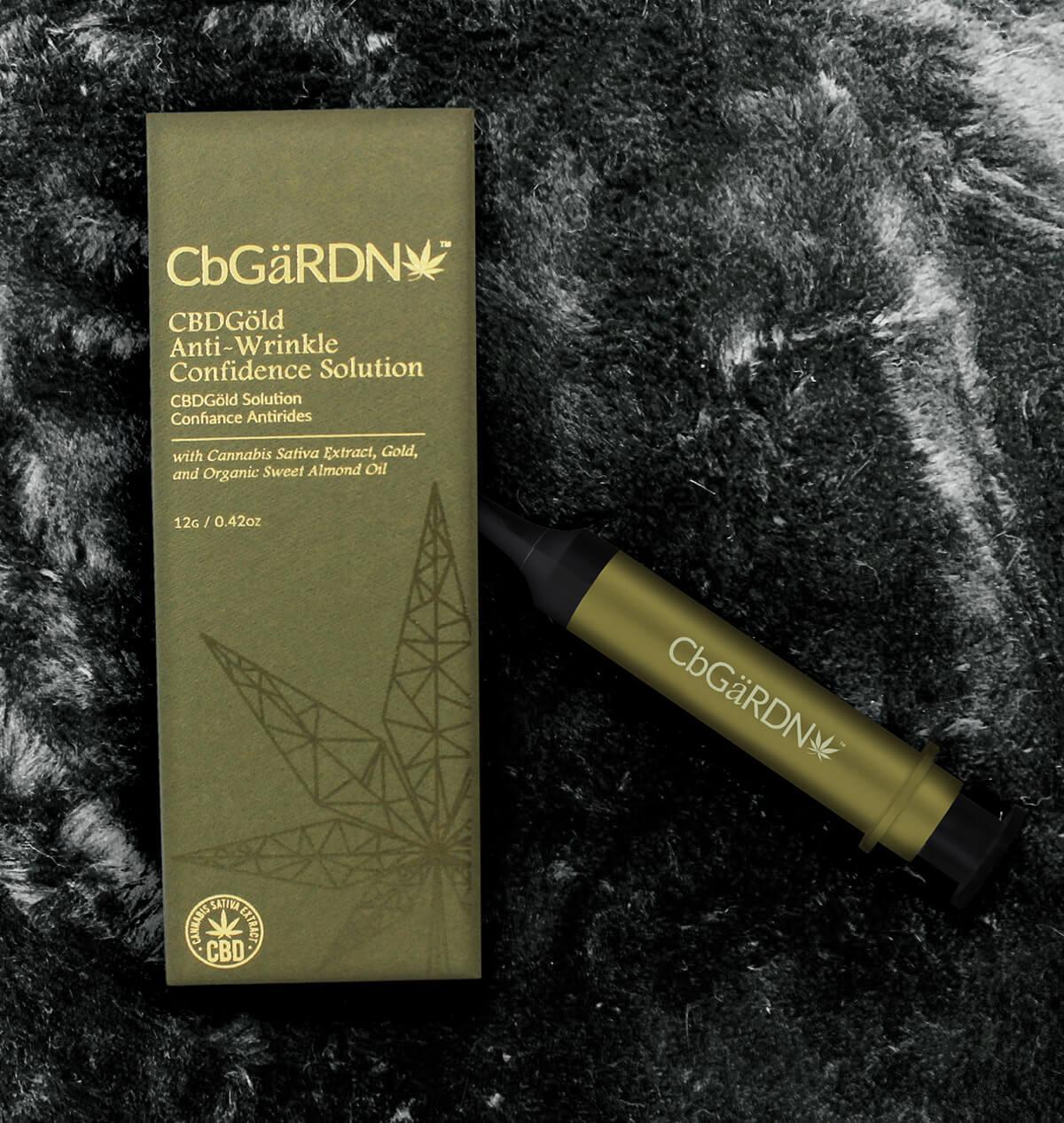 The Anti-Wrinkle Confidence Solution is unique in that it can be applied a number of places throughout your routine, either immediately following toner or after you apply your Eye Serum Concentrate.
CBDGÖLD EYE SERUM CONCENTRATE
The Eye Serum Concentrate can also be applied at different times in your routine, either following the toner or following the Anti-Wrinkle Confidence Solution, depending on your personal preference.
CBGÖLD BIO-RESTORATIVE CRÉME
The final step for your daytime skincare routine, this cream is applied following the Anti-Wrinkle Confidence Solution and the Eye Serum.
CBGÖLD CLEANSING ELIXER KIT
This kit contains the first two steps of the CBGold Collection skincare routine, with the cleanser being used first followed by the toner.
CBGÖLD MICROEXFOLIANT PLUS
This product is one of the first essential steps of your skincare routine, but should not be used on a daily basis due to the exfoliating properties. It is recommended to use as needed in order to not cause skin irritation.
CBGÖLD NIGHT RENEWING CRÉME
This heavy cream is the final step of your nighttime skincare routine, applied to the face and neck after using the Anti-Wrinkle Confidence Solution and the Eye Serum Concentrate.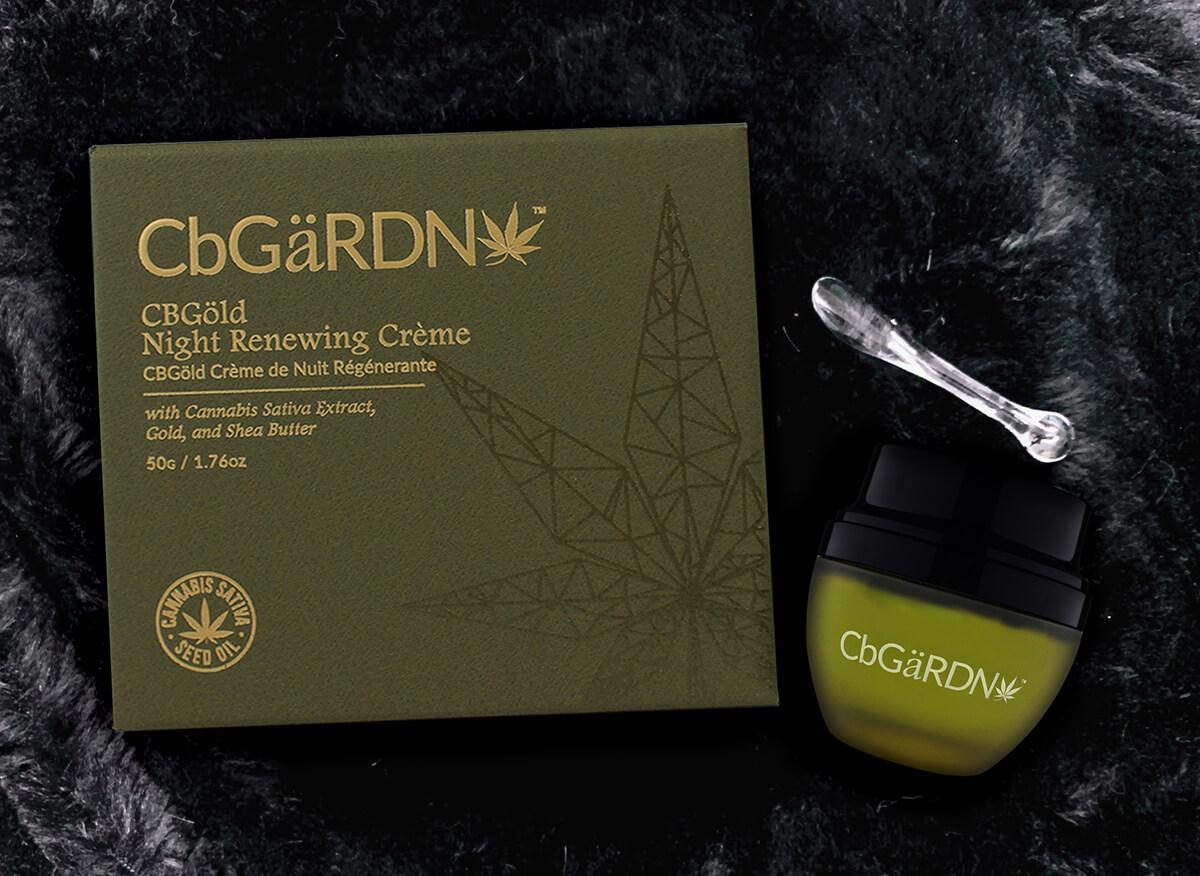 Features & Benefits
CBDGÖLD ANTI-WRINKLE CONFIDENCE SOLUTION
Besides featuring cannabis sativa oil, this product is also infused with retinyl plamitate and sweet almond oil for an anti-aging skin-plumping finish.
CBDGÖLD EYE SERUM CONCENTRATE
This high-powered eye serum features a hefty does of skin-brightening Vitamin C alongside cannabis oil and green tea extract for rejuvenated skin.
CBGÖLD BIO-RESTORATIVE CRÉME
This restorative cream is carefully crafted with a heavy blend of plant extracts alongside their accompanying antioxidants and fatty acids for ultra-replenished skin.
CBGÖLD CLEANSING ELIXER KIT
The cleanser features a unique blend of plant-based extracts that gently cleanse the skin without causing any irritation. The toner is infused with hyaluronic acid for a moisture-balancing effect that leave your skin feeling silky soft.
CBGÖLD MICROEXFOLIANT PLUS
The Microexfoliant Plus is packed full of plenty of plant-based ingredients, antioxidants and more as well as sativa cannabis oil and a dose of Vitamin E for brightened skin.
CBGÖLD NIGHT RENEWING CRÉME
The Night Renewing Cream features a blend of antioxidant-heavy plant-based ingredients that are perfect for smoothing and tightening the skin overnight, adding back necessary moisture and brightness.
First Impressions
After a week of continuous use of the full collection, here are my first impressions and later takeaways about each product.
THE PACKAGING
THE OUTER PACKAGING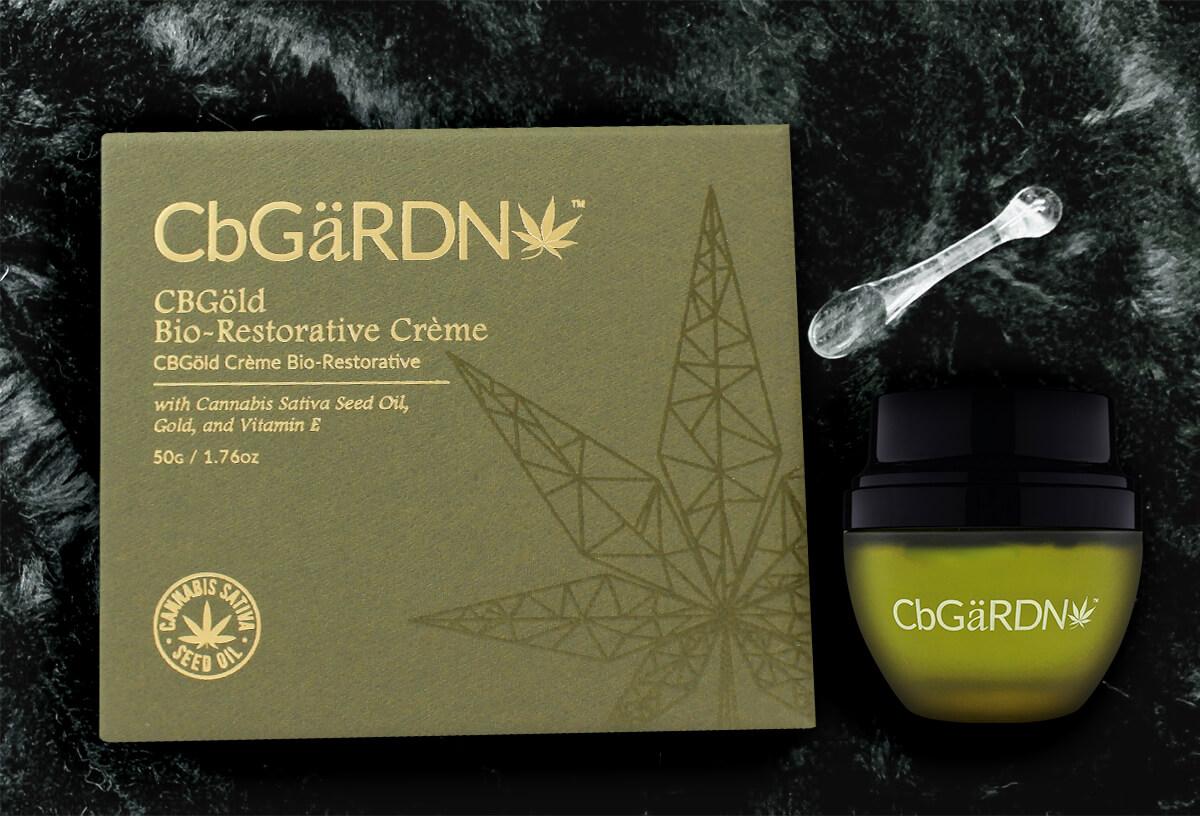 First off, I have to say – WOW. The outer packaging of this full collection is beautiful, and absolutely in line with what I would expect from a skincare brand that is using cannabis oil in their products.
The boxes feel nice and heavy and feature a beautiful gold foil print on them with a striking cannabis leaf design. They were a little difficult to open, but I did appreciate that the packaging was sturdy enough to keep the products safe and sound while being mailed to me.
The inside of the outer packaging has a soft-touch feel and a rich green hue, almost like a plant leaf. This is such a cute and unexpected touch that really added to the overall unboxing experience!
THE PRODUCTS
The products themselves are absolutely gorgeous as well! The colors, the shapes and the materials had me even more excited to test everything out immediately.
The Eye Serum Concentrate, Bio-Restorative Créme, Cleansing Elixer Kit, Microexfoliant Plus and Night Renewing Créme are all designed with a heavy frosted glass container and thick plastic lids. They felt heavy in the hand and looked incredibly high end. The Anti-Wrinkle Confidence Solution was plastic and shaped, funnily enough, like a syringe. I'm not sure how well this design fit with the rest of the collection, but I appreciated the playfulness of it.
THE FEEL
CBDGÖLD ANTI-WRINKLE CONFIDENCE SOLUTION
After a few pumps of the syringe, I was able to test out the Anti-Wrinkle Confidence Solution. It has a slightly thick feel, almost like a heavy night serum, but not enough to feel oily or greasy. It blended in well and absorbed into my skin after a few minutes.
CBDGÖLD EYE SERUM CONCENTRATE
The Eye Serum Concentrate was one of my favorite products immediately out of the box. It distributed evenly and quickly, with a light and airy feel that smoothly blended out under the eye.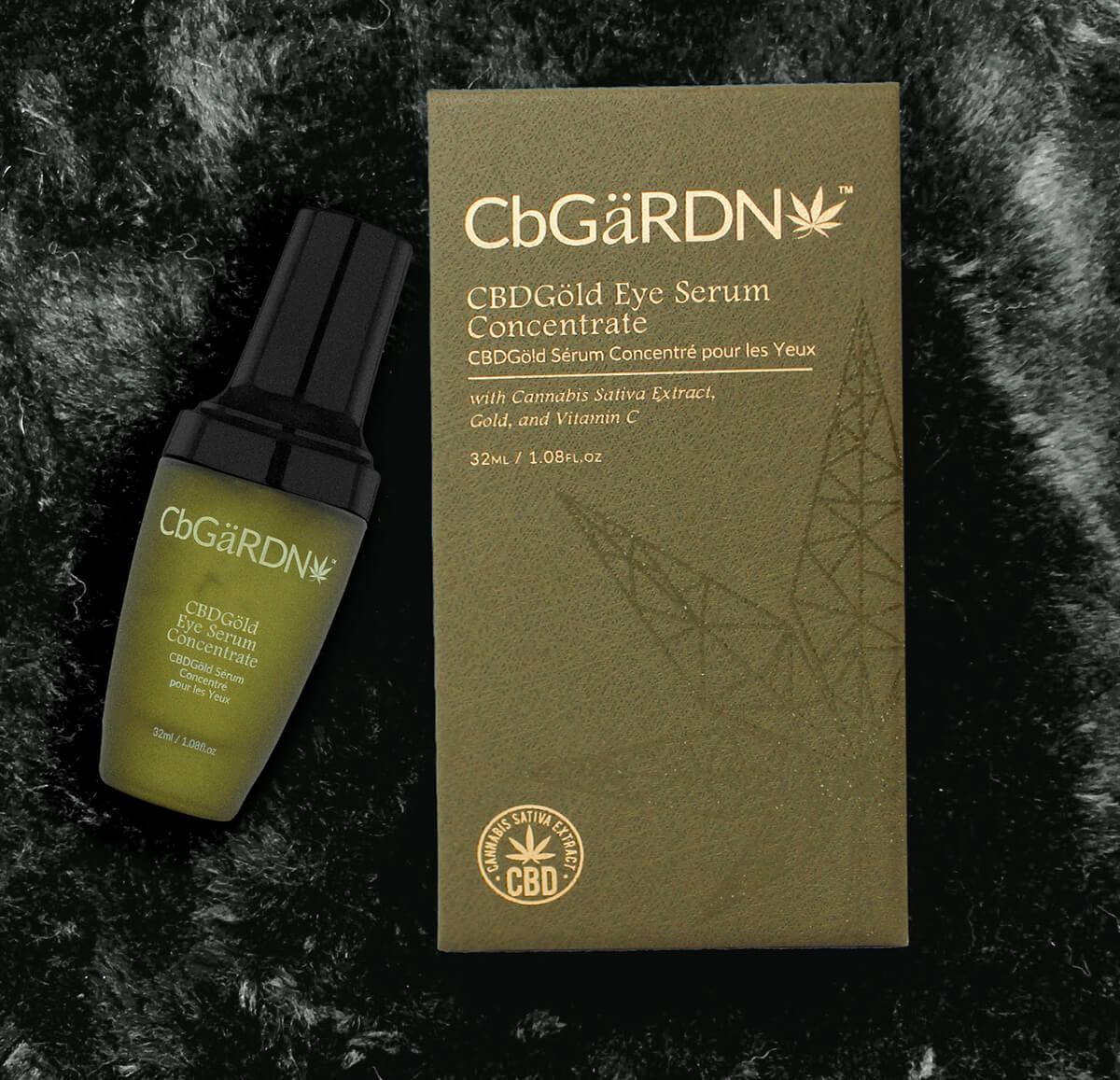 CBGÖLD BIO-RESTORATIVE CRÉME
This product came with an additional plastic spoon in order to scoop it out, and I am so glad that it did. The crème itself is very thick and heavy with an almost whipped feel that felt amazing on the skin as I applied it. It had a touch of coldness to it, which I definitely appreciate in skincare creams.
CBGÖLD CLEANSING ELIXER KIT
Both the cleanser and toner felt exactly how I'd expect from a high-end skincare brand, with a light feel and a pleasant scent. The cleanser went on easily and washed off very well without leaving any residue or stickiness. The toner was pleasant, too, absorbing quickly into the skin without making my face greasy or shiny.
CBGÖLD MICROEXFOLIANT PLUS
I wasn't sure what to expect from this product, as I have only used a few exfoliating skincare items in the past. This one was, surprisingly, a light gel with an aroma much like aloe vera to it. It washed off easily and didn't cause any irritation on the skin, which I greatly appreciated.
CBGÖLD NIGHT RENEWING CRÉME
Like the Bio-Restorative Créme and the Microexfoliant Plus, this product was so thick and heavy that it came with a spoon to distribute it. It felt like running silk over my face, leaving my skin refreshed, smooth and feeling immediately hydrated.
THE EFFECTS
After one full week of use, I did start to notice some very subtle changes in my skin, most noticeably around the eye area. I do suffer from dark circles and puffiness very often due to lack of sleep – I have actually seen improvement in this area. The dark circles are less noticeable and my general puffiness has absolutely gone down.
Otherwise, I haven't noticed as much redness around my nose and cheek areas, which tend to look a little uneven and flushed this time of year. I'm not sure whether it's a change in the weather that's causing this or if these products are the source of improvement, so I will leave that up to how I feel after another week of use.
All in all, I liked these products after just one week of use. I didn't notice any immediate changes, but I am expecting these to come further down the road as I use them more.
LATER IMPRESSIONS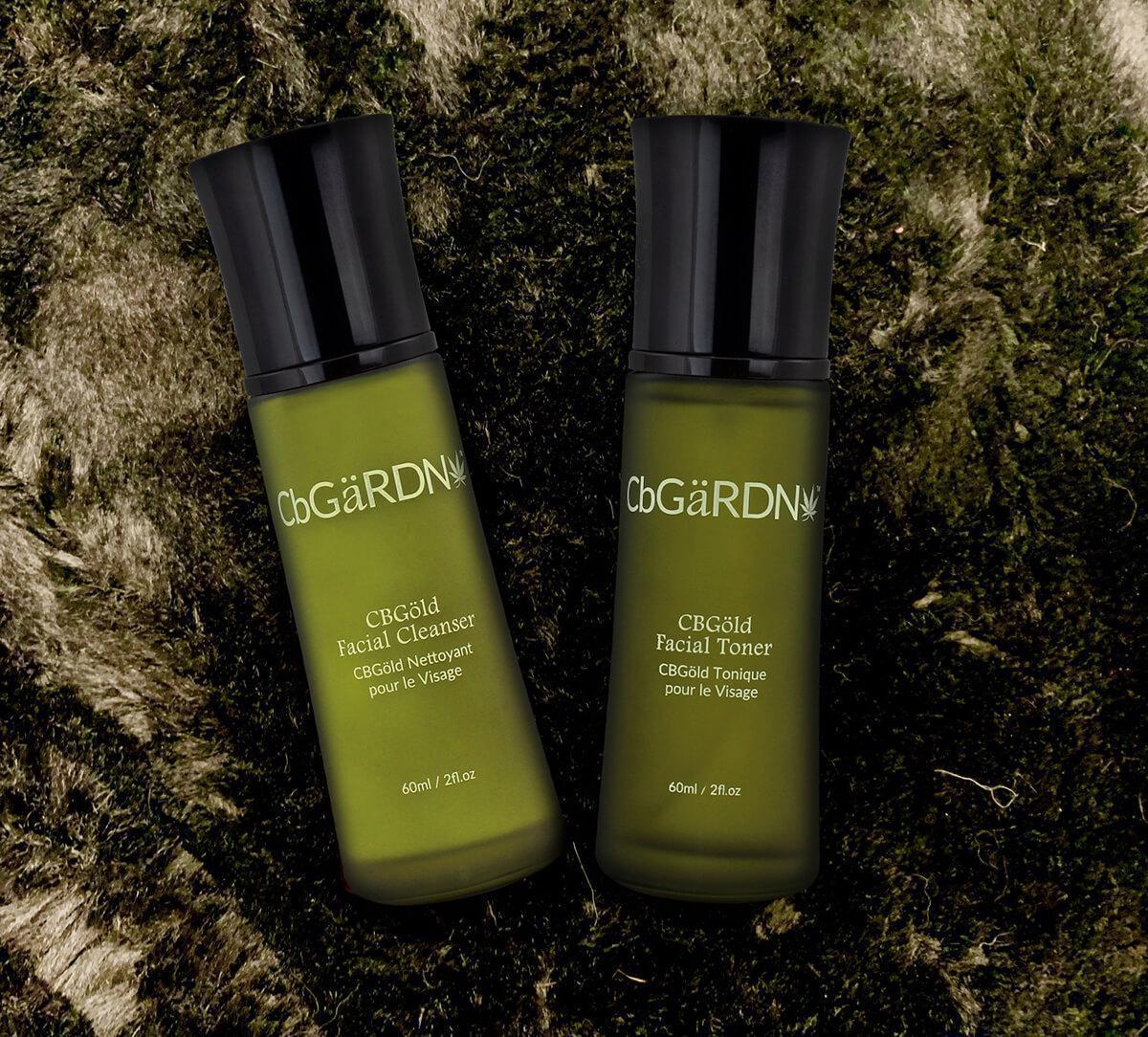 After using these products all together for an additional week, here are my additional takeaways in terms of effects and how much I enjoyed using each product.
I was delighted to find that the effects I saw within the first week were compounded, expanding even more so over the second week. My skin look vibrant and rejuvenated, almost like it had been given a shot or two of espresso.
I noticed that the dark circles and fine lines around my eyes were further minimalized – it wasn't outwardly noticeable to those around me, but I personally saw some additional improvement. The most dramatic improvement was directly under my eyes – I tend to have puffiness in this area, especially when I have not slept enough. With these products, I did see this puffiness subside noticeably, even after a late night spent out and about.
OTHER NOTES
I was only able to use the microexfoliant a few additional times over this past week due to the usage direction and the sensitivity of my skin. I do believe that I will definitely see more positive results in terms of skin tone and evenness throughout my face and neck as I continue to use this product in combination with the others.
WHAT I LIKED ABOUT THE PRODUCTS
Let's get things started with what I liked the most about these products and the collection as a whole. My overall favorite thing about this collection definitely has to be the inclusion of sativa cannabis within each product. I have done a lot of research about this ingredient for the purpose of understanding what exactly it is and how it works in skincare, and have found it to be incredibly promising overall. The potential benefits for skincare, medical care and other personal care routes are endless, and I was impressed that it was so effectively implemented in the formulas of each of these products.
I also really enjoyed how luxe the products look and felt while I was using them. The containers that held each product looked high-end and felt heavy in the hand, which I definitely appreciate. The color of the containers was right on par with what I would expect from a luxury CBD-based brand, too. They didn't clash with the other products on my vanity or look too out of place.
I also really liked the feel of the products when used altogether on my skin. After two weeks of continuous use, I did start to see subtle changes in my overall skin tone and evenness.  I found that the dark spots under my eyes were starting to slowly fade away, likely courtesy of the Eye Serum Concentrate, and the fine lines that were starting to form are less noticeable as well.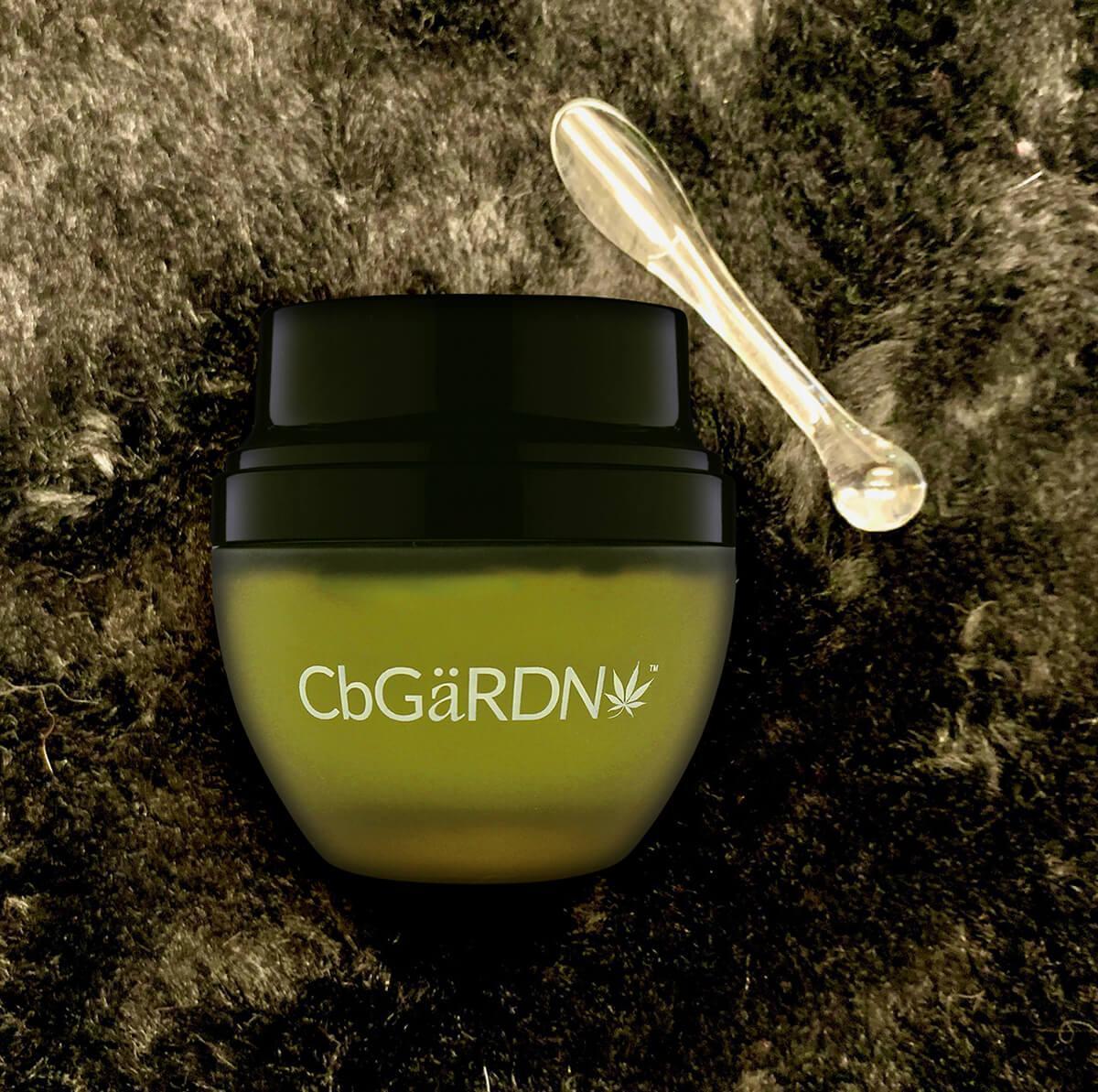 WHAT I DIDN'T LIKE ABOUT THE PRODUCTS
My biggest complaint about these products is definitely that they are not easily stored. The containers are oddly shaped and not exactly stackable, so they took up a lot of space on my vanity.
My other complaint would be the inconsistency in inner packaging for all products. While most of them featured a soft-touch interior that almost resembled a lush plant, but the Cleansing Elixer Kit, for some odd reason, had a cheap-feeling plastic interior. I felt like it was more of an afterthought than an actual planned out product as part of a collection.
WHAT CAN BE IMPROVED?
First and foremost, I would recommend looking at the collection overall in terms of how easily all items from this collection can be stored. Perhaps making them more compact or sized so that they can be stacked would make me more likely to keep them on my vanity and reach for them more often in my skincare routine.
Another point of improvement that I have not yet mentioned is the aroma of these products. While I really enjoyed it, I can imagine that it would be a little too much for others. A more subtle scent or no scent at all would be an improvement that would greatly appeal to a wider variety of customers, in my personal opinion.
WHO WOULD THESE PRODUCTS WORK FOR?
I would definitely say that these products would be great for any man or woman who is interested in trying out the CBD and cannabis skincare trend. They worked exceptionally well and I saw some subtle improvements after only two weeks of use.
One note would be that these products would be ideal for someone with the right amount of disposable income to afford them – they are on the pricier side, but they do seem to work very well so they would be worth the cost!
Overall, I really enjoyed testing out these brand new products from CbGäRDN, especially considering that they featured sativa cannabis oil, a skincare ingredient that I was very keen to try. I plan to keep using these products moving forward and will likely repurchase at least one of them, the Serum Eye Concentrate, in the future, should my budget allow for it.