Review by Heather Howell
There are so many skincare brands on the market that offer products that promise to leave you with a bright, fresh, healthy-looking complexion or firm and uplift problem areas for aging and mature skin. With skincare, especially good skincare, it takes time to see noticeable results. This can make it hard to understand which products are worth your money, and which ones should be left on the shelves.
In my search for the most effective products for healthy-looking skin, I have tried and tested more than 40 different brands to date. Some have been mediocre, others a complete waste of time. I have also run across several gems that address various skin concerns that have become staples in my routine. Regardless of my successes and failures, I am always on the lookout for new skincare products. My newest round of trials led me to Truffoire skincare. If you are curious about my thoughts on this brand, keep on reading to find out more.
Who Is Truffoire?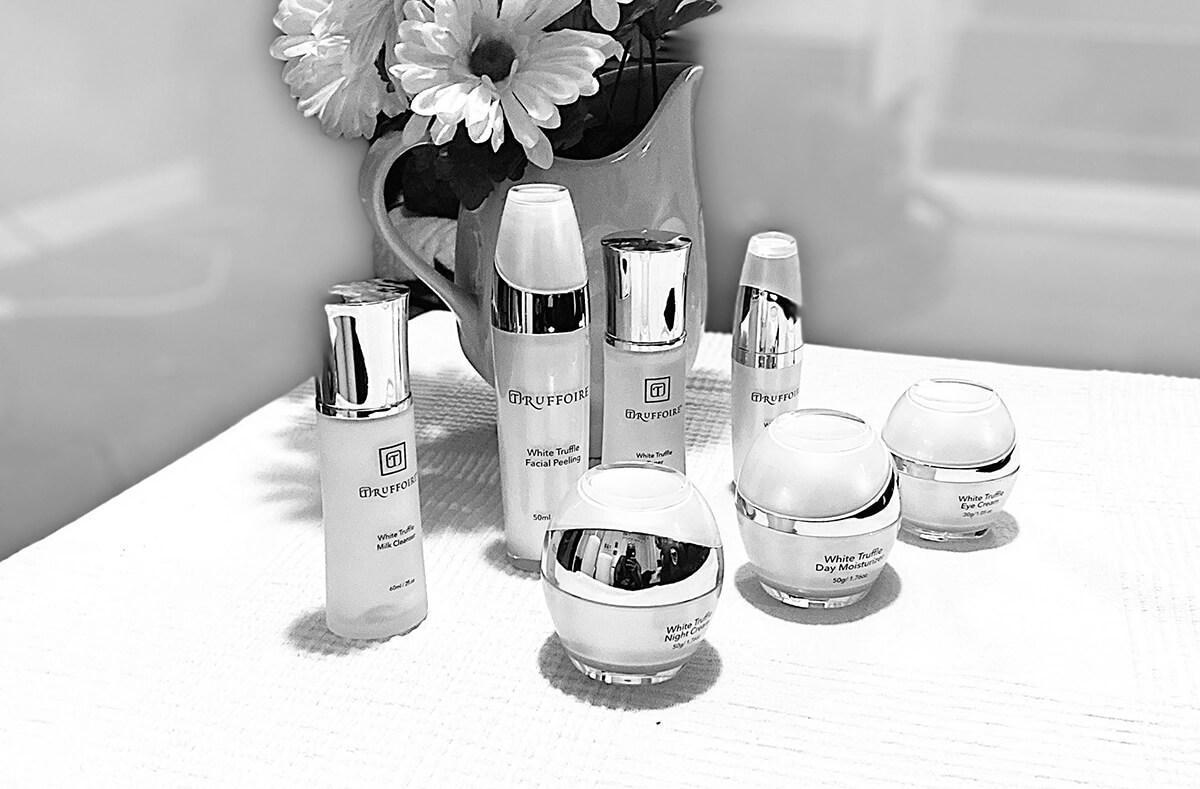 Truffoire is a company that bases its skincare products on a specific signature ingredient, in this case, truffles. Most people are used to hearing chefs talking about using truffles in fancy recipes, so it might be confusing to hear about them being used as the main ingredient in skincare.
However, according to scientific research, truffle extracts have the ability to combat aging and help renew skin cells. They have antibacterial properties as well as fatty acids, which we all know are good for your skin. Truffoire creates products based on white truffles and black truffles, and the one that I am reviewing for you today is from their with tuber aestivum (white truffle) extract line.
White Truffle Cleansing Set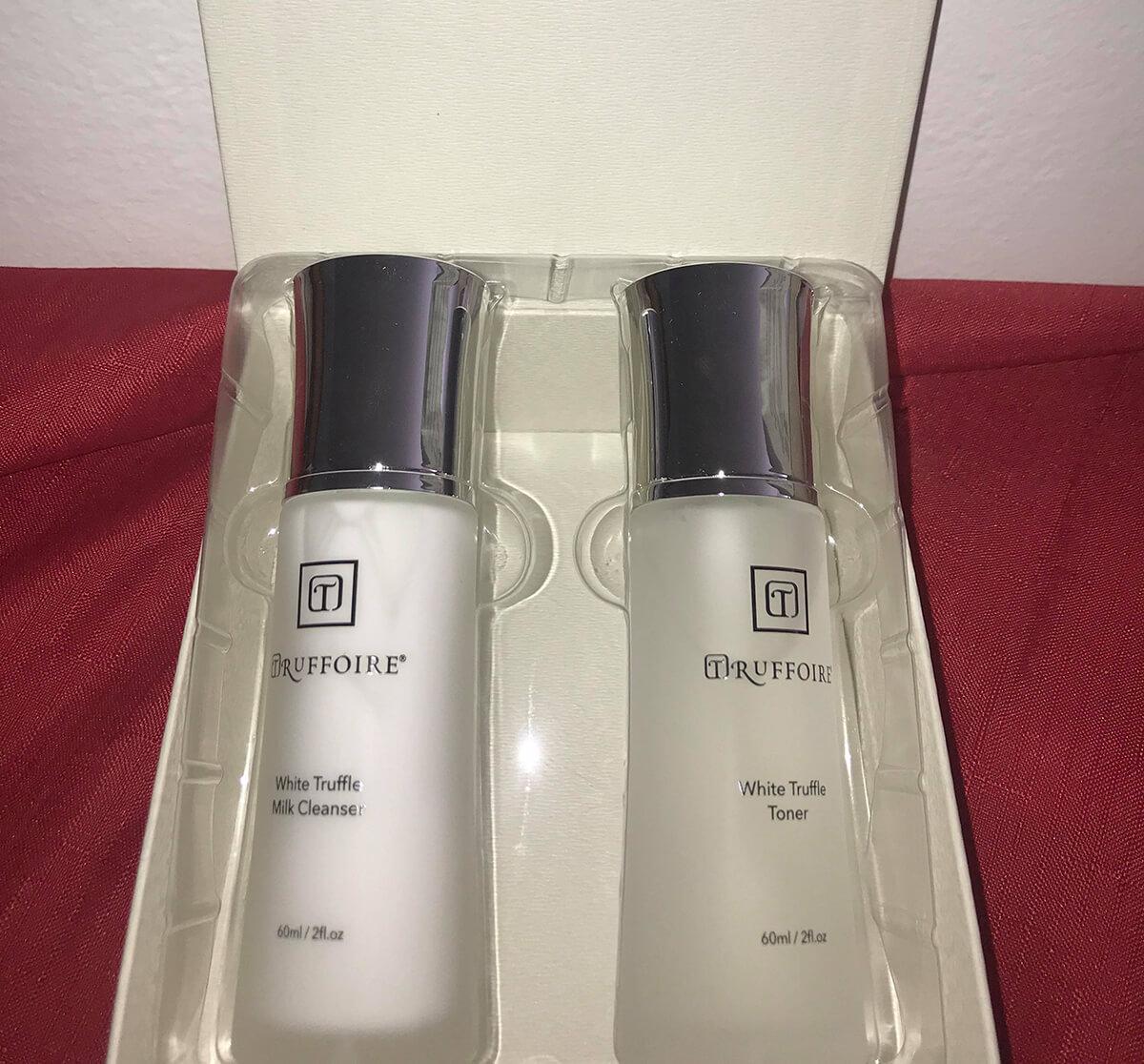 Let's start with the White Truffle Cleansing Set since this is usually the first step in any skincare routine. The set comes with a gentle cleansing milk cleanser and a white truffle toner.
There are no complicated instructions and you use these just like you would any cleaning product for your face. I use them as the second step in my skin cleaning process simply because I use a makeup melting balm to get rid of foundation, powder, and mascara that has been baked on during the day.
I use a small amount of warm water to massage the cleanser into my face. It feels cooling and silky smooth, which is always a positive trait in a skincare product. I noticed that the white truffle cleanser effectively draws out impurities without drying out my skin. This is especially important if you have sensitive or acne-prone skin like myself.
I follow up with the white truffle toner after patting my face dry with a soft clean cotton cloth. While I do love the cleanser, the toner is simply okay. I personally prefer an anti-acne toner to help my skin combat hormonal issues and prevent breakouts, but this is a personal preference. After using this for a few days I did note a bright, fresh, healthy-looking complexion whereas my skin had been looking red and irritated prior to using this product.  
White Truffle Eye Serum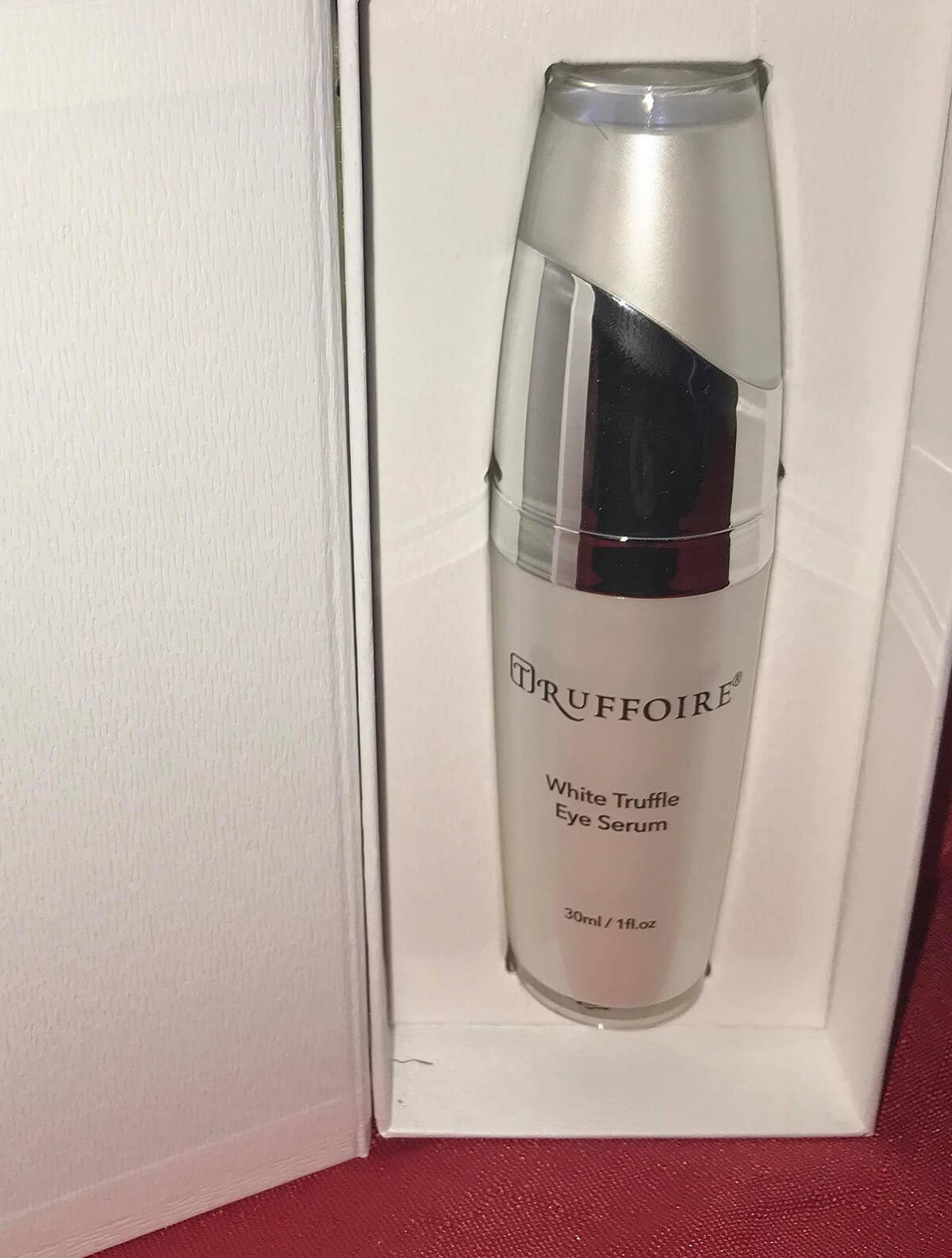 I am in my mid 30's and while I do try to take care of my skin, the long hours in front of the computer does a number on my under eye area. I am always on the lookout for good eye serums to firm and uplift my under eye area and help reduce wrinkles.
I have high hopes for the long term effects of the White Truffle Eye Serum, and, with just a few weeks of use, I have noticed that fine crinkles at the corners of my eyes are less pronounced and some of the lines from the bags under my eyes have started to smooth out. Some eye serums will leave the under eye area feeling tight, or in some cases very dry. With this serum, I did not experience that at all. It has a very thin consistency so you really only need a couple of drops and using a jade roller to massage it in is a great way to layer under other skincare steps in your routine.
White Truffle Night Cream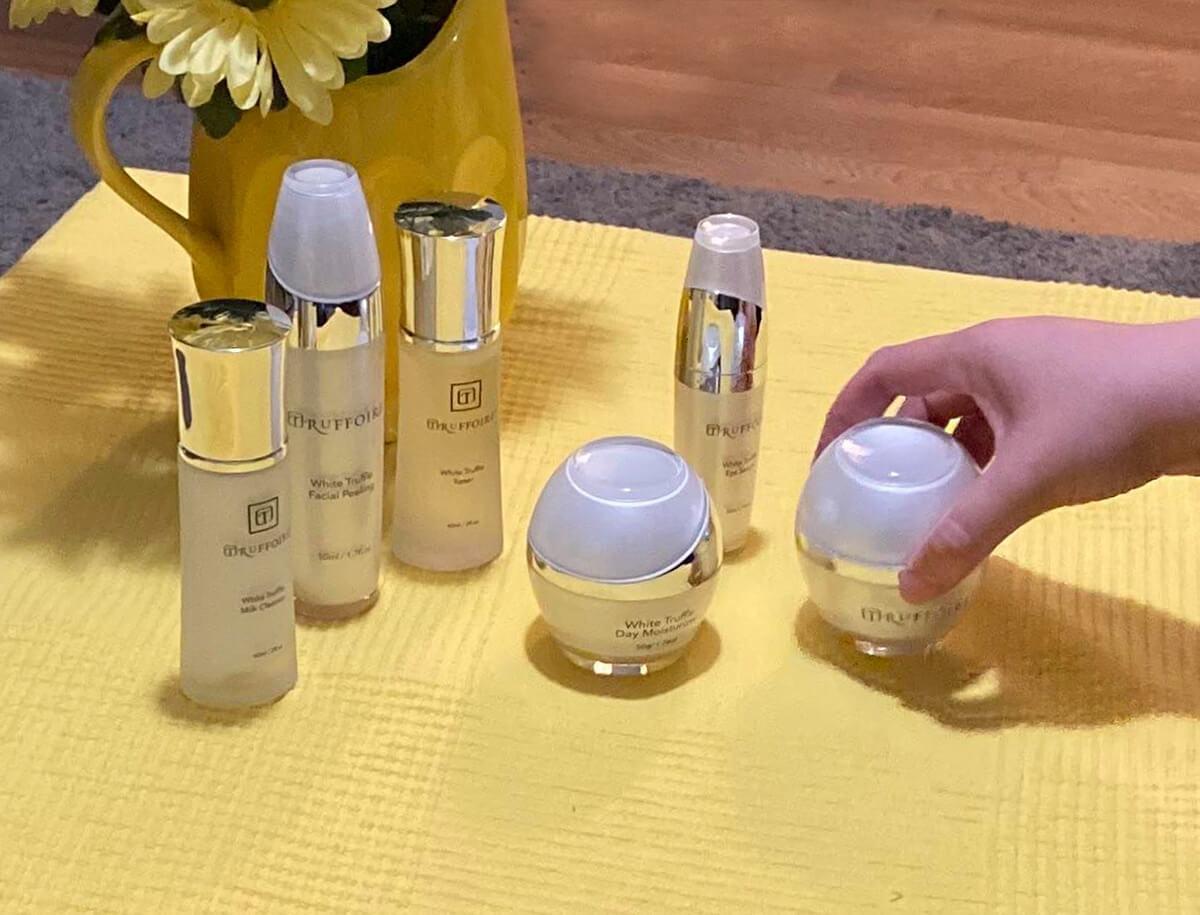 If you are looking for a moisturizer for dry skin then you will love the White Truffle Night Cream. My skin is neither oily nor dry, so when I use a moisturizing cream, I look for one that isn't overly hydrating. I do have acne-prone skin and too much moisturizer can cause me to break out overnight.
This night cream is a very thick cream that will leave your skin soft, supple, and very moisturized. Personally, I was not able to use this every night because I use acne medication spot treatments most nights, and a night cream works against that intended effect. I do suggest this as a great option for people with dry skin who need extra moisture but don't want to wear a heavy moisturizing cream during the day. The feel of it was quite smooth and soothing with a very light scent that I enjoyed.
White Truffle Facial Peeling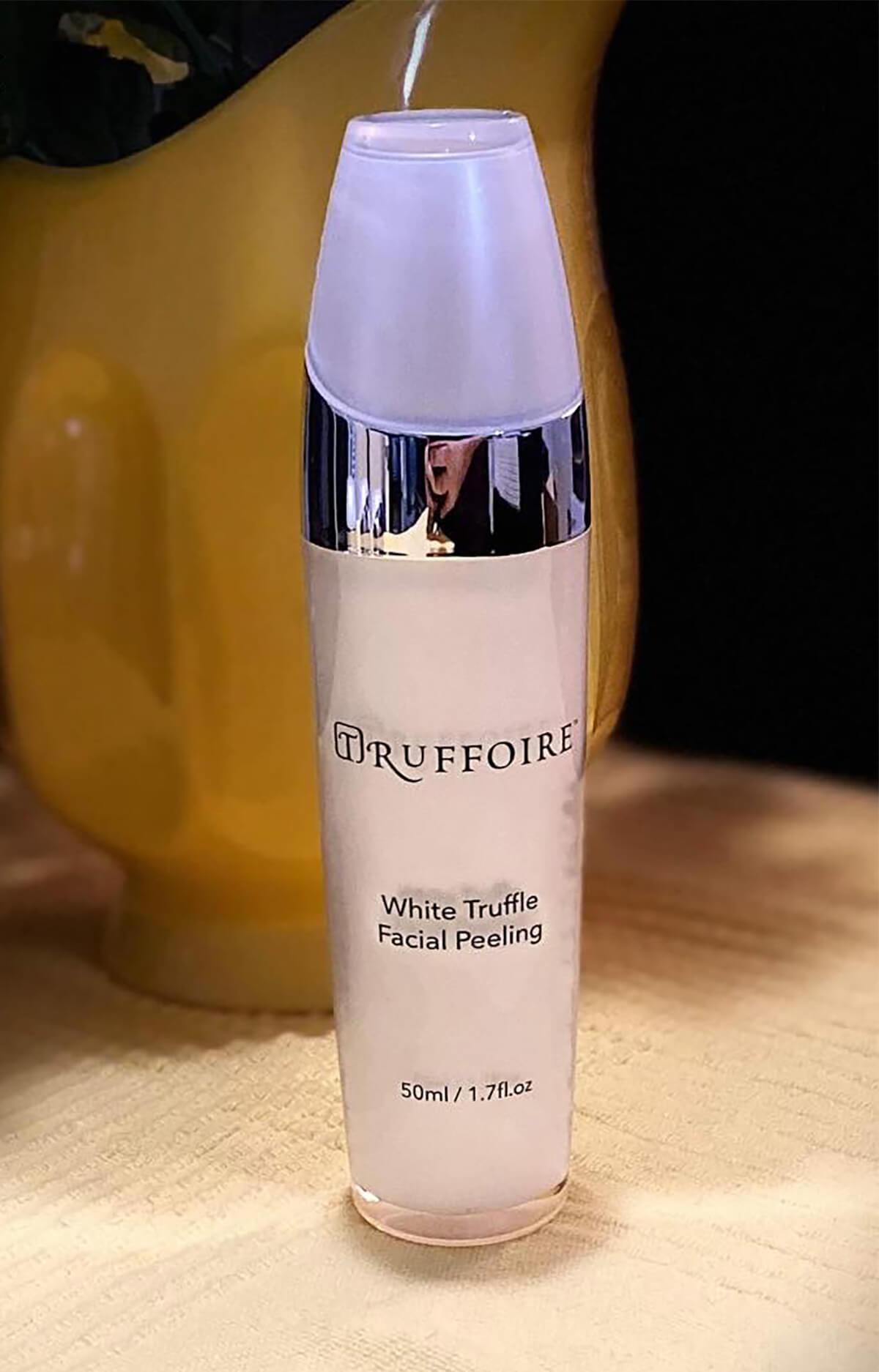 Ahh, on to the peeling treatment. I love a good exfoliator and a gentle cleansing peeling treatment is the perfect way to prepare your skin for makeup application. I try to exfoliate at least twice a week, though depending on breakouts I may only do it once a week. I was excited to try the White Truffle Facial Peeling treatment to see if it would help me with a bright, fresh, healthy-looking complexion before my makeup routine.
My usual go-to exfoliator is Dr. Brant microdermabrasion, but I am pleasantly surprised that Truffoire peeling treatment works just as well with half of the effort. Of course, scrubbing your face is not a lot of effort, but this peeling treatment was very gentle on the skin and left my face feeling supple and moist. All of the dead skin and pollution were gone which left a perfectly clean surface for moisturizer and makeup application. I suggest only using a peeling treatment twice per week regardless of your skin type.
White Truffle Eye Cream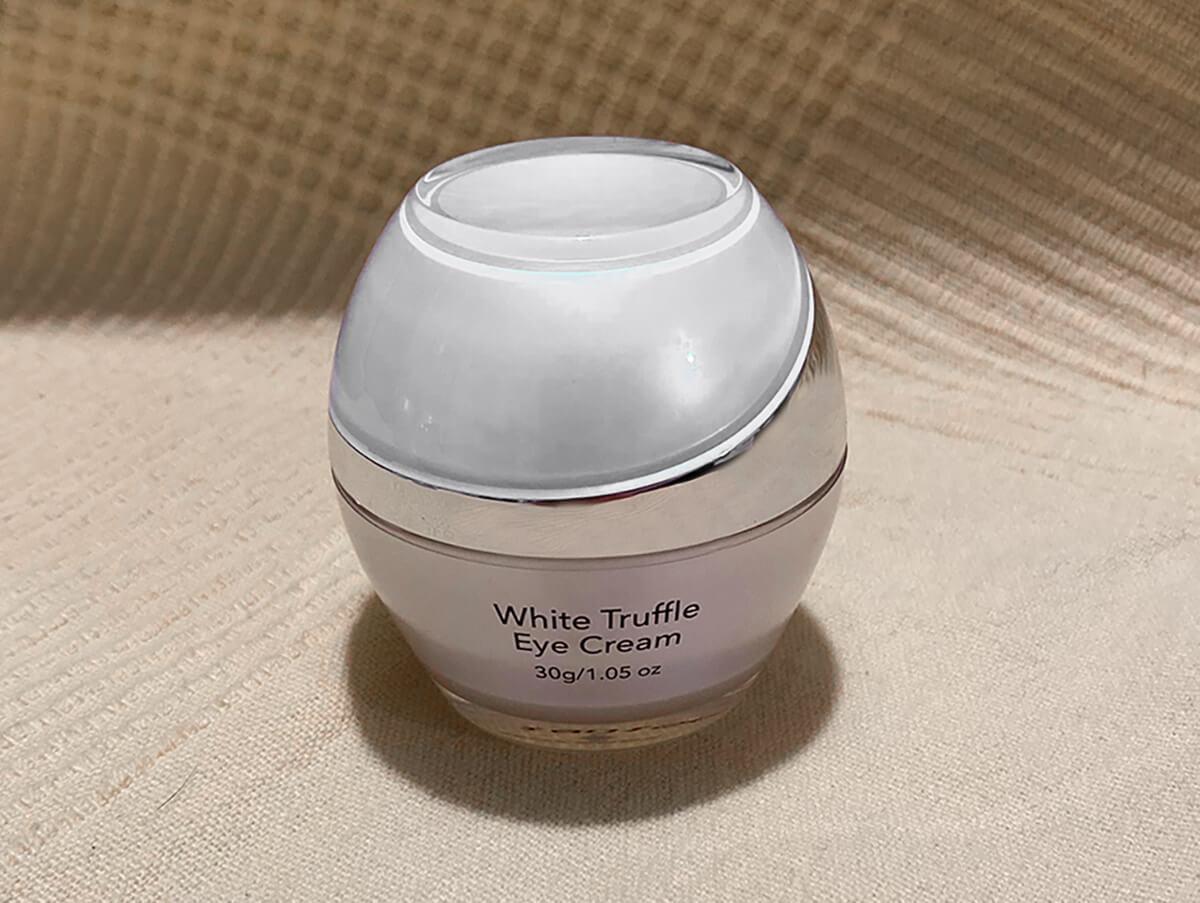 Most people won't use a specific eye cream during the day, and in most cases, the same moisturizer for face is what they will apply around their eye area. Depending on how much time I have or what type of makeup application I have planned, I may choose to wear an eye cream during the day. Most eye creams don't mix well with primers and concealer which is why a lot of people, myself included, skip this step during the day. So far I have really enjoyed the other products from the white truffle line so I decided to incorporate the White Truffle Eye Cream into my daily routine. After two to three days have realized that the eye cream does actually firm and uplift my under eye area. While many eye products will simply depuff, the white truffle eye cream actually makes the eye area look more youthful.
I mentioned earlier that while I do take care of my skin, one of many main concerns is the bags, fine lines and dark circles under my eyes. I have gone through so many products that promise the moon only to end up right where I started. One of the only products that have given me noticeable results is the It Cosmetics Bye Bye under eye cream. Of course, I was skeptical when I started using this white truffle cream just like with all the other brands. I am happy to say that I have been pleasantly surprised at the effectiveness of this eye cream.  No product will turn back the hands of time, but since I have started using the white truffle eye cream, the harsh lines that form from sitting in from of the computer for hours have faded to the point where a single coat of concealer is able to hide them. My under eye area feels refreshed and dewy and the cream plays well with most of my favorite cosmetic products.
White Truffle Day Moisturizer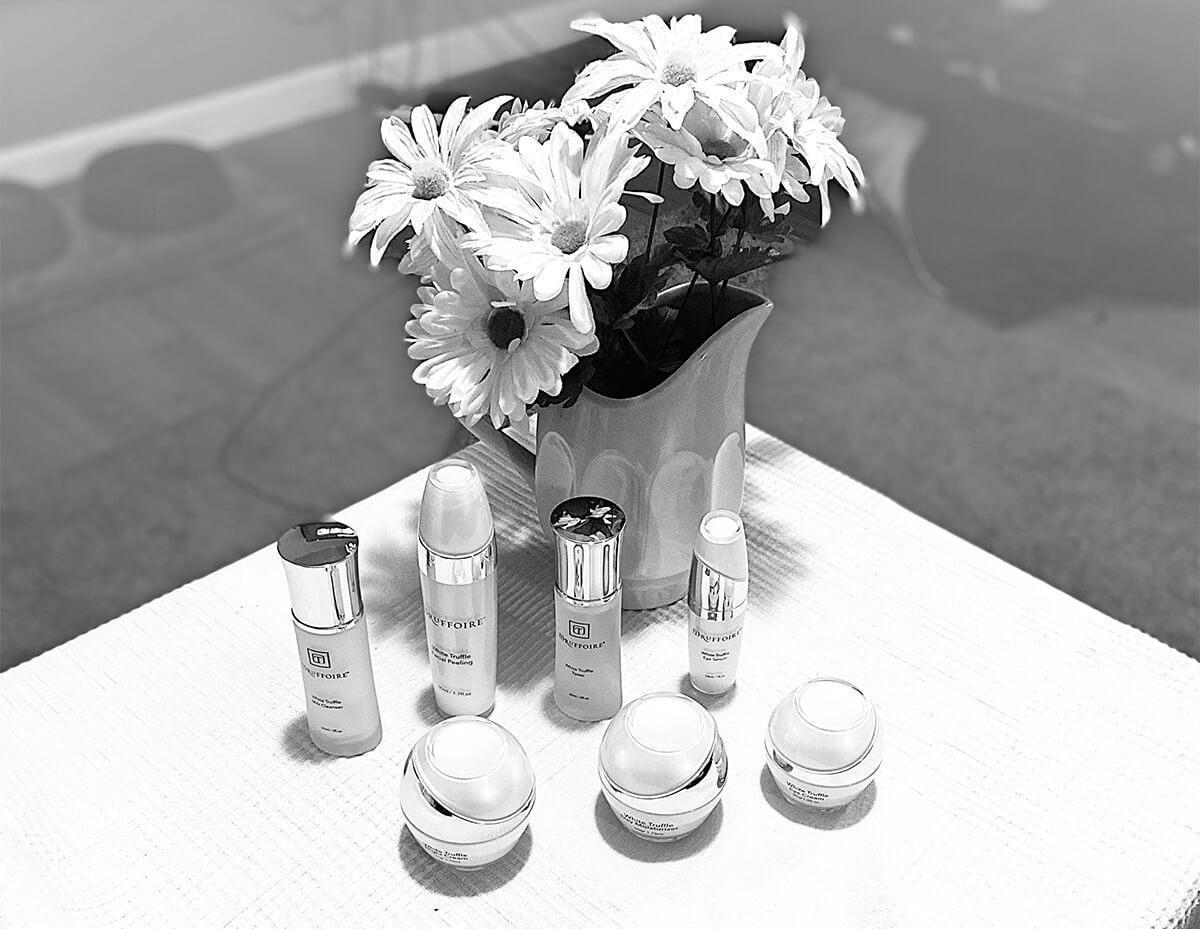 No matter what your age is or where you live, it is important to use a moisturizer for face and neck that works well with sunscreen. A lot of moisturizer products on the market are either too heavy or too greasy to wear during the day. Some creams may be light enough to wear during the day, but they don't mix well with sunscreen or cosmetics products. I can't even begin to tell you how many moisturizers I have used that have caused me to break out with cystic acne. I am always wary of new skincare products, especially face creams because my skin is so sensitive. I decided to throw caution to the wind and dive in headfirst when trying the White Truffle Day Moisturizer. I stopped using other products aside from my usual sunscreen so that I could properly gauge the performance of this moisturizing cream. 
So far, I have had no adverse reactions using this moisturizing cream on its own during the day or wearing it with my regular sunscreen. The white truffle extract seems to not only firm and uplift, but also helps to soothe irritations and redness. Curious about this effect I did a little research which led to studies that show that truffle extracts have antibacterial properties. This is very important for people who have acne-prone skin since acne is simply bacteria! Can you imagine how happy I was to find a day cream that also helps to soothe and prevent breakouts at the same time?!
Overall, I really enjoy using this day cream because it works well with my sunscreen, provides a smooth base for my makeup application, and is completely non-greasy. I live in the East, so the summers are very hot and the winters are very cold. A day cream that is too greasy will not only make you hot, but it will also clog your pores, which this white truffle day moisturizer doesn't do.
My Final Thoughts on Truffoire's White Truffle Skincare Line
Skincare is very personal and must be customized to each person's unique needs. There are a lot of products on the market that target various age ranges, skin concerns, and even skincare that is more suited to one race over the other. It is important to understand that what may not work for you may be a perfect solution for another person. That being said, there are some tried and true skincare methods and products that work well for the majority of the population. 
I am in my 30's and wear a moderate amount of makeup on a daily basis. I also live in an area where there is a lot of sun, high concentrations of environmental pollution, and very little in the way of nature. My skin concerns are fine lines and blemishes. I also have sensitive skin and am prone to breakouts. 
I have used each of the products in the Tuffoire white truffle skincare line and I can say with confidence that I am pleased with the products overall. With my specific skin concerns, I did not suffer any negative reactions or breakouts while using this line of skincare. The best products in the line, in my opinion, are the White Truffle Eye Cream and the White Truffle Day Moisturizer. These are both products that I plan to repurchase when my current supply is finished. Although I didn't have any issues with any of the products, my least favorite is the White Truffle Night Cream. The product itself is very moisturizing however I found it too heavy for my personal preferences, it is more suitable for people who suffer from dry skin or as a winter use product.
Overall, this skincare line is every bit worth the cost and will leave you with a bright, fresh, healthy-looking complexion.