For the past two weeks I was given the unique opportunity to test two products from the nubiSKIN collection – the Facial Peeling Visage and the Facial Day Moisturizer.  As a long-time fan of the renowned nubiHAIR line and a true skincare addict, I was especially excited to try out these products for myself and see if they fit my lifestyle and routine.
Below are my first impressions and subsequent thoughts after two weeks of continual use of the nubiSKIN Facial Day Moisturizer.
About the Product
Designed to fit into your morning routine, the nubiSKIN Facial Day Moisturizer provides lightweight all-day moisture for a smooth and radiant complexion. Each piece comes packaged in a beautiful acrylic jar with a luxe heavyweight shimmering carton holding it in place. 
Product Usage
This product is intended to be used daily on clean, dry skin over the face and neck areas (avoid direct contact with the eye area). Long-term use promises diminished fine lines and wrinkles for a youthful complexion.
Features and Benefits
The whipped texture instantly relieves dryness while lush moisturizers and deep-sea minerals fight the signs of aging. Ingredients such as sunflower seed oil protect and moisturize the skin without causing irritation or oiliness.
First Impressions
Upon opening my package and finding both of these nubiSKIN products inside, I was very excited. I opted to test them out first before the other products to gauge my best honest reaction to one of my favorite hair care brands' jump into the skincare realm.
The Packaging
Initially, I was taken aback by the luxe, heavyweight packaging of the unit cartons that housed these products. It gave an immediate luxurious feel that played perfectly with the shimmery outside material. The unique ingredient-inspired artwork was a little off-brand from what I would typically expect from nubi, which usually has a darker and trendier aesthetic, but I did appreciate the inspiration behind it. The fact that the amount of product and the main highlighted ingredient was included on the front of the box in large, shiny print was fantastic – normally you have to hunt to find this information!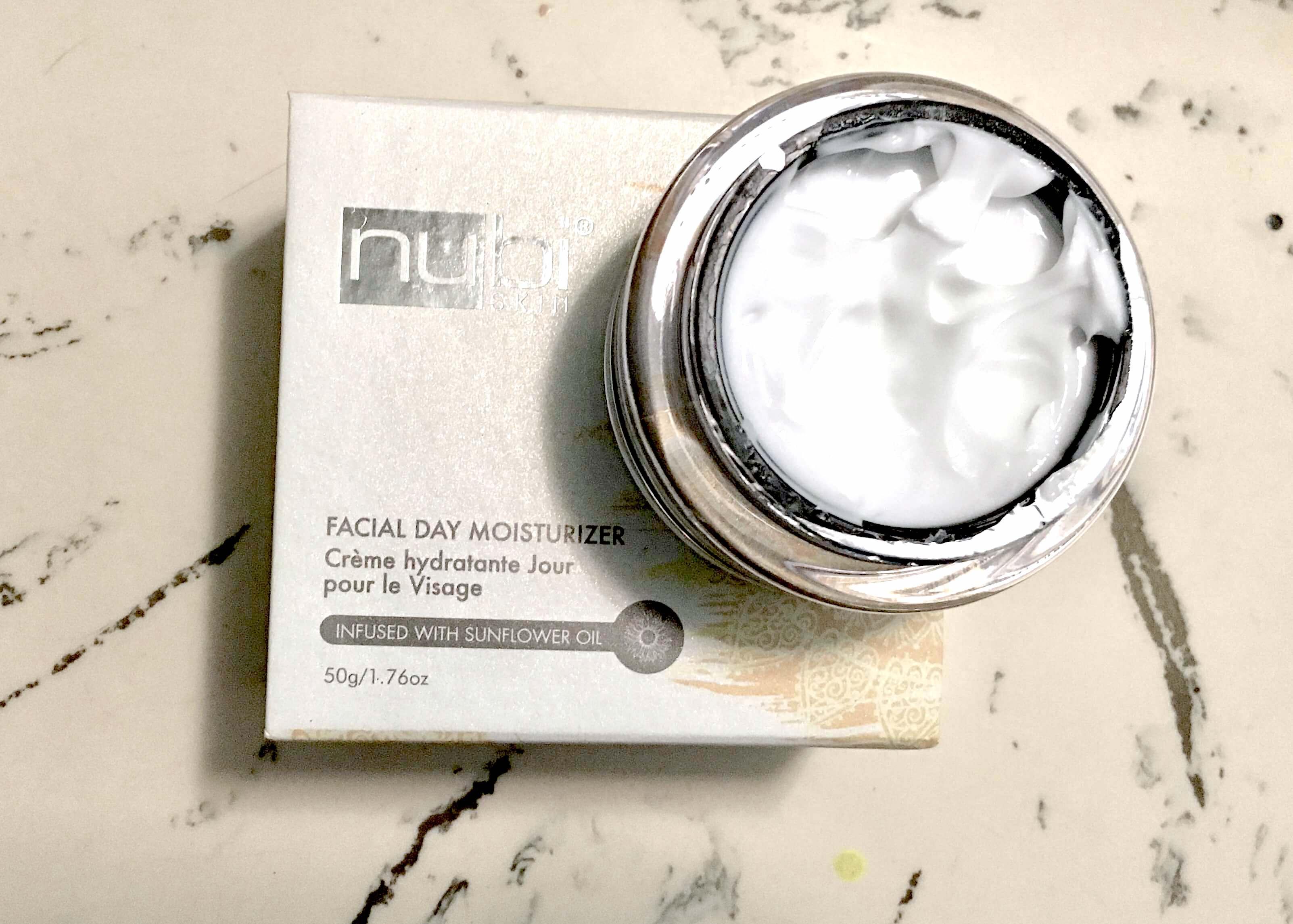 Upon opening up the box, I was again surprised – nestled inside was a gorgeous acrylic jar!  This piece fit more with the nubi aesthetic, with a dark color and a shiny finish. Although I prefer glass jars when it comes to my skincare (personal choice really more so than a functional none), I do appreciate that these jars were double-sealed for security. The foil was a bit of a hassle to remove, but I suppose it meant that the product inside was safe to use so I cannot really complain. The jar lids are very easy to screw and unscrew, too – a definite bonus!
The Texture
I have to be honest here – the texture of both of this product took me completely by surprise.  Not in a bad way – it just was not what I was expecting based on the name and description.
The Facial Day Moisturizer was an incredibly pleasant surprise for me. What I was expecting to be a very lightweight, barely there moisturizer turned out to be what I would equate to what putting butter on your face would feel like (without the nasty, greasy side effects, of course). This moisturizer is so soft to the touch and simply glides on over the skin – I was hooked after just swatching it on my arm. It absorbed very quickly into the skin as well, without leaving any noticeable residue or stickiness.  Too often skincare items leave one or the other, so I was delighted to find that this one did not.
The Aroma
One of my biggest pet peeves in skincare is when products have an overwhelming aroma, but this nubiSKIN product passed this test easily. It has a very delicate, almost cloudlike smell that is very clean with a soft and airy touch. The smell itself isn't very strong and settles easily into the skin after application. It was so light, in fact that I completely had forgotten about it only a few minutes afterwards.
The Application
I, of course, had to test these products immediately upon receiving them.  However, I had to wait until the next morning to test the Facial Day Moisturizer, as I wanted to see how it performed underneath my everyday makeup. Although I am a huge fan of moisturizing products, I always need to make sure that they perform well under my daily bombardment of BB creams, foundations, eyeshadows, and more before I can truly commit to using something.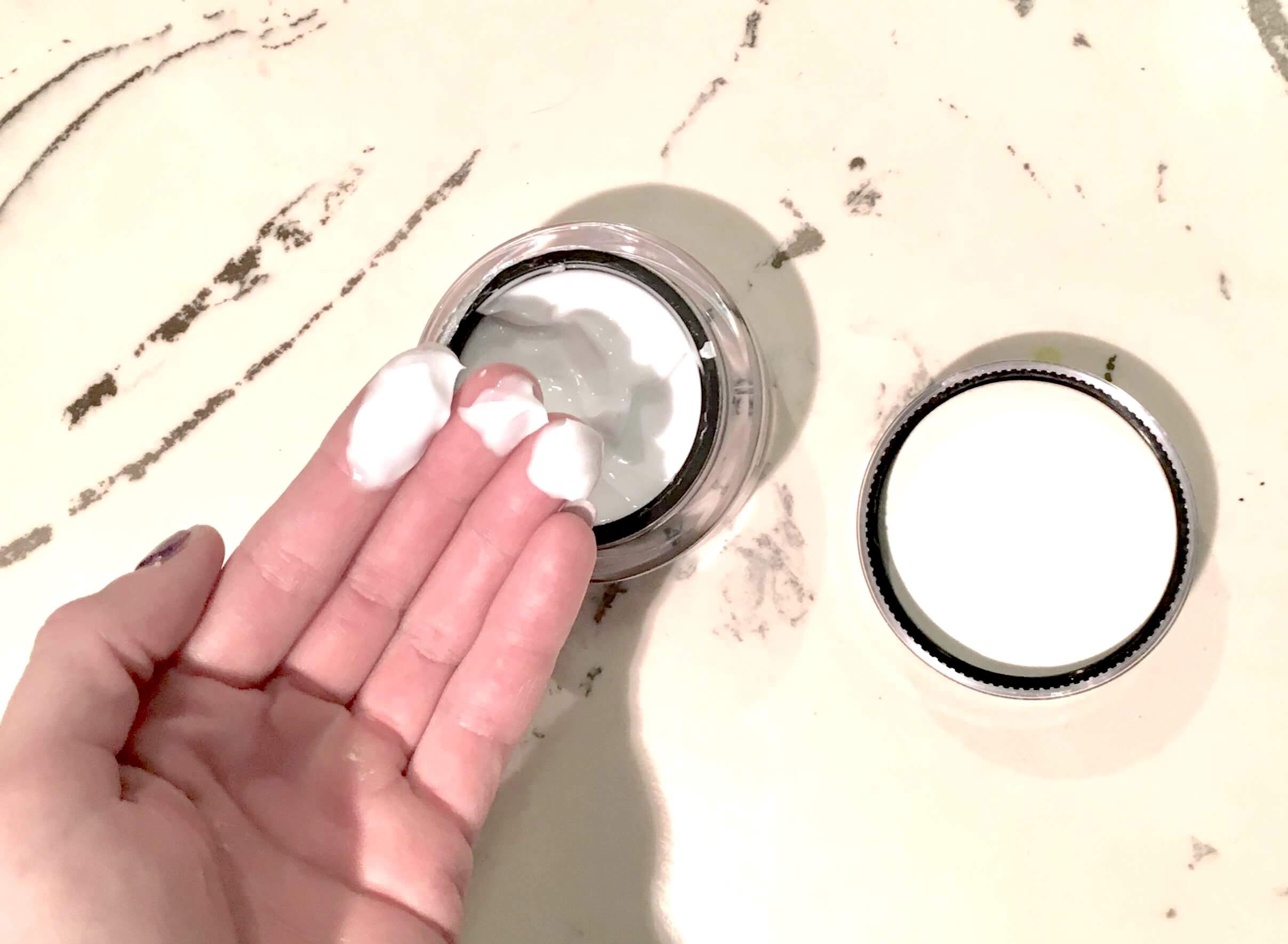 Just like my first impression when I swatched it on my arm, this product glided onto my face like butter.  The feeling is totally amazing and almost surreal, and it even has a light cooling effect as it settles into the skin.  It dries down fairly quickly and didn't leave any residue or stickiness just a few minutes after application.
The Effects
Although I saw immediate results with the Facial Peeling Visage, I did not with the Facial Day Moisturizer. The product absorbed well into my skin and didn't cause any obvious disturbances with my daily makeup routine, but I did not notice any changes in my skin visibly after it was applied. This could simply be because my current morning moisturizer is very similar. However, since it is a moisturizer, a change in skin texture or tone will definitely take time – because of this, I was not expecting anything extraordinary right off the bat.
Overall Takeaways
In general, I was very happy with the initial impressions I received from the Facial Day Moisturizer. I didn't see any irritations or breakouts and found that my skin wasn't greasy or oily by the end of the day after using it underneath my makeup.
Later Impressions
One Week Later
I'm never one to judge a skin care product by the first few uses – I like to work it into my everyday routine and see how well it fits before I make any long-term decisions about it. That being said, here are my thoughts after the first week of continual morning use of the Facial Daily Moisturizer.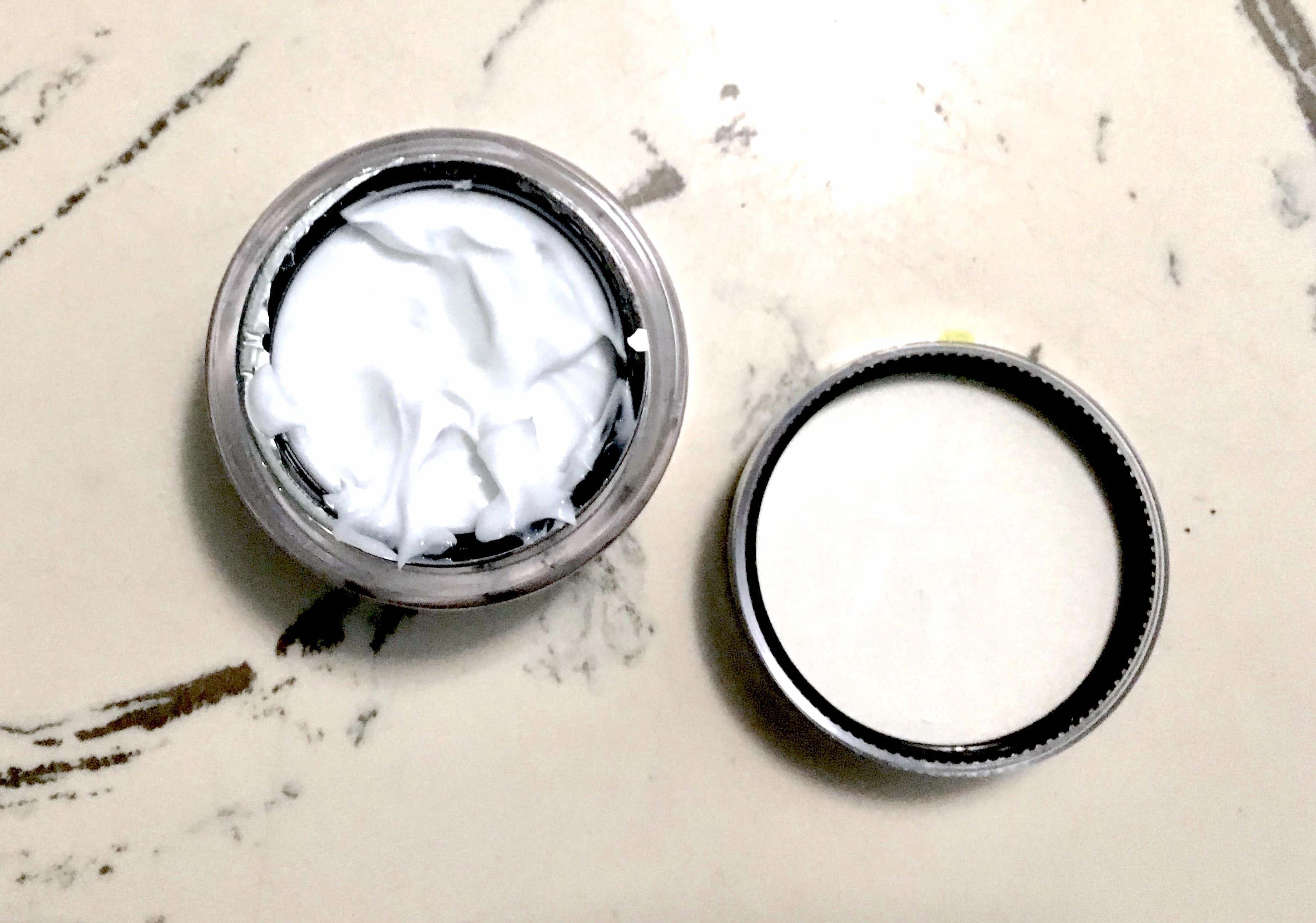 The Effects
I really didn't notice any drastic change in my skin tone or texture. Sure, my face felt moisturized and my makeup didn't melt off, but there weren't any real dramatic, in your face changes.
Because of this, I decided to give this product another full week of testing and begin using it more than once per day. On the weekends I typically do not wear makeup, so I decided to use it twice – once in the morning and once in the afternoon after a shower or a workout, to see how effective it was being used in this manner.
Two Weeks Later
Like I've said previously, you really can't judge a skin care product and its effectiveness until you're truly worked it into your daily routine and tested in from all angles. I gave the Facial Daily Moisturizer another week of daily testing, following the instructions on the packaging as I was before. I am happy to report that not only were my first impressions actually pretty close to the real deal, but I did start to notice some improvements in my skin.
The Effects
Like I had thought before, I didn't see results from daily use of this moisturizer until about a week or so later. I'll admit I was a bit skeptical of the anti-aging claims, but I have to admit that I did see a slight plumping effect in my undereye area. It wasn't truly noticeable until I was outside looking in my phone's mirrored camera to check if I had a bee in my hair. I actually felt like my undereye area looked so much smoother and more hydrated! As a 28-year-old, I'm really all about the wrinkle-reducing and long-term benefit products, and I think that this could potentially fit right in with my routine.
Other Notes
Once I implemented it twice a day, some issues did arise. After using it twice (once in the morning and once in the afternoon), this product did tend to make my skin oilier in my T-Zone, which did lead to an increase in breakouts along my jawline and cheekbones. As a woman with combination skin, the moisturizing effects may have been a bit too much for me.
Overall Takeaways

What I Liked
My favorite part about the Facial Day Moisturizer was that it did exactly what it promised – it had a light and airy feel, a smooth application, and a slight plumping effect that helped my skin look much more hydrated and youthful.
In addition, the use of natural and botanical ingredients is a definite plus for me.  Too often we see skin care items loaded with chemicals and unnatural ingredients that can be potentially harmful to the skin long term. I really appreciate the fact that this product used organic ingredients in its formulation, such as sunflower oil.
Even though I didn't really like it at first, I have to say that I am now a fan of the packaging of these products.  At first glance, it didn't fit very well with what I thought of as the nubi aesthetic – now, looking back, I can see that it doesn't necessarily need to stay completely in line.  It still captures the luxe feel and modern edge of the more classic nubi designs, but with a clean, contemporary feel that's perfect for skin care. Also, I adore the appearance of the little acrylic jars and think that they would fit in perfectly on my vanity with my other high-end skin care products.
What I Didn't Like
All in all, there isn't really anything that I outright disliked about this product. While the Facial Day Moisturizer did break my skin out, I believe that it was because I did not have the intended type of skin that should be using the product and didn't exactly follow the directions the entire two weeks that I was using it. I do believe that if I had not applied it twice per day over the weekend its effects would have been perfect.
 

What Could Be Improved?

After testing this product for two weeks, I couldn't really find too many areas for improvement. It really does exactly what it was intended to do. As I mentioned previously, I would have loved the packaging to have been an actual glass jar versus an acrylic jar, but that would be my only area for potential improvement in the long run.
Who Would These Products Work For?
After continual use of this product, I have to say that the Facial Day Moisturizer might be for a more specific class of customer. I would definitely recommend it for men and women with concerns about aging skin that have dry to normal skin. The sunflower oils will likely do wonders for them, but may cause issues for those with oily or combination skin, like myself. As long as they use this product as directed along with their other must-have skin care items, I believe that they could see immediate and long-term benefits in the quality and appearance of their complexion.
Final Thoughts
All in all, being able to test new skincare products from one of my favorite hair care brands was a fantastic experience. I look forward to continuing to use the Facial Peeling Visage and glowing, radiant skin for many years to come!