Over the past few weeks, I was honored to be given the opportunity to test several products from one of my favorite hair care brands, nubiHAIR.  I was given both the nubiHAIR Boosting Hair Serum with Marula Oil and the nubiHAIR Sleek Curl Teal to test and review for a few weeks to provide my impressions, thoughts, and overall takeaways on both products.
After using the beautiful nubiHAIR Sleek Curl Teal for two weeks, these are my first impressions and subsequent thoughts about it, its usage, and how it fits with my lifestyle and needs.
About the Product
The nubiHAIR Sleek Curl Teal is a state-of-the-art curling wand crafted to provide the ultimate in shiny, sleek curls without causing damage or distress to your hair.  Designed with an edgy matte teal base, this piece comes housed in a luxurious rich forest green carton with a glove to protect your hand with continual use.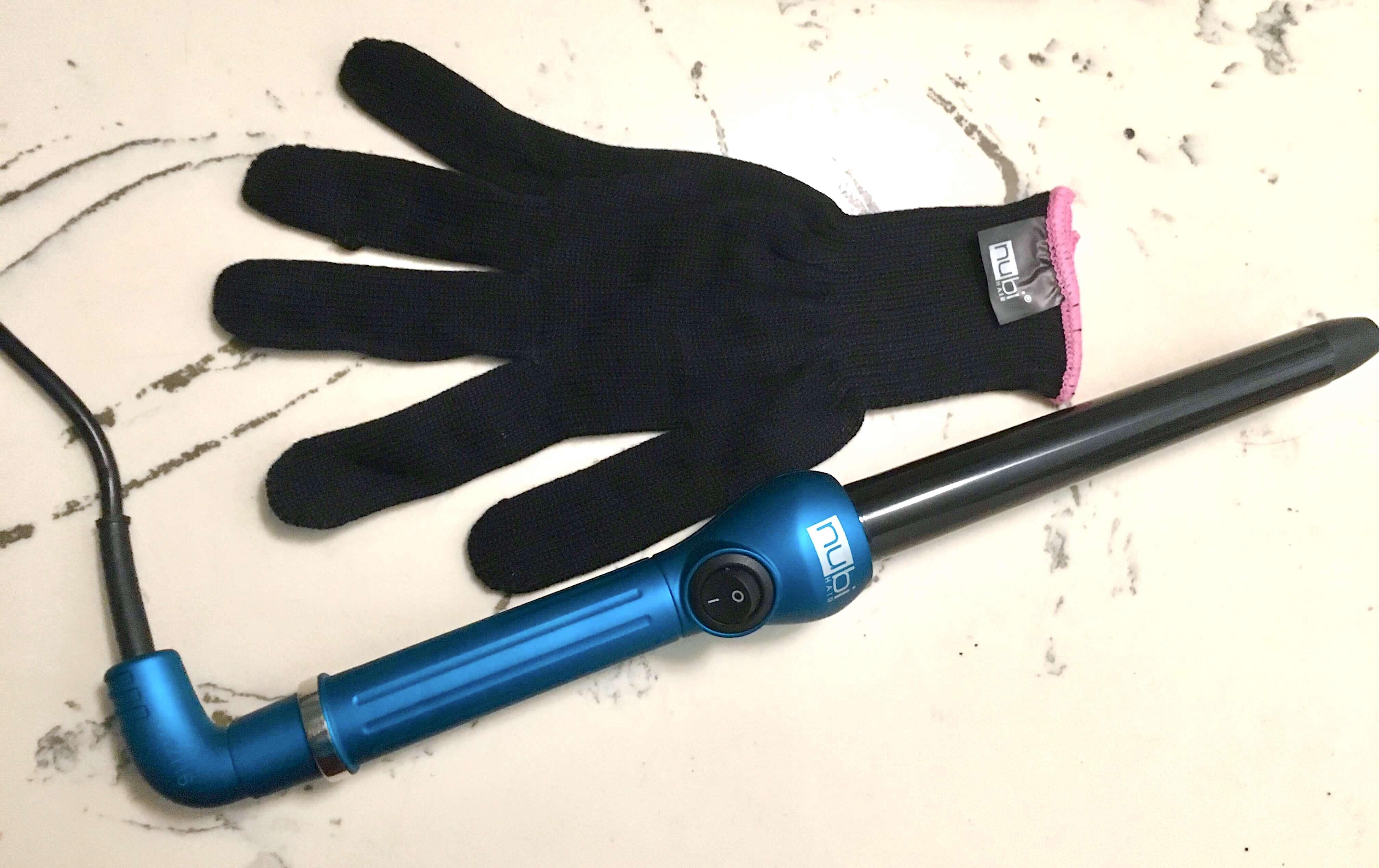 Product Usage
This product was designed to be used any time, anywhere on any hair type thanks to its revolutionary technology. An easy-grip ergonomic handle and a 360° swivel cord make this curling wand easy to use no matter what the situation. A protectant glove for your hand keeps it safe while using this curler, even if you happen to accidentally touch the wand.
Features and Benefits
Of the many impressive features of this product, the most alluring definitely has to be the ground-breaking Negative Ion Technology. This helps to protect your hair, sealing the cuticle of individual strands and eliminating frizz for that all-day perfectly coifed style.
The slick Teflon-coated clipless ¾" – 1" barrel makes it easy to maneuver and craft the style that you've been dreaming of without damaging your hair. Its quick-heating technology safely distributes heat evenly from top to bottom to maximize your curl and minimize potential damage to your tresses.
First Impressions
Upon receiving my box of items to put to the test, a luxurious curling iron was the last thing that I expected to receive. When I opened the box and found the Sleek Curl Teal, I was speechless. A curling wand from one of my favorite hair brands? Sign me up. I had to immediately get it out and give it a go.
The Packaging
As I have said in my other reviews, nubi really knows how to create luxurious packaging very well.  The Sleek Curl Teal was no exception – this piece comes housed in a luxe oversized forest green turned-edge unit carton with a subtle texture throughout and beautiful silver lettering.  It felt sturdy yet easy to open when needed, and I lamented throwing out the box once I found a place for this curling wand on my vanity.
The curling iron itself is exceptionally beautiful, with a bold matte teal color that captures the eye and a sexy black wand and detailing that really makes it stand out.  I love the silver accents throughout the wand – it really helps to tie back to the nubi brand and elevate its appearance.
The inclusion of the heat-proof glove in the packaging was an unexpected touch that was definitely needed. After all, who wants to get burned when trying to curl their hair? Not me.
The Feel
After seeing that this curling wand had a matte finish, I wasn't too surprised to feel that it was slightly textured and metallic.  I really appreciate the ergonomically designed handle – this iron almost feels like an extension of your hand!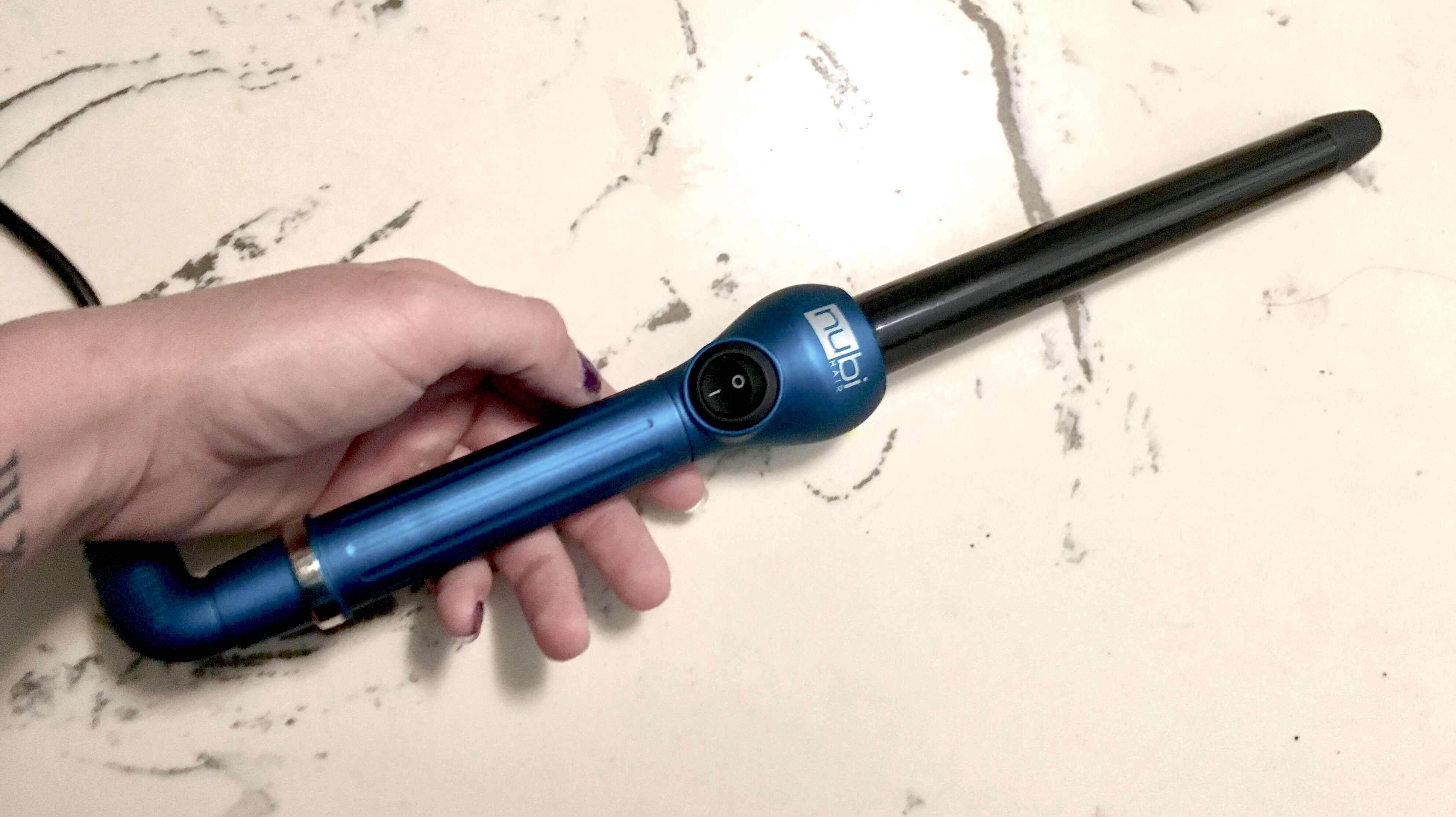 I could definitely see myself using this easy and quickly when I'm in a rush to get out the door and still need to look fabulous.
The Usage
After eagerly pulling this product out of the packaging, I was super excited to fire it up.  I immediately plugged it in and flipped the switch to "ON" before stepping away for a few minutes to open the other items in my package. Before I knew it, the wand was heated and ready to go!
You can feel the heat radiating off of the wand when you pick it up.  Immediately, I slipped on the thermal glove. Well, wrestled it on is more like it – it had a very snug fit that barely made it over my long fingers.
When using this wand in my hair, I didn't really detect any uncomfortable heat when it was close to my head.  I simply would my hair around it rather quickly, let it set for about 15-20 seconds, and released.  If I had held it longer it may have been an issue, but so far nothing yet.
The Effects
After curling almost all of my hair in one excited go, I am happy to say that this curling wand totally delivered. My hair may have looked a little messy and unkempt, but with my shag haircut and my digitally permed hair that's exactly how I like it. 
My hair didn't appear damaged or dry after using this curling wand and there was no noticeable smell of charred or burnt hair that sometimes comes when you use heated tools. Rather, my hair was fairly frizz-free and beautifully curled!
Overall Takeaways
All in all, I am incredibly excited with the results of using this product one time on my hair.  It's amazing how much simpler it was to use than my standard curling iron and how much less time it took to get the look that I wanted.  I am very enthusiastic to keep testing this for two more weeks.
Later Impressions
Although I was absolutely in love with my first go with the Sleek Curl Teal iron, I decided to keep testing it for another six days to gather my impressions of a full week of continual use. I'd really like to see if it does, indeed, keep my hair from being frizzy or damaged in the long term or if it is simply another heated tool that promises but doesn't deliver after the first few tries.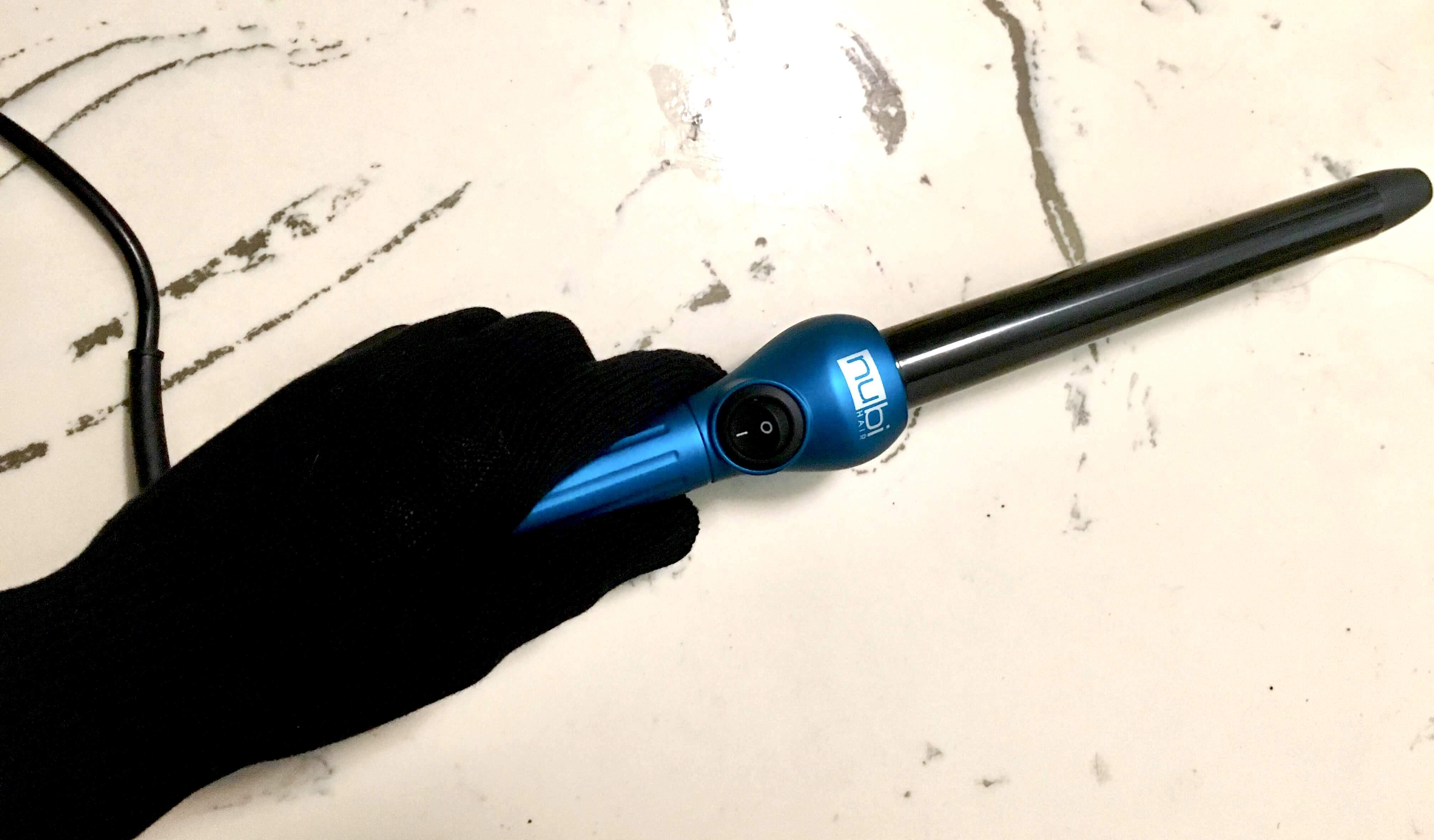 One Week Later
After using this product every morning before work for five days and in the evening for two days on the weekend, I am super excited to report that my first impressions were absolutely correct – this curling wand is perfection.
The Effects
Holy moly I was not expecting the results of using this curling wand for a week to be this good.  For the first five days using this product, I tested it by curling my hair quickly in a rush before leaving for work to test how easy it was to use when in a hurry.  
On the first few days, I followed my hairstylist's directions and curled a few random strands of hair in opposite directions to give my shag a little more texture and volume. With a little bit of hairspray and some finger tousling, my hair was good to go! The curls did last most of the day, but started to fall out a little before I left the office.  This wasn't too surprising to me, as my hair tends to never hold any curl at all – the fact that it held this long is a miracle!
The following few days I decided to take my look up a notch and went rogue, curling my entire head of hair from root to tip.  Although these curly tresses did fall out about halfway through the day, the result was nice, loose beachy waves so I really cannot complain at all.
Testing the Sleek Curl Teal on the weekend was another story – I took my time and actually applied some styling product as I went and the result was spectacular. My curls stayed in all night and even through the next morning after sleeping on them. All in all, this curling wand is definitely a game-changer for me.
After seeing all of this when using it every day for a week, I was very excited to keep implementing it in my daily routine for at least another week of testing.
Other Notes
While I was using this product very quickly and minimally through the bulk of the week while in a rush to get ready, I really didn't notice any drying or damage to my hair.  When using it precisely and taking my time with my hair on the weekends, I did notice a little bit of steam coming off of my hair at times, which is slightly concerning. I am interested to see if this effect carries over in my next week of testing the Sleek Curl Teal.
Two Weeks Later
My initial fears aside, the next week of testing this product was an absolute dream.  I received so many compliments on my hair and didn't really see any damage at all after continual use. 
The Effects
After using this product every day for another week, I have to say that I am still amazed with the results.  I continued what I did the week before, using this product quickly during the workweek as efficiently as possible and taking my time with my hair on the weekend.
I could definitely see improvement in my use of this curling wand during my second week.  I finally got the hang of the ergonomic handle and the rotating 360 degree cord and could use it to my advantage when rushing to get fabulous and get out the door on time.  I started using styling products and a little bit more hairspray, too, and this really helped my curls hold throughout the day.
For the weekends, I started with prepping my hair with the nubiHAIR Boosting Hair Serum with Marula Oil before I touched it with the Sleek Curl Teal wand. I think that using both of these products in tandem really helped control my frizz and protect my hair! I included my usual styling products and a bit of spray while I curled my hair and had the same effects – long-lasting curls that looked totally natural!
Other Notes
I really tried to pay attention to whether this curling wand was damaging my hair as I used it this time around.  After implementing the nubiHAIR serum in my routine, it looked like my hair was protected and healthy with no damage to report. 
Overall Takeaways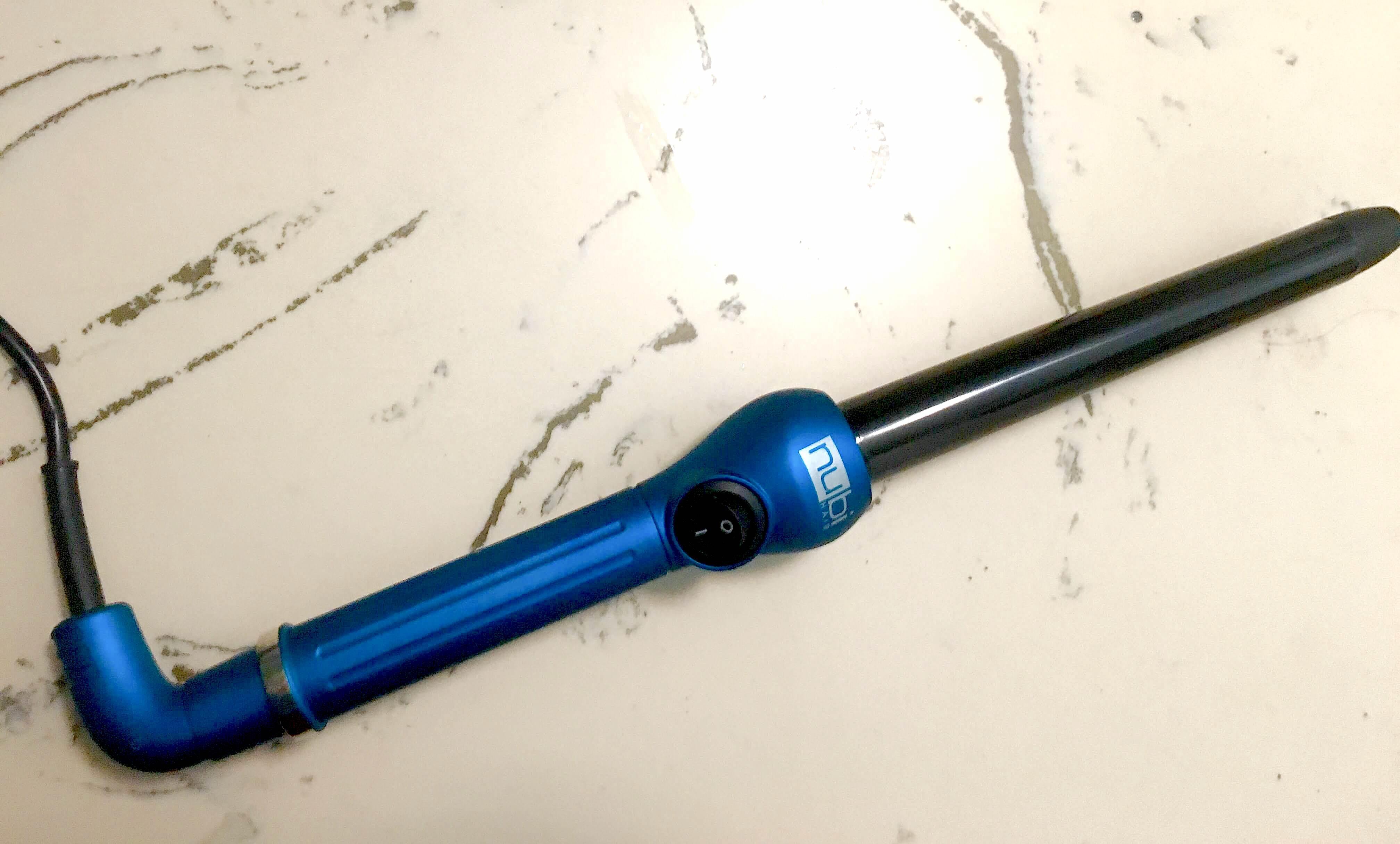 What I Liked
I really can't even begin to describe how much I loved the Sleek Curl Teal wand.  This baby is a life-changer for me and definitely has opened my eyes to the world of luxe hair care tools
All in all, I liked pretty much every single thing about it. This was super effective in curling my stubborn hair and didn't damage it in the slightest. It was easy to use and made my morning routine so simple and speedy. My hair looked (and still looks) totally amazing each and every time I use/used it.
What I Didn't Like
After using this curling wand for two weeks, there isn't really anything glaringly obvious that I didn't like.  It performed better than I expected and made a believer out of me in the power of the right hair tools!
The Sleek Curl Teal had the same issue as the Boosting Hair Serum with Marula Oil – the soft-touch body of the piece showed fingerprints, watermarks, and dirt after just a few uses.  I'm happy to work on keeping it clean since it is such an amazing tool, but it seems a little much for everyday use.
What Could Be Improved?
After using this product religiously for two weeks, there really weren't any areas of improvement that I could identify. My only complaint would be that the curling wand does take some time to cool down after use, but that is to be expected with this type of product.
Who Would This Product Work For?
After using the Sleek Curl Teal, I would definitely say that this product would be perfect for a wide variety of men and women with pretty much any hair type.
This curling iron actually helped my hair to hold a curl for the first time in my life and caused zero damage or frizziness in the process. This product would fit perfectly into anyone's hair tool arsenal, no matter what the hair concern.
The only people that I would say should avoid this product are those with incredibly thick and unruly hair as well as those with very damaged hair. Although the curling wand didn't really do any noticeable damage to my hair, it could potentially manifest in those with heavily damaged or brittle hair.  For those with thick unruly hair, this product could be difficult to manipulate due to the small barrel size.
Final Thoughts
I am absolutely in love with the nubiHAIR Sleek Curl Teal wand and am very happy to continue to use it in my hair styling routine from here on out.  All in all, this product is totally amazing!