If there's one thing I love other than skincare is – yes you guessed it – hair care. As many Pinterest images and quotes available say our hair is our crown and is the first thing people see after seeing our face. HerStyler has a super set that will leave your hair looking and feeling fabulous. The Argan Oil Complete Hair Set is all you need to pamper your hair and transform it from dull to flawless.
What is This Argan Oil?
If you're into skincare, makeup and hair care, you may have seen Argan oil pop up as the main ingredient in many products. But let's start with the basics before going into the products what is Argan oil and what it really does you may ask. Well, Argan oil comes from Morocco and for years it has been considered a precious oil for its powerful benefits not only for your hair but also your skin and body.
Even though for us Argan oil is still a relatively new ingredient, Morocco has been using this oil as part of their beauty customs for centuries.
If this still doesn't answer what Argan is, well let's get scientific. Argan oil is the rare oil that is filled with a high amount of omega 9, omega 6 and fatty acids. This combination of omega is the key for extra softness and for moisture. Not only is it rich in fatty acids and omega it also has vitamin E and vitamin A which are full with antioxidants, so we can call this the miracle oil because it has everything our skin and hair needs.
Now to the important part HerStyler Argan Oil Complete Hair Care Set, I have used the styling tools that HerStyler has but never the haircare products and all I can say is: Where have you been all my life? Since young my hair has been straight to wavy never just one let's say I have a mix of these two, but my hair does tend to get dry ends because I live in the beautiful Caribbean and let me tell you if you ever been here or are from here or Florida, salt water can make your hair look less-than-fabulous.
If you are wondering if this set works, it really does. The full set is priced at $80, but for all the products it brings, ingredients and especially the results, this price is a steal. This set includes a total of six products all with Argan oil as their main ingredient and with more than enough product to last.
If you want to know more about my experience with these products sit back and relax and get ready for this hair care haul.
Nourishing & Moisturizing Shampoo and Conditioner
We all need shampoo and especially one that can deep cleanse and leave your hair feeling smooth, well this shampoo right here is what we all need. With just a small amount of product, you can do wonders for your hair. This is one of the main things that I like about this product, with regular shampoo at times I have to wash my hair two times because even with a lot of product I don't get the results that I want, with this shampoo I do not have this problem and left my hair feeling soft and fresh. Another thing that has me hooked is that my hair was so soft after washing it I really didn't even need a conditioner because it could be detangled easily.
But don't get me wrong, we always need to use a conditioner.
Even if the shampoo left my hair feeling soft and nice, conditioner is a must on your hair care routine. Even if you have fine hair, greasy hair or dry hair, it doesn't matter what hair type you have conditioner is a must, not using it is missing out on all its benefits. Conditioner helps colored hair to main its color longer, and also helps your hair cuticles which means your hair won't look puffy and won't look frizzy. And let's be honest, don't we all fight the same evil, named frizz?
This HerStyler conditioner is so good, just as the shampoo with a little bit of product it makes my hair soft, easy to detangle and when it was dried I had no frizz and that was enough to have me sold. This conditioner is infused with proteins and olive oil this combination not only does it help your hair but it  also helps your scalp giving it extra moisture and extra shine!
Hair Serum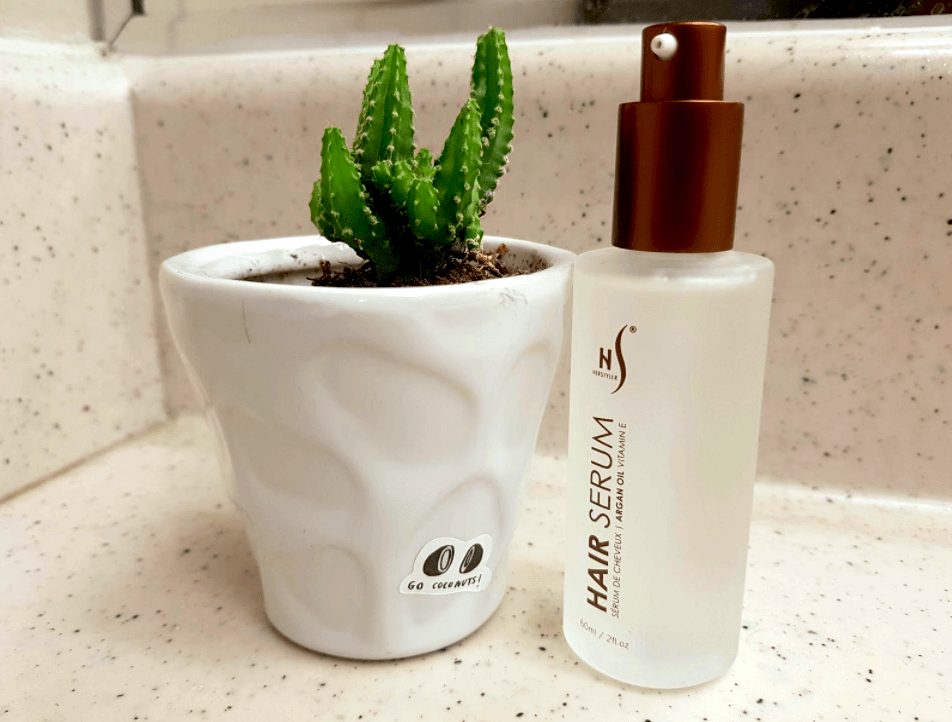 If you don't use a hair serum as part of your hair care routine, you better run now to get your hands on this one. Hair serums help your hair look not only shinier but also healthier, it helps prevents your hair from getting too tangled and unlike oils, it doesn't penetrate your hair so it will not change your hair structure but will reduce frizz. You can also apply it before and after straightening or styling your hair, this way you can seal your hair reducing frizz and split ends.
Did I mention that this serum can be used on all types of hairs and can be used with wet or dried hair?
I used this hair serum after washing my hair and I also tried another day after styling my hair. I SWEAR my hair looked so good all day, it shined and frizz? What is that? Never heard of that. From now on this is going with me everywhere, it's a perfect to fit in your purse and if the frizz attacks you or your friends, just take out your trusty sidekick and defeat the frizz.
A major plus is that not only does it have Argan oil this serum is infused with aloe vera extract and vitamin E, this is taking your hair care game to the next level.
Hair Mask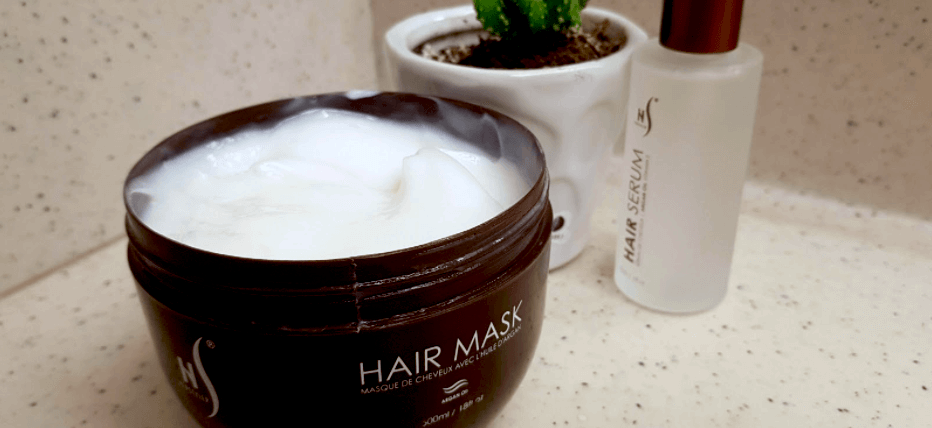 Now, I don't know about you but trying to find the perfect hair mask can be a hassle at times, do I use a lot of the product, do I use a bit? Will this work? Are some of the questions we tend to ask ourselves once we get our hands on a hair mask.
But really why are hair mask necessary?
Hair mask are designed to protect your hair, not only do they help protect your hair from toxins in the environment, they also restore moisture, and make your hair look and feel smooth.  Everyone should use a hair mask at least once a weak if you have oily hair and 2 to 3 times a week if your hair is dry, over processed or looking a bit dull.
Don't just use hair mask occasionally, because hair masks are important all year round. Our hair just like our skin receives all the harsh changes of the temperature, because of this is good to use them as part of your hair care routine and do them at least once a week if you are busy, in a rush or just need that extra kick to make your hair look extra gorgeous.
I tried this hair mask a Sunday before starting my week  because I don't know about you but my goal on Mondays is to try and look as good as possible even though deep down I am half asleep. I washed my hair as I do usually and after I removed the conditioner I got the hair ask and applied it.
And let me tell you, you will have hair mask for days, this product brings 18fl.oz and with just a bit of it I could cover all my hair, reminder that my hair length is around my shoulders. I left the product on for 5 minutes and, oh my goodness, my hair even without being dried felt so soft and nice. After drying it all I can say is I had soft, smooth and shining hair for days, I kid you not.
Styling Spray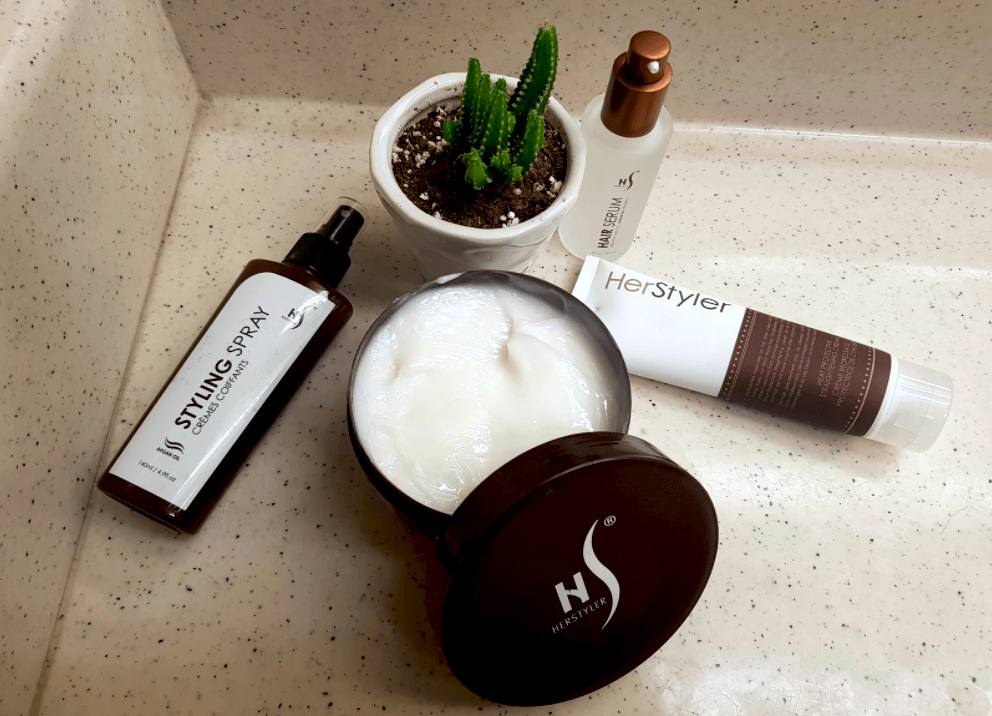 Let's take a moment and be honest, the worst feeling ever is seeing your hair go flat after hours of hard work to make pretty waves or curls to impress in that event or even on a date. Well, I will never have to worry again about my hairstyles dying on me fifteen minutes after stepping a foot out of my house. I tried this hairspray not only on my hair but also on some friends' hair after we styled it and let me tell you we were out all day and those waves were clearly not ready to go down. The spray just like the other products also has Argan extract, so you have a hairspray that not only seals your look all day, also protects your hair and eliminates frizz.
This Styling Spray has three things every girl wants:
    Makes your hair look good all day

    Smells fantastic

    Fits in your purse (and let's be honest we all love that)
Other than my experience using these products, can we take a moment to talk about the fragrance that these products have? I don't know about you guys but I love some nice products that not only work great but they also smell great. This full set with just a small whiff will take you to the beach side, and you will feel like you are walking down the beach feeling the breeze and your hair will be flowing beautifully, I would even dare to say commercial perfect. This product fragrance is a combination between coconut and Argan, which to me is fantastic!
No lie, you will just love how good not only does your hair look, but also how good it smells.
All of these products have a really cute combo of colors between, brown, white and bronze and for me, it gives it a beachy vibe. The biggest product on this set is the hair mask and let me tell you this one more you will be having flawless hair for days. The smallest products yet that are perfect to carry around with are the hair serum and styling spray. To be honest even though this hair serum with just a bit your hair will be smooth and perfect all day long. I personally like to touch it up every maybe six hours, but that's because I love my hair to look extra smooth.
If you travel a lot, have no fear, because you can take the shampoo and conditioner with you together with the hair serum and styling spray and it won't take much space they are perfect for traveling or even to take with you if you are staying at a friend's house.
If you are looking for products to take extra care of your hair, or you are wanting to change your hair from dull to majestic you should consider getting yourself one of these sets. Argan is a miracle maker and really does transform but also protect your hair. These products also have awesome ingredients other than Argan, such as panthenol also known as vitamin B5, aloe and sunflower seed oil which stimulates hair growth, improves scalp health and helps eliminate frizz.
Argan oil and sunflower seed oil together are proven to stimulate hair growth and soften your beautiful hair strands.
These two ingredients, in particular, are like the dream team for hair care. Both of them together work extra in nourishing your hair and retain the moisture your hair needs. They are the perfect duo to make your hair look and feel great.
No lie, like I mentioned before there is one thing I love other than skincare and that is hair care.  If we want those Instagram photos to be perfect let's be honest a little bit of hair serum and that hair will be every one of your follower's new hair goals.