Trying new skin care products is always fun. New fresh cleansers and bubbly moisturizing masks are my favorites – my skin is always thirsty for a promising new product! Living in a sunny arid climate that can be fickle and turn damp and foggy on the same day, especially during the Spring, is beginning to show on my skin way more than I want it to. Fine lines around my mouth and eyes and an eternal frown line on my forehead (that I am sure my kids drew there while I was sleeping) greet me every morning when I wake. Erasing these lines could probably only happen if we could travel back in time, but minimizing them would be okay with me.  
The current dry weather tends to affect my fair, freckly skin the most. Time to try some new skin care products! Sensitive skin that sunburns easily and dries up at the turn of the weather has always been a big problem for me. Even though it is fun to try a new product for my face, it can be risky! 
Daredevil that I am, I decided to try two new BIONYX products and enjoyed them very much: BIONYX Milk Cleanser and BIONYX Platinum Foaming Sheet Mask. 
According to the list of ingredients on the package, the creamy white Milk Cleanser contains Vitamins C and E, jojoba, and musk oils.  The description on the box says that it is designed especially for sensitive skin – that's me for sure! 
The Platinum Foaming Sheet Mask contains actual platinum powder along with charcoal powder, cucumber juice, and other fruit extracts. According to the package, these ingredients hold the promise of soft radiant skin that is supercharged with moisture – yes please! I would love a serving of both of these.
The Ingredients
The ingredients in these products are designed with sensitive dry skin in mind with a little bit of anti-aging thrown in. The products are best used by those of us that need a little extra help, whether because of smog and an urban environment or simply because time is passing and our skin isn't magical. 
Some quick Google research enlightened me in regards to a few of the many benefits of using these products. The most important benefits include: skin protection, cleansing, cell rejuvenation, and moisturization.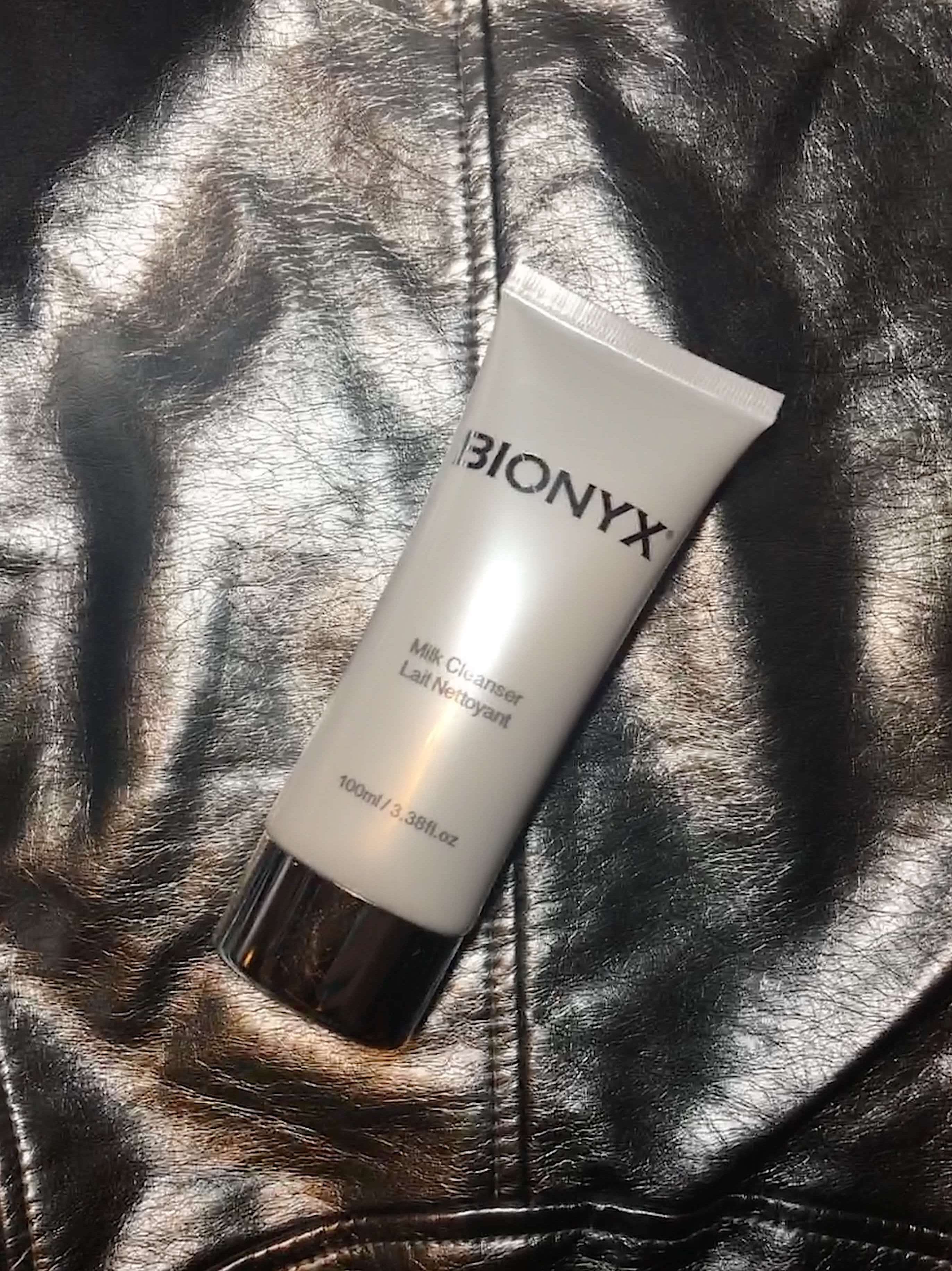 The Milk Cleanser contains several skin-rejuvenating vitamins and oils; Vitamins C and E, and also Jojoba and musk oils. 
Using these ingredients every day would essentially renew my skin and maybe help minimize some of these fine lines on my face.  
The Platinum Foaming Sheet Mask includes actual platinum powder, charcoal powder, and cucumber juice. Wondering what these ingredients do? Here are a few pointers:
Platinum powder acts like an antioxidant and helps reduce inflammation and free-radical damage.

 

It is "a skin protector that helps the skin's electrons to rebalance.

 

This improves the skin's ability to hold moisture" (wmagazine.com, Platinum Status.

 

Jane Larkworthy. September 1, 2008).

 

Charcoal powder helps cleanse the skin by drawing out dirt and toxins.

 

According to an article on the Livestrong.com, "charcoal powder is proven to absorb thousands of times its own mass in harmful substances, which makes it a popular ingredient in facial masks" (Livestrong.com, What Does Charcoal Do for Skin? Alexandra Early, July 18, 2017).

 

Living near a busy freeway, this is a must for me.

 

Cucumber juice is also listed as an ingredient in the mask.

 

Cucumber helps reduce puffiness and and inflamed or irritated skin.

 

It has Vitamin C and caffeic acid in it.

 

(Livestrong.com, Are There Benefits to Using Cucumber Juice on Facial Skin? Dan Ketchium, July 18, 2017).

 
I was impressed with the ingredients and ready to try them on my skin. It sounds like the perfect fit. 
First Impressions
First impressions are always very important. These products are not excessively packaged in extravagant ornate boxes. The packages for the Milk Cleanser and the Platinum Foaming Sheet Mask are modern looking – simple and clean. 
The Milk Cleanser comes in a slightly textured gunmetal gray box with shiny silver chrome letters. It is easy to identify as a BIONYX product because of the large logo on the box, which is not overbearing. The contrast in the textures between the box and letters is nice and is not overwhelming or cheap looking. The name, Milk Cleanser, is written in English and French on the box as well as the tube. This is a nice touch. It assumes the quality of  an expensive French soap by association.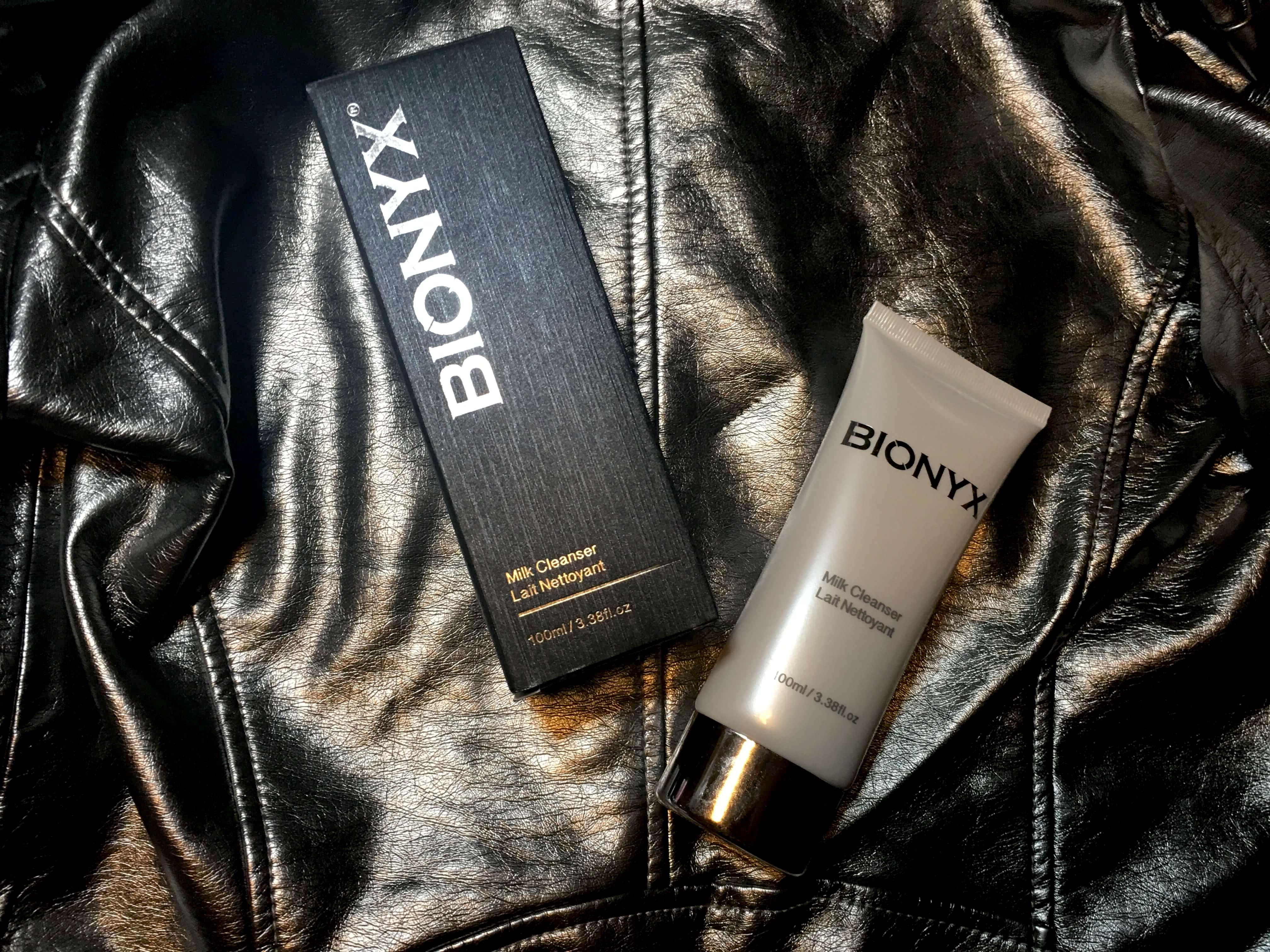 The cleanser comes in a flat white tube with a shiny silver chrome lid that can serve as the base of the product so that it can stand upright.  Upon unscrewing the cap, I found that the cleanser was sealed which informed me that nobody had spoiled it yet. It was like a very thick moisturizer and I had to squeeze the tube very hard to make some of the cleanser come out. It smelled like fresh and clean springtime soap. 
The user is instructed to use this product daily and to rub in circular motions all over the face and rinse with cold water. I squeezed some out on my hand and found that it did not foam or bubble very much like soap. It was more like a paste or lotion and did not turn to foam or liquid in my hand easily when water was added.  It did not seem to rinse off quickly either, but left my skin feeling soft and smooth and, yes, rejuvenated! I was puzzled with its lack of soapy foam and its reluctant rinse, but the result was worth it. There was no tightness that begs for a moisturizer after the rinse and no oily residue either. It was a welcome change to my face washing regimen.  
The timeless packaging for the Platinum Foaming Sheet Mask features a classic matte white box with light silver-gray matte letters. The look is clean and simple and doesn't really reveal the quality of the product inside. The BIONYX logo is in a large all caps font that runs vertically, bottom to top for the length of the front of the box, for a definitely noticable but not overwhelming appearance. The name of the product, Platinum Foaming Sheet Mask, is written horizantally in small letters in English and in French below. Including the French name makes the mask appear to have higher standards than a product that is only sold in the English speaking world – everyone knows that the French know their beauty products.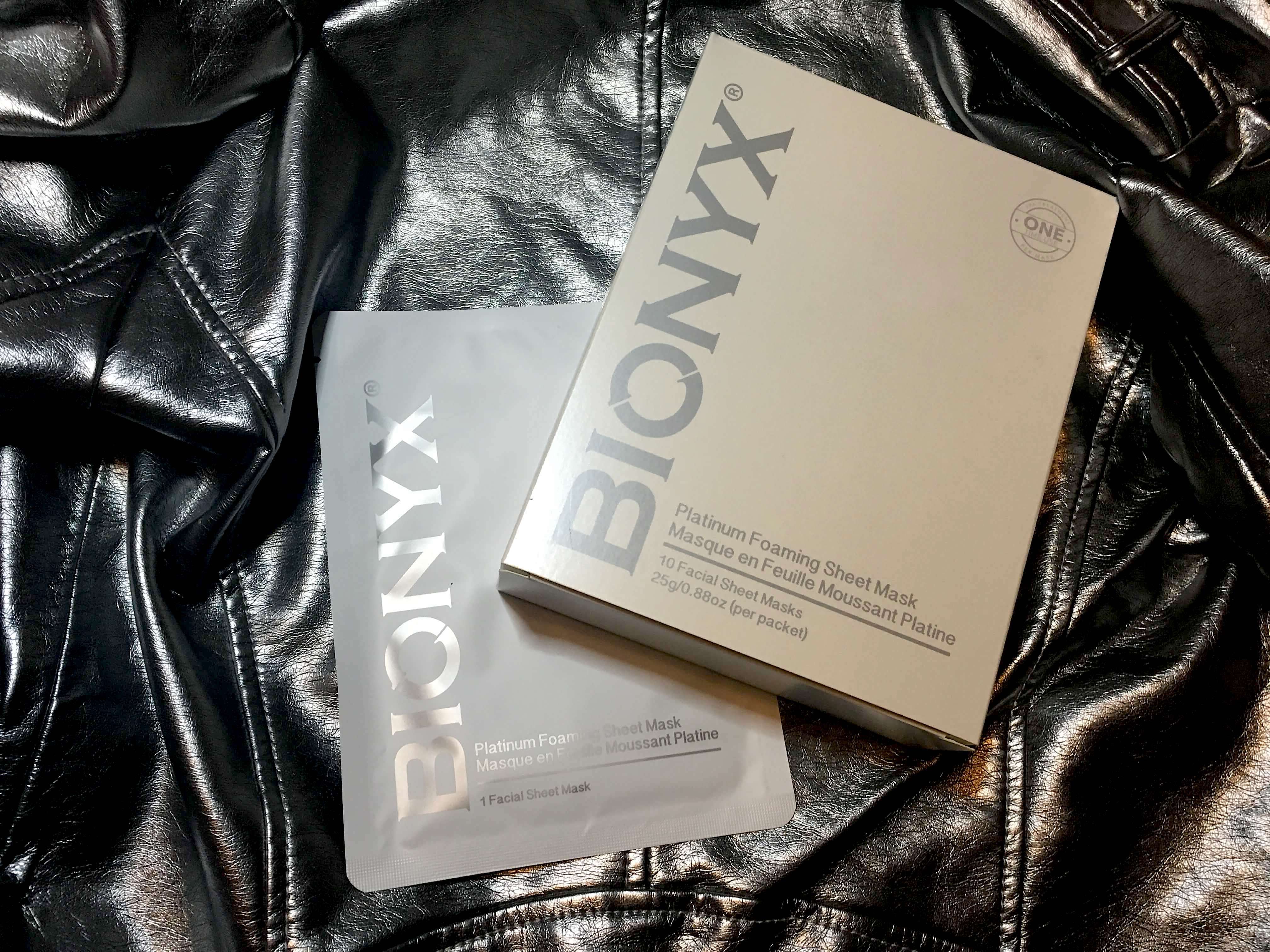 The instructions on the back of the box included 4 small pictures showing how to use the mask. I must admit, I had never used a mask like this one and the pictures were helpful! Opening the box, I found 10 sealed pouches. The front side of the pouch was white and has the same logo and name as the box. The back was black with platinum colored font. They are smooth and elegant in their simplicity. The design is flawless and the pouch was easy to tear open.
The mask inside was folded and full of promise. I unfolded it and applied it to my face – it reminded me a little of Spiderman's mask with its cutouts for my eyes, nose, and mouth.  The mask smelled fresh and clean like springtime and soap and foamed up right away. This was an extravagant spa treatment in my small suburban bathroom! I felt very spoiled and even a bit selfish and almost undeserving of such a treat. My response to this mask was pure joy! I don't often treat myself to expensive spa days, as I have 5 kids and quite a few bills to pay. There is not a lot of 'me' time in this household and the mask was such a pleasant surprise and a wonderful gift to myself!  
Two Weeks Later
After using the cleanser and mask for two weeks I am even more impressed than the first day I used them. These two products, BIONYX Milk Cleanser and BIONYX Platinum Foaming Sheet Mask, are assets in the fight against the many things in our world that age skin. Smog, toxins and dirt have met their match in the cleansing properties of charcoal powder in the mask. The effects of outside negative electrons attacking positive electrons on the surface of the skin are balanced by its platinum powder. The cucumber juice and citric acid battle the free-radical attack and help rejuvenate skin and increase cell turnover. The jojoba and musk oils in the Milk Cleanser helped my skin daily with their astringent and antibacterial properties. My pores look smaller and my face glows with clean new skin. I have enjoyed using both of these products.  
I have used the Milk Cleanser daily for almost two weeks and have found that it works better in the shower and spreads more evenly over wet skin. My face feels soft and smooth and maybe even a few of the fine lines have diminished. The Milk Cleanser is easier to rinse with the stream of water in a shower, too. It rinses cleanly and doesn't leave my face oily or stripped of all moisture requiring an immediate application of cold cream upon leaving the shower. I appreciate this so much – it feels almost too good to be true.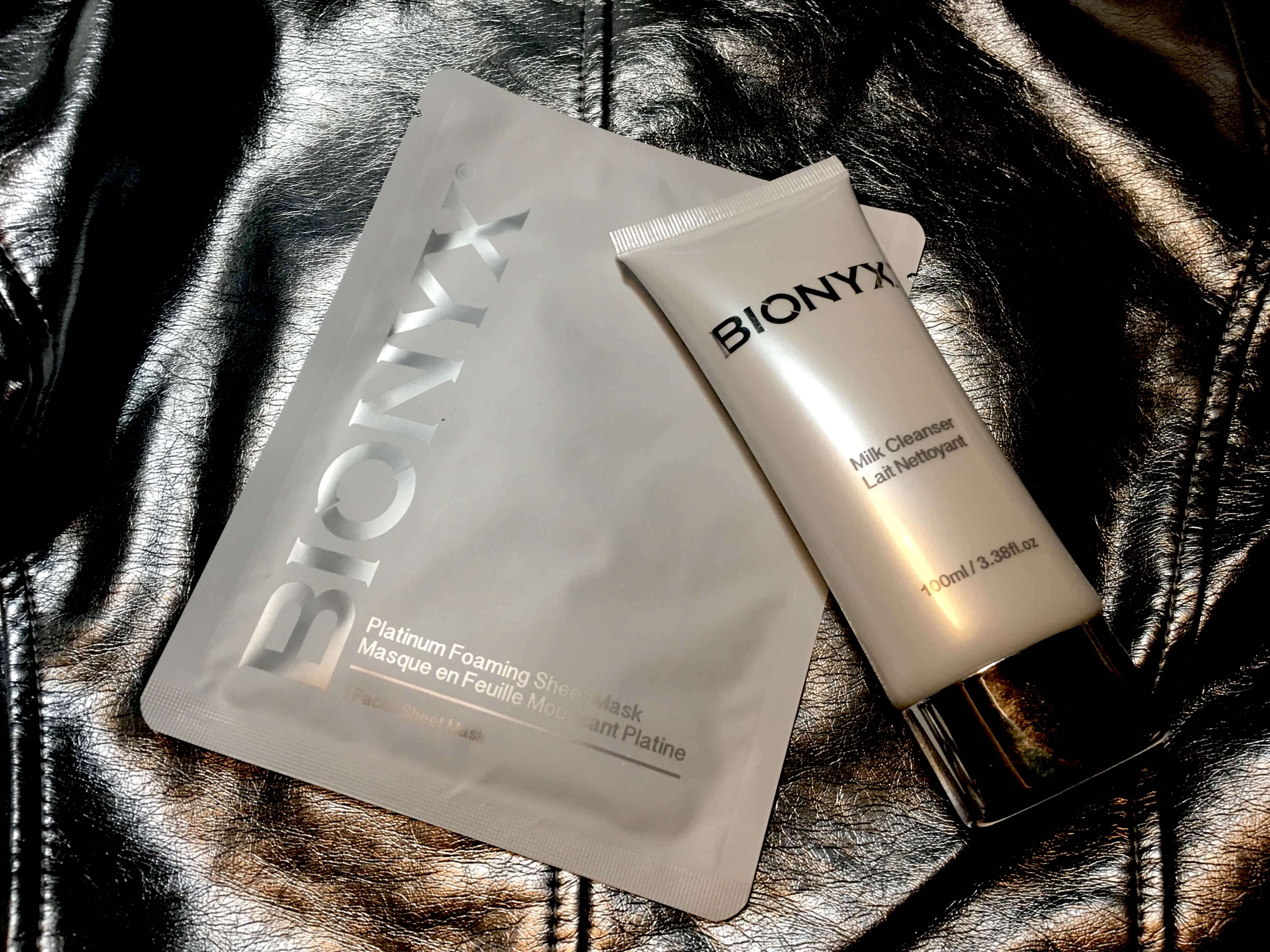 The Platinum Foaming Sheet Mask is wonderful – it is truly a luxurious addition to my skin care routine that is very addicting. My skin feels renewed for real. This sounds like a silly skin care commercial, but it is true. After reading about the properties of charcoal and platinum powder and what they do for skin, I was very impressed with the result. I had not ever tried a skin care product with either of the ingredients. My skin is now cleaner, softer, and smoother. I am not sure which ingredient is the cause of this result; it is probably the combination of all of them. 
The mask is a once-a-week indulgence. Having sensitive skin, I would be reluctant to try it more than that. It is not harsh on my skin at all, it just has very potent ingredients. The package admonishes the recipient to use the mask once a week for best results. The mask is also so luxurious that to use it more than once a week would be too great of an indulgence and take away from the exclusive 'spa day' feeling it imposes.   
Overall Impressions
Spa Day is every day with the creamy BIONYX Milk Cleanser. It is relief for my sensitive skin and lives up to its claims; to leave skin feeling fresh, clean and soft. All in all, these two products have beautiful clean packaging and present a simple modern appearance. The choice of chrome, white and gun-metal gray enhance the intent to promote the product as a luxurious and practical choice for skin care. The cleanser and the mask are easy to use and smell fresh and clean, making Spa Day at home a special occasion. 
The combination of quality ingredients make this product an excellent choice for anyone, but especially for someone with skin that is desperately in need of a little extra pampering like me. I have found that my skin is becoming refreshed and renewed. I don't worry quite as much about my skin on days that are gray and damp in the morning and hot and dry by afternoon. I know that my cleanser won't mess my skin up – it is helping it rejuvenate. I can always take out a Platinum Foaming Sheet Mask to balance out the electrons on my skin and wash away whatever mother nature has thrown at me that day. Quality skin care products, and what a good combination!