I've noticed quite a big shift in my skincare routine over the past few years, and I'm sure many of you would feel the same. I now pay so much more attention to the ingredients that I apply to my skin, and just about every product that I use contains a selection of natural extracts.
As a result, I'm always on the lookout for brands that harness the power of nature in new and exciting ways, which is why Pearl de Flore recently caught my eye. Their floral-infused skincare products seemed right up my alley, so I decided to add some flower power to my skincare routine by giving three of them a try.
But First, Who is Pearl de Flore?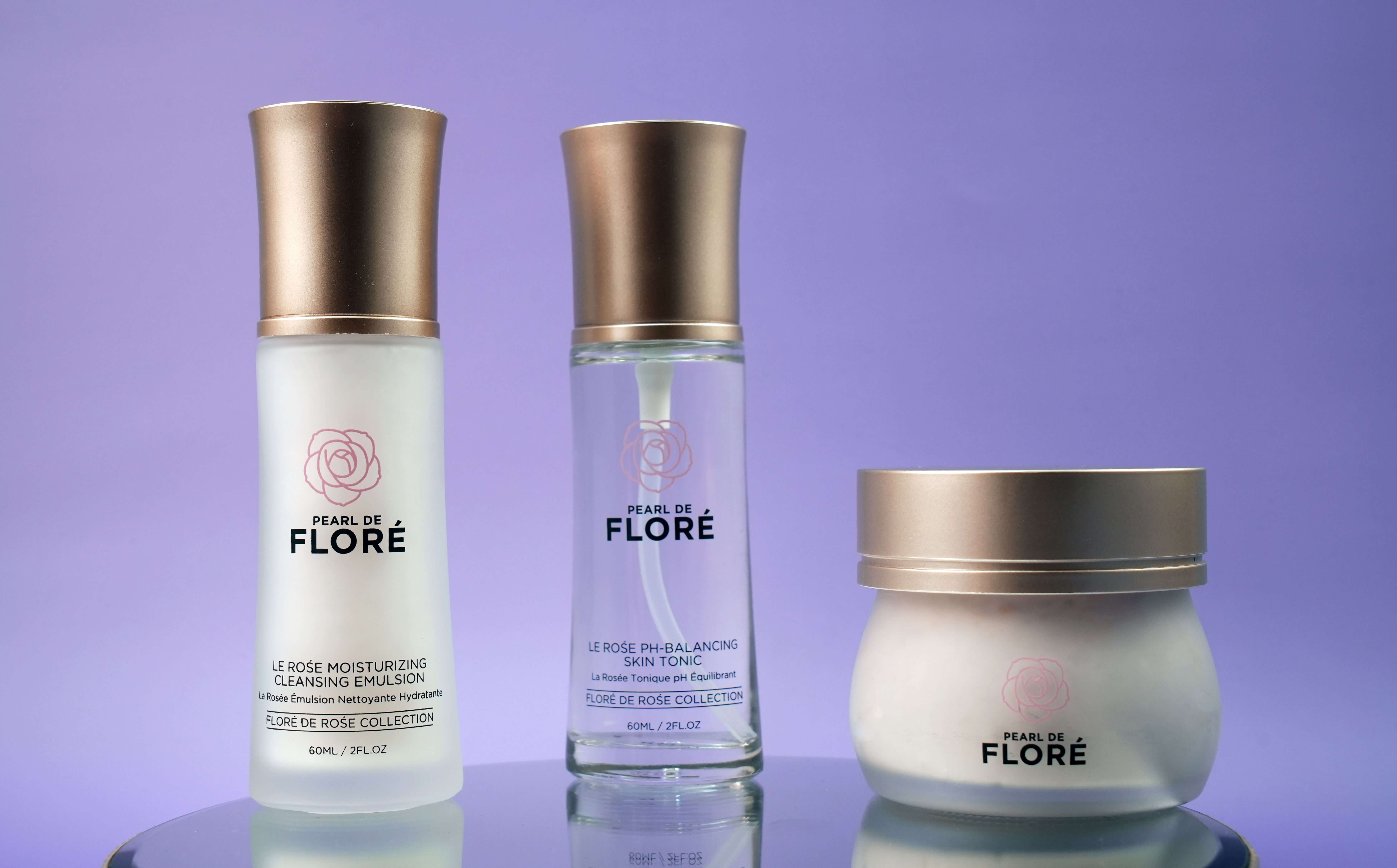 Pearl de Flore is a brand that focuses on flower-inspired skincare. As of writing, they have five different floral skincare lines to shop from, each one based on a certain flower:
What I love about this concept is how each signature flower enhances the complexion in its own way. For example, orchids are superstars at hydrating the skin while peonies are packed with antioxidants that can help with the appearance of fine lines. 
While all of the brand's collections appealed to me, there was one that stood out the most; the Flore de Rose Collection.
The Power of Roses
Technically, rose-infused skincare is nothing new – even the Ancient Greeks and Romans were using it. Roses are packed with vitamins and antioxidants that help to repair the look of damage and brighten the complexion, while all of those natural oils and sugars keep the skin moisturized.
Roses are also known for how they soothe the feeling of inflammation and redness. With my skin being quite dry and prone to sensitivities, this ingredient sounded like the perfect match.
What makes Pearl de Flore's rose-infused skincare formulas so special is how the brand has combined various rose-derived compounds with some of the most cutting-edge ingredients available. With glowing reviews and impressive user studies, it certainly seems as though the brand has cracked the code in terms of maximizing the skin-loving effects that roses can provide, so I was looking forward to trying out three of their products for myself.
Le Rośe Moisturizing Cleansing Emulsion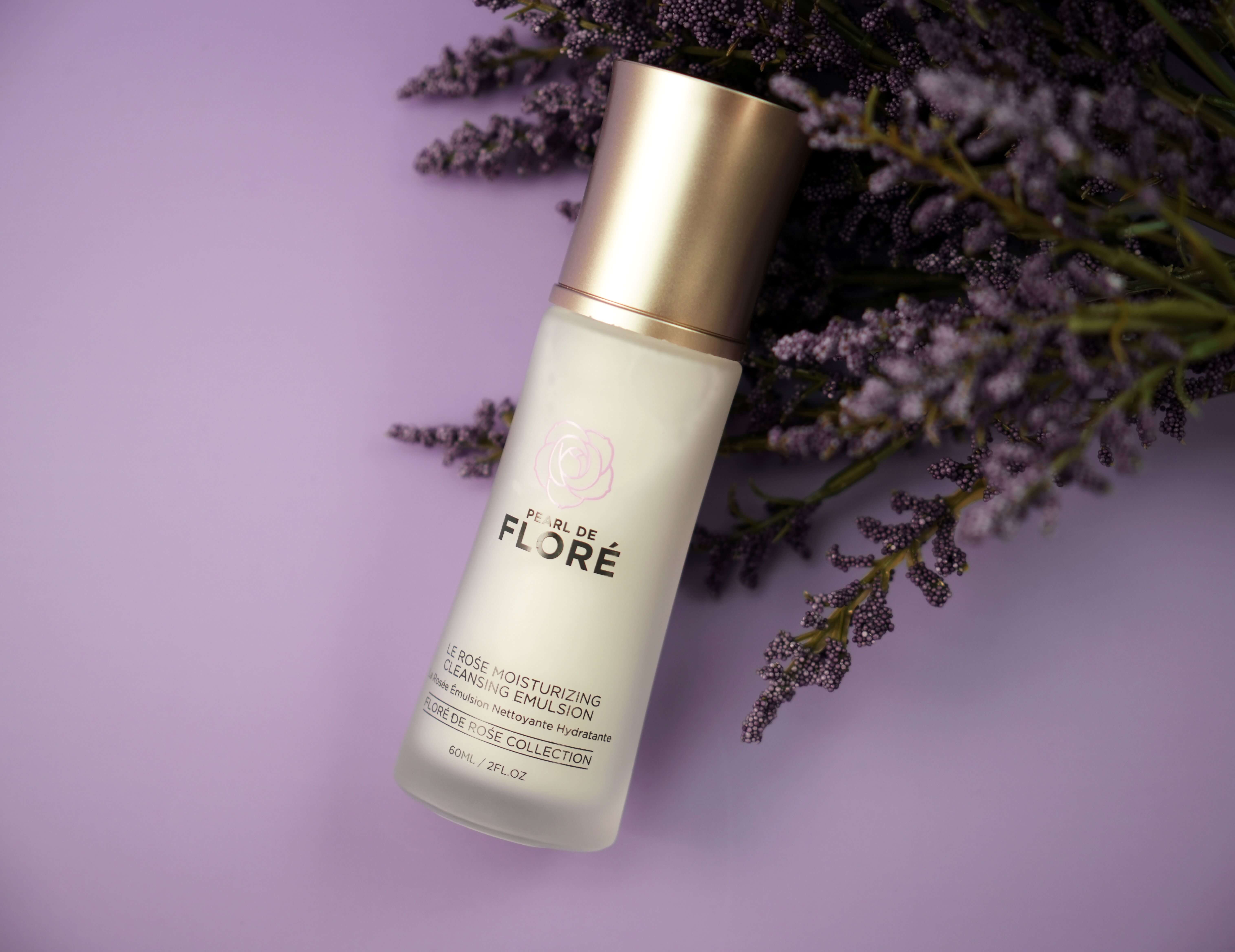 Le Rośe Moisturizing Cleansing Emulsion is a lightweight cleanser that's designed to be the very first step of a skincare routine. It promises to cleanse, calm, moisturize, and soothe, all at the same time, making it sound perfect for my easily-irritated skin.
What's in it?
The first few ingredients on a cleanser's ingredient list are usually surfactants (aka cleansing agents), which tend to come in the form of drying chemicals. So, I was happy to see that Pearl de Flore makes use of gentler alternatives, with compounds such as Sodium Cocoyl Isethionate and Sodium Methyl Cocoyl Taurate mostly derived from coconuts.
However, the star of the show is the botanical infusion blended into this formula. In addition to rose flower extract, it also boasts calendula and chamomile. All three flowers are famed for how they soothe and calm the complexion, making them an appealing trio.
This cleanser also contains some noteworthy plant oils. Argan oil and moringa seed oil are both revered for their exemplary moisturizing capabilities, with these being ingredients that aren't commonly seen in cleansing formulas.
How to Use it
There's nothing overly complicated about using this cleanser. Simply apply a small amount of the product to wet skin and massage it in. You don't need to use too much as it's quite thin, meaning that it spreads very easily.
It forms a small lather after a while, and I usually rinse it off at this point. I used to be disappointed when cleansing products didn't froth up in an extravagantly bubbly way, but later learned that the foaming agents needed for that are also responsible for stripping the skin of its protective layer.
Verdict
Many of the cleansers that I have used in the past have felt quite drying. While I have managed to find a couple of formulas that I quite like, there were none that I absolutely loved, until I tried this one.
It thoroughly cleanses my skin each and every time, even when I'm wearing a full face of makeup (although I do need to use a little more product when I have been heavy-handed with my foundation). However, it also definitely moisturizes at the same time, which is something that I've never properly experienced with any other cleanser. My skin feels so soft once I'm done using it – just as soft as it would after I apply a face cream.
Le Rośe pH-Balancing Skin Tonic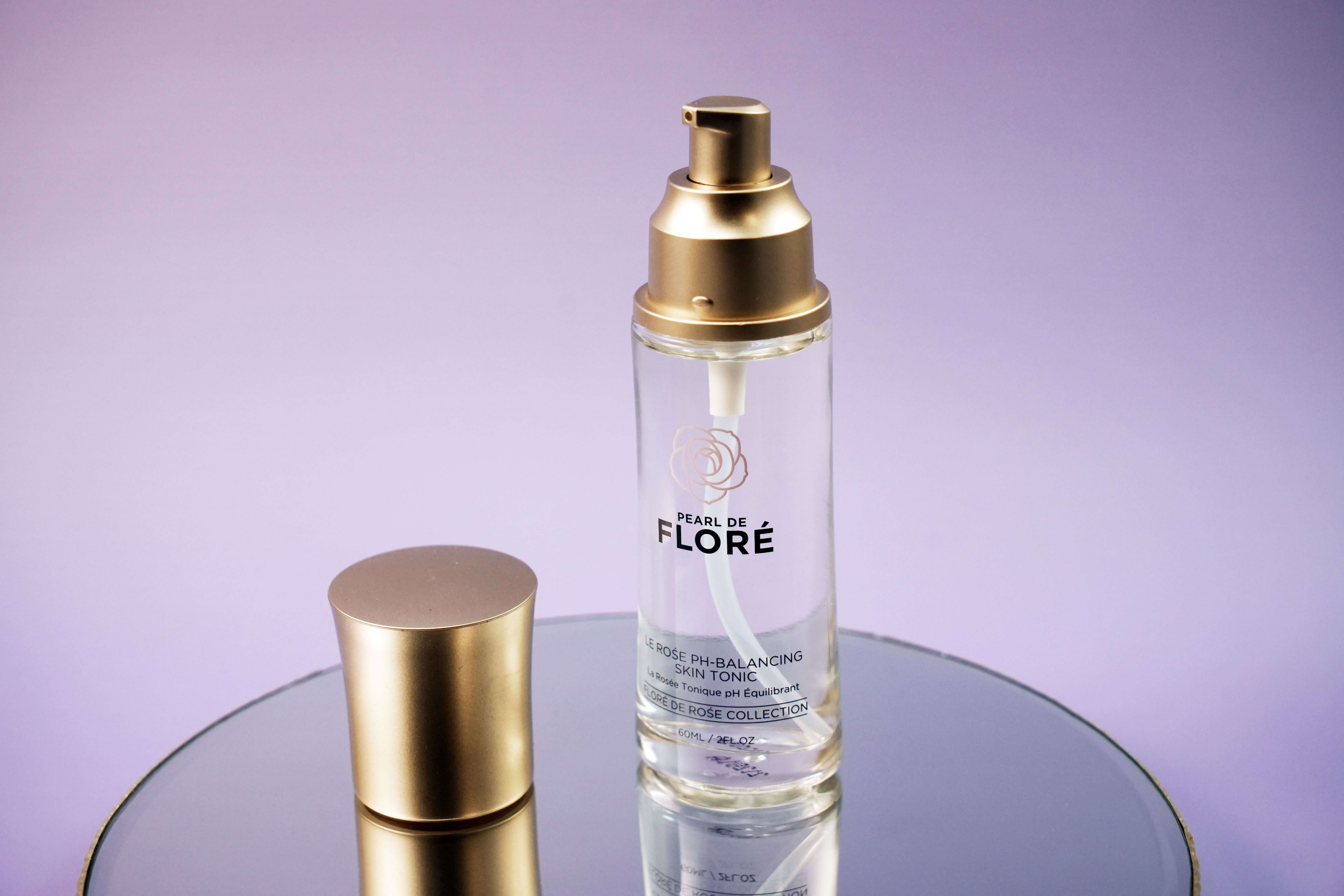 Le Rośe pH-Balancing Skin Tonic is a toner that should ideally be used after cleansing. Although suitable for all skin types, Pearl de Flore states that this toner is particularly beneficial for people with dry, dull, and irritated skin, which is why I couldn't wait to see what it could do for my complexion.
What's in it?
This toner has quite a minimal ingredient list, which anyone with easily-irritated skin will appreciate. The first thing I looked for when scouring it was alcohol. Many alcohols are dry skin's worst enemy, and toners are notorious for containing them. However, this formula is completely alcohol-free.
Instead, it's brimming with natural hydrating ingredients, including aloe vera leaf juice and cucumber fruit extract. It also contains rose and chamomile extracts to soothe the feeling of any post-cleansing irritation.
How to Use it
This toner comes with a pump dispenser, making it easy to use. Pearl de Flore recommends applying the toner to a cotton pad first before sweeping this over the face and neck.
I followed those instructions most of the time, although there have been a few days where I have been running late and didn't want to forgo the toner, so applied it to my fingertips instead before quickly massaging it into my skin. This works well too, but using a cotton pad does give you a more even distribution.
Verdict
This is the first toner to make a regular appearance in my skincare routine. I now use it every single day, and often twice a day. It leaves my skin looking so dewy and glowy, and that can only be a good thing! It doesn't feel greasy either and soaks into my skin quickly. This means that I can continue on with the rest of my skincare routine pretty much immediately after applying it.
Le Rośe Transforming Vita C Cell Mask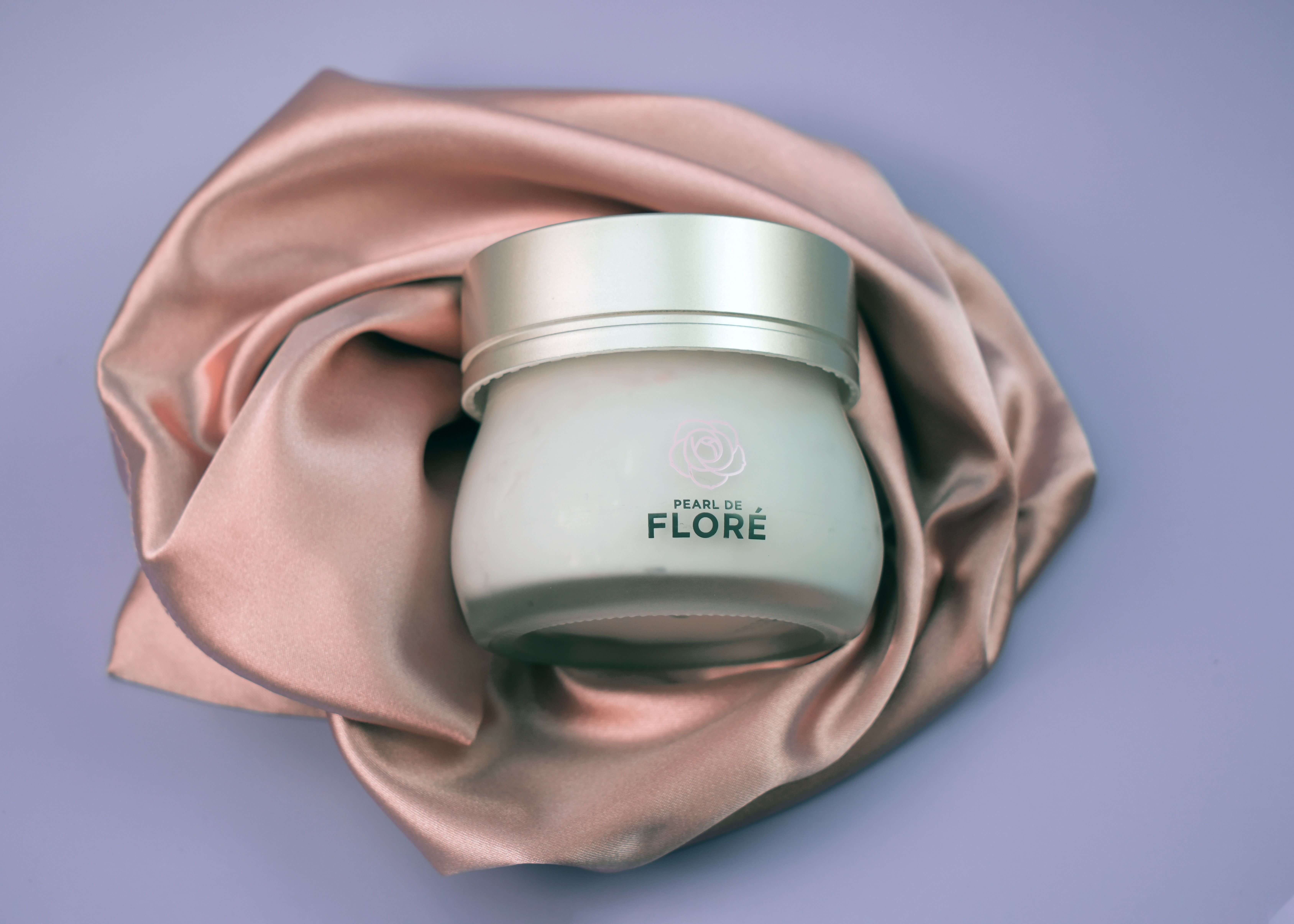 As you can probably tell from its name, Le Rośe Transforming Vita C Cell Mask is a vitamin C-infused face mask. There has been so much hype surrounding vitamin C in recent years, and I have to admit to buying into it. Between essences, serums, and moisturizers, I've managed to squeeze some vit C into almost every stage of my skincare routine. However, a vitamin C face mask was something that I didn't yet have, which is why I couldn't resist pampering my skin with this captivating formula.
What's in it?
This is a clay-based mask that contains a combination of bentonite and kaolin. Clay masks are fantastic for detoxifying the complexion and fading the look of sun damage, especially when they've been formulated with antioxidants, which this formula contains plenty of.
In addition to vitamin C, this mask packs a potent selection of antioxidant-rich botanical extracts. From rose flower extract to ginkgo biloba leaf extract to aloe vera leaf extract, this mask's formula is clearly geared toward renewing and brightening the complexion.
How to Use it
Let me begin by saying…this mask is so much fun to use! You apply it to your skin after cleansing, spreading an even layer of the white-colored mask onto your face. Then, you massage it into your skin. As you do so, it starts to change color, turning into a rosy pink! At this stage, you can sit back and relax for 10-15 minutes before rinsing the mask off.
I usually leave it on for 10 minutes, since this is plenty for my dry skin. However, anyone with oily skin would probably benefit from leaving it on for a little longer.
Verdict
I love how well this mask works on areas of my skin that are looking red or irritated. My skin starts to feel so soothed and calm just a few minutes after I have applied the mask. Even better, I'm always left with a glow once I have rinsed it off.
Pearl de Flore recommends using this mask weekly. However, I alternate it with a hydrating face mask, meaning that I only use it twice a month. With that said, I've definitely noticed a difference in my skin since adding this mask to my routine. It doesn't seem to look so inflamed anymore, and it always feels extra silky for a good few days after I have used the mask.
Final Thoughts
I have been using these three Pearl de Flore products for just over a month now and my complexion has improved in so many ways. I haven't noticed any dry or red patches for a few weeks, whereas this used to be something that I would find myself battling every few days. My skin also feels so much softer and more moisturized, and it looks a lot brighter too.
All in all, three amazing products from a brand that I'll most definitely be shopping from again in the near future!