Venofye has various skin care collections:
Body

Queen Bee (their most complete collection)

Drone Bee (for the boys)

Royal (especially designed for the skin around the eyes)

Orchard (concentrates on brightening the skin)

Apitoxin (collagen collection)

Viperlift (snake venom collection)
I am not one to stick to skin care products from a same collection all the time, we all have different skin concerns and we react differently to different products and ingredients. I like to look at all the products and then decide what works best for me, a little mix and match to find the perfect combination.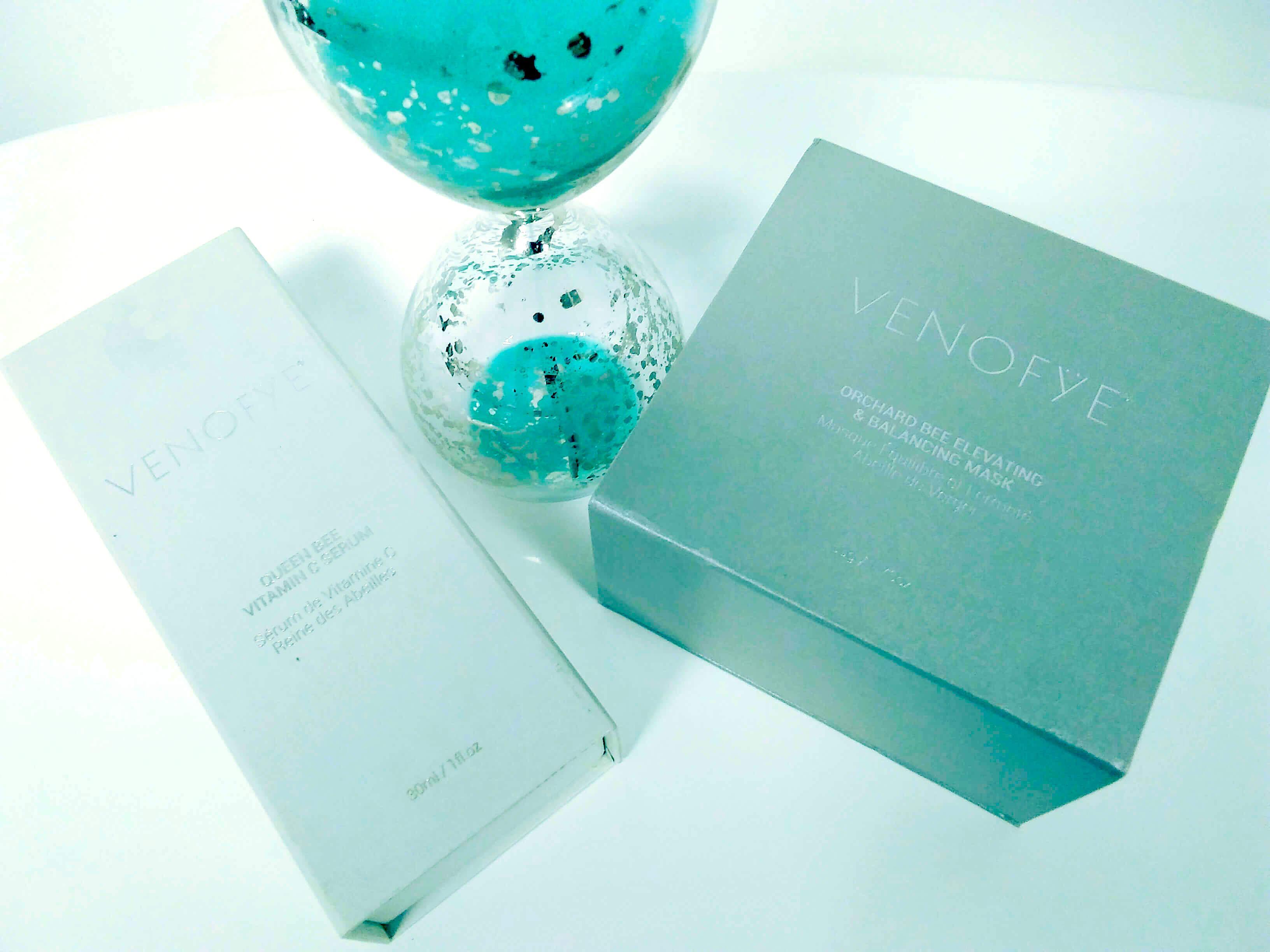 There are so many skincare products available that sometimes it can be too much. Cleansers (lotion, liquid, gel, cream, foam, oil, powder), peelings (scrubs and chemical peels), masks (peel-off, clay, mud, thermal, creams and sheets), serums, moisturizers (gels, lotions, creams, butters, oils), fillers and I might be forgetting some more. Choosing between all these options boils down to your age, skin type, lifestyle and where you live (because weather).
Also, throughout the years, and even in between seasons, we have to re-assess our skin care product choices because our skin changes, it has different needs.
Why? Hormones and weather.
Changes in our hormones (puberty, menopause, even stress) drive the changes in our skin as we age.
In our early 20's estrogen is at its peak. After 25 our skin's collagen mass and flexibility begin to deplete at a rate of 1% per year. What keeps our collagen up (the building block of our skin) is estrogen. Estrogen not only declines when we age, it also declines when we get our periods. In our 30's our skin loses more moisture and elasticity and wrinkles show up. When were in our 40's and 50's our skin structure changes. The development of blood vessels decreases, while dryness, hyperpigmentation and the risk of skin infection increases.
Changes in season or weather patterns: Different areas of the world have different seasons (when its Spring in North America it's Autumn in South America), some don't really have seasons just variations in specific weather patterns (like the tropics, rainy or dry). When its colder outside, your skin will need more hydrating/creamier products and when its warmer it will need balancing/lighter products. Trust me if you live in New York and take a vacation in Puerto Rico you will notice your skin changing. When I travel to Brussels in the winter I don't take my regular moisturizer I take a more oily/heavy one to make up for the temperature shock my skin will receive (anything below 50 is a shock to me and my skin).
This is why I have no problem mixing collections and trying new products, life is a constant change.
For my 36-year-old/combination-oily/tropical weather skin, lighter textured, antioxidant-filled products tend to work best. This is why (going back to the title) these are a few of my favorite things: masks and serums.  
I chose the Orchard Bee Elevating & Balancing Mask and the Queen Bee Vitamin C Serum.
Orchard Bee Elevating & Balancing Mask
The Orchard Bee Elevating & Balancing Mask got my attention because of the "balancing" thing, which is exactly what my combination/oily skin needs.
I always read the ingredients and the instructions before using any product and do a patch test. Of course, we might read a lot of cool ingredients, but remember that the main ingredients (the top ones) are the most important, the ones the skin will absorb more of.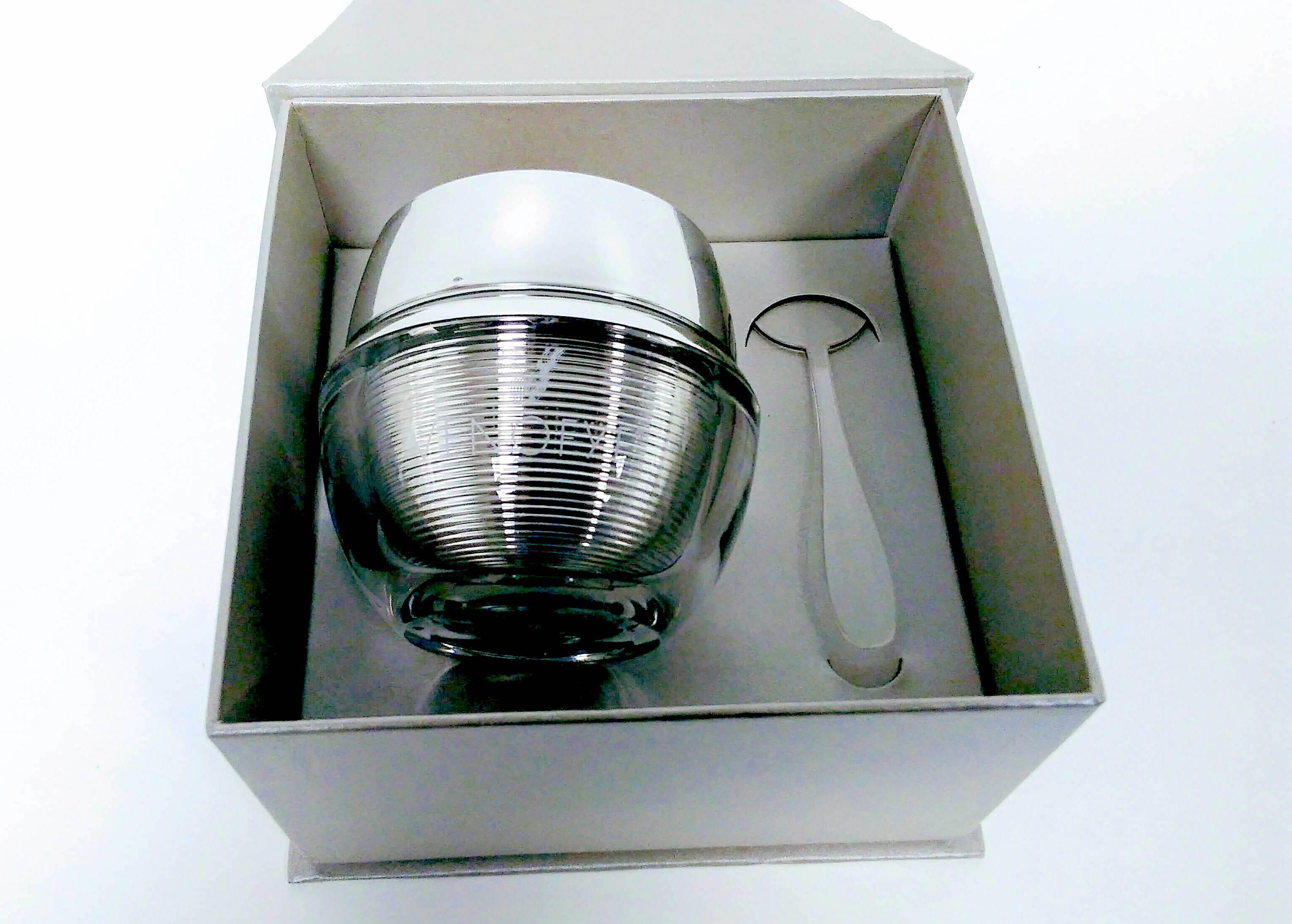 What do I love to read on the ingredients list? These types of ingredients:
Simmondsia Chinensis (

Jojoba

) Seed Oil- Acts as a skin conditioner

Helianthus Annuus (Sunflower) Seed Oil- Skin softener

Retinyl Palmitate (vitamin A)- The ester of retinol combined with palmitic acid, it's a gentle exfoliator

Tocopheryl Acetate (

vitamin E

)- An antioxidant and skin conditioner

Ginkgo Biloba Leaf Extract- A powerful antioxidant with anti-inflammatory properties. Also increases circulation, activating cell metabolism

Salvia Officinalis (Sage) Leaf Extract- A skin conditioner

Hedera Helix (English Ivy) Leaf/Stem Extract- An emollient and moisturizer

Aloe Barbadensis (

Aloe Vera

) Leaf Extract- Reduces flakiness, restores suppleness, improves healing and skin inflammation

Betula Alba (Birch) Bark Extract- Has skin-healing, purifying and astringent properties

Bee Venom

– A skin protector with astringent and anti-inflammatory properties
Yes, you read correctly, bee venom. This ingredient is the star in Venofye's skincare products. I can imagine your face right now if you've never heard of bee venom being used in skincare. But don't worry, its gonna be ok.
With bee venom beauty products, the skin "believes" it's been stung, which triggers an increase in the production of collagen and elastin, giving you a plump and tightened sensation. But it's not dangerous like a regular bee sting would be. *If you are allergic to bees, consider talking to a dermatologist before using products with bee venom as an ingredient.
Worried about the bees?
Collecting bee venom from bees is not stressful or harmful for the bees. Its done using a glass sheet that makes the bees pump out a small amount of venom into the glass which is then removed from the beehive. The bee does not lose its stinger, it moves on and the venom is sent for purification.
But, bees are disappearing, beekeepers all around the world have lost many of their colonies and even wild bees are beginning to dwindle. What can we do to help? Live in the city, suburbs destroy ecosystems, if you love the burbs then fine, plant some bee-loving flowers like lavender, white clover and California lilac. Also, buy local honey, to help your beekeepers stay in business and keep growing and protecting bee colonies.
Getting back to skincare:
I have professional facials done around every three months, and in between treatments I like to scrub once a month (not more because the stimulation causes my skin to over-produce oil) and I do masks once a week.
Why I Love Masks
Masks have one extra ingredient, some form of butylene glycol, a delivery agent and solvent that allows the skin to absorb more of our favorite ingredients.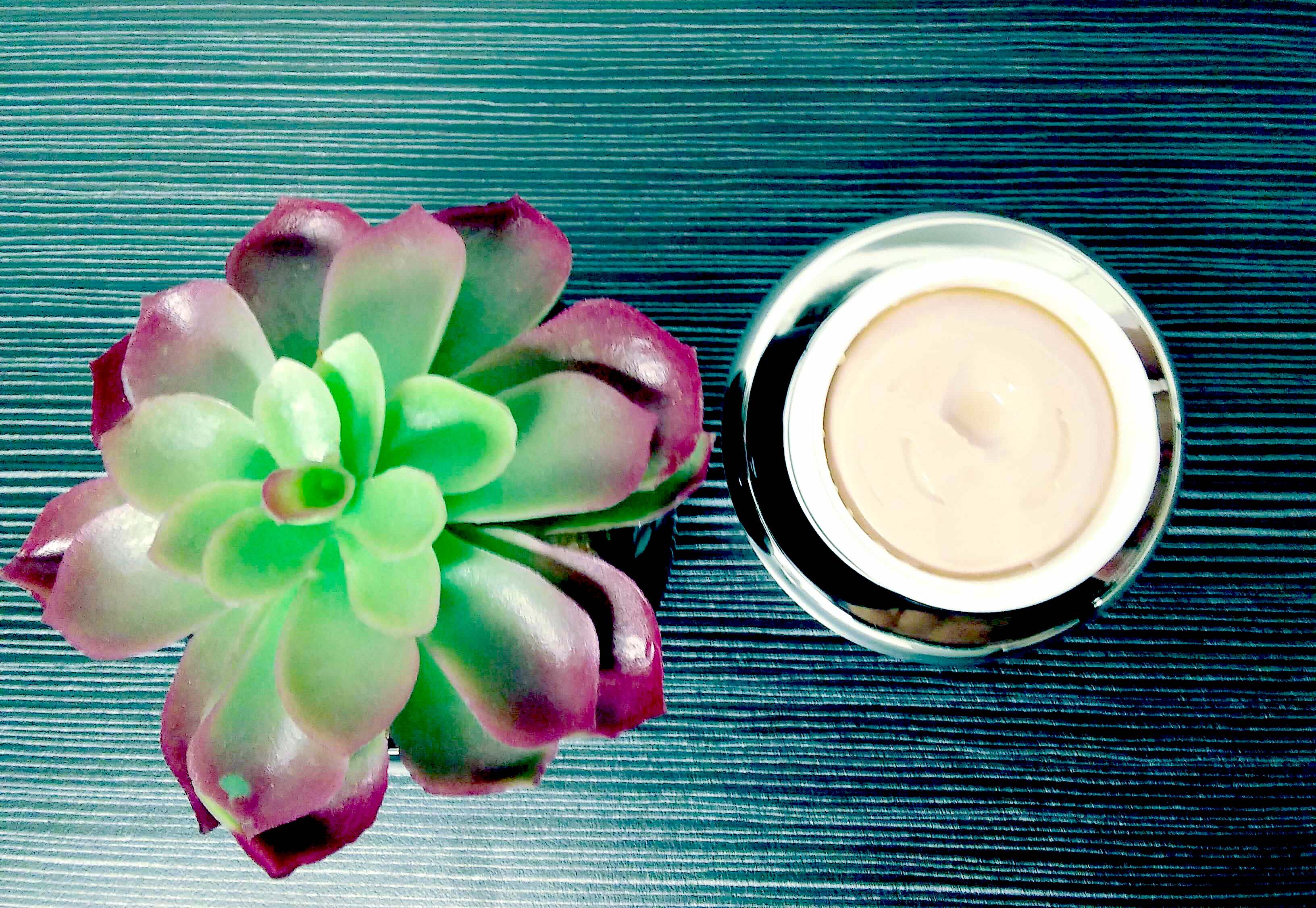 I really like clay masks with fresh/botanical ingredients because they do wonders for my combination/oily skin and they tend to be "clay-like" in their texture from the beginning to the end. This mask was different though.  When I got the package and I opened it I noticed a jar and a little plastic spoon-like applicator (which was perfect and now i want little spoon applicators or all products in a jar). I was confused, I'm used to masks in taller bottle-like containers or sheet masks (love sheet masks, especially for travelling, since the atmosphere in airplanes dehydrate the skin).  
My face was cleansed, I was ready to start, I take the little plastic applicator and start mixing the product, I notice its very creamy (I must admit I spent a while mixing it, looking at it swirl around, the whole process was soothing in a weird kind of way). I start applying it on my face, neck and chest (your face ends at your décolleté) and wait the instructed ten minutes with my eyes closed, completely relaxed. Soon enough it started getting dry and it felt sort of like a clay mask. I rinsed it off and noticed how bright and shiny my skin looked. It looked healthy, not dry.
Of course, after using face masks you need to moisturize, to replenish the skin and protect it.
Queen Bee Vitamin C Serum
This is where the Queen Bee Vitamin C Serum comes in.
It's made with:
3-O-Ethyl Ascorbic Acid- A derivative consisting of vitamin C with an ethyl group that increases the stability of the compound when used in products
Honey- A potent antioxidant with healing and skin soothing properties
Citrus Aurantium Dulcis (Orange) Peel Oil- A skin condition agent from sweet oranges
Mica- A natural occurring mineral dust that has reflective properties (it shines)
Bee Venom-remember this is the star ingredient here
Now, serums have a special place in my heart, I could probably survive without facial masks, but not without serums. Serums are for my skin what Idris Elba is to my eyes, necessary.
Why do I need serums in my life?
They are water-based, light, fast-absorbing liquids that leave out ingredients like petrolatum, mineral oils, lubricating and thickening agents. That means that you are left with a high concentration of active ingredients, like antioxidants and peptides (umm thank you skin care universe). What you don't get is greasy feeling or residue. Serums are designed to be applied before heavier moisturizers if you live in mild to cold climates or if you have mature or dry/combination skin.
If you have sensitive skin you might want to wait some 10 minutes before applying the serum, since damp skin accelerates product penetration. Also, if you have eczema or rosacea skin, serums are not recommended for you because the skin will absorb the serum too quickly and might cause irritation.
For me, with combination/oily skin living in the tropics I almost always wear serum as my only moisturizer and it works perfectly.
You say serums are too expensive?
Well, higher doses of active ingredients cost more than thickeners, but because of the serums absorbing abilities (serums are made of small molecules that are easier to absorb and penetrate the skin), a bit of product goes a long way too. Remember that their liquid texture makes it easier to glide on the skin, so you don't have to pour out a lot to spread it everywhere you need it.
Serums are just super-efficient, they pack the ingredients the skin needs in a small amount that is absorbed easier. So, you're basically paying for quality over quantity, where a pea sized amount is enough.
This is why I love serums and I decided to try the Queen Bee Vitamin C Serum. But I also have to add that the vitamin C part is very important for me.
Vitamin C provides many skin benefits:
Evens out skin tone

Shields from visible impacts of pollution

Improves hydration

Brightens skin
This powerful antioxidant has many forms, and the newest form is 3-O ethyl ascorbic acid.
Because it's such a potent antioxidant it is recommended for people who receive a lot of sunlight, like me, to fight all the free-radicals. I've been a beach-goer since I can remember and even before that according to all my baby pictures, so sun is a part of my life. When I was in my 20's a esthetician told me very clearly that since I like the sun so much (I went to the beach about 2-3 times a week until I was about 25 years old), I would need vitamin C skincare products.
In my youth induced ignorance I thought she was exaggerating, but she wasn't and now I use vitamin c serums all the time.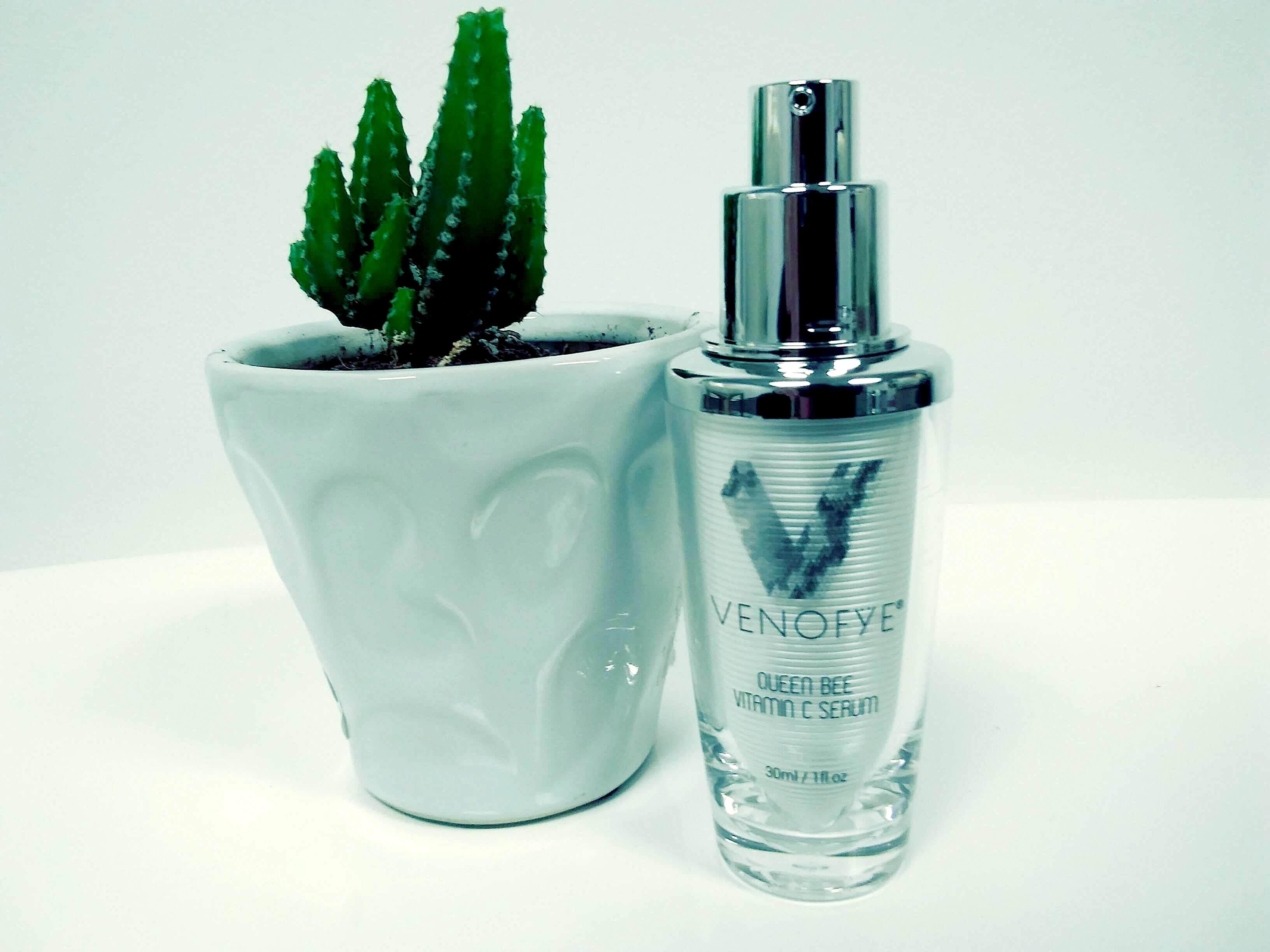 After I used the Orchard Bee Elevating & Balancing Mask, I let my skin dry and pumped a bit of the Queen Bee Vitamin C Serum into the palm of my hand and glided it easily over my face, neck and décolleté. My skin felt hydrated but not heavy or greasy, and when I woke up next morning it still had a healthy shine but not greasy (which happens to me when I use heavy moisturizers). This serum has been added to my nightly skincare routine.
Vitamin C products and all antioxidants will lose their potency if exposed to air and light, so packaging is important. Air-restrictive bottles and pump containers are the best option to keep the ingredients stable.
The Queen Bee Vitamin C Serum comes in a pump container inside a box, so you can leave it in the box if you want to be even cautious. I have it inside the box, inside my bathroom drawer, my precious.