Finding a solution for the aging effects of smog, a dry climate, and the everyday stress of living on the skin is nearly impossible. I am always willing to try something new, if only to find the 'one.' Frying my long-ago teenage skin to fit into the Southern California lifestyle and having had experienced even more over-exposure to the sun throughout quite a few years of raising a pack of swimmers and lifeguards,  my fair skin has become a little wrinkled, very freckly and, yes, even a little damaged! With my wide brimmed hat and my clear zinc sunscreen that go with me wherever I go, I am not a very glamorous picture at all. 
I was looking forward to trying a sophisticated moisturizing product with collagen in it and given the chance to review two new products from Lavelier. My thirsty skin was waiting for this! I am happy to announce that these two products usher in a feeling of indulgence, elegance and beauty. Collagen Firming Complex, a light moisturizing lotion, and Coralline Collagen Boosting Masque, a rejuvenating and skin softening mask, arrived ready for a quick two-week appraisal and review.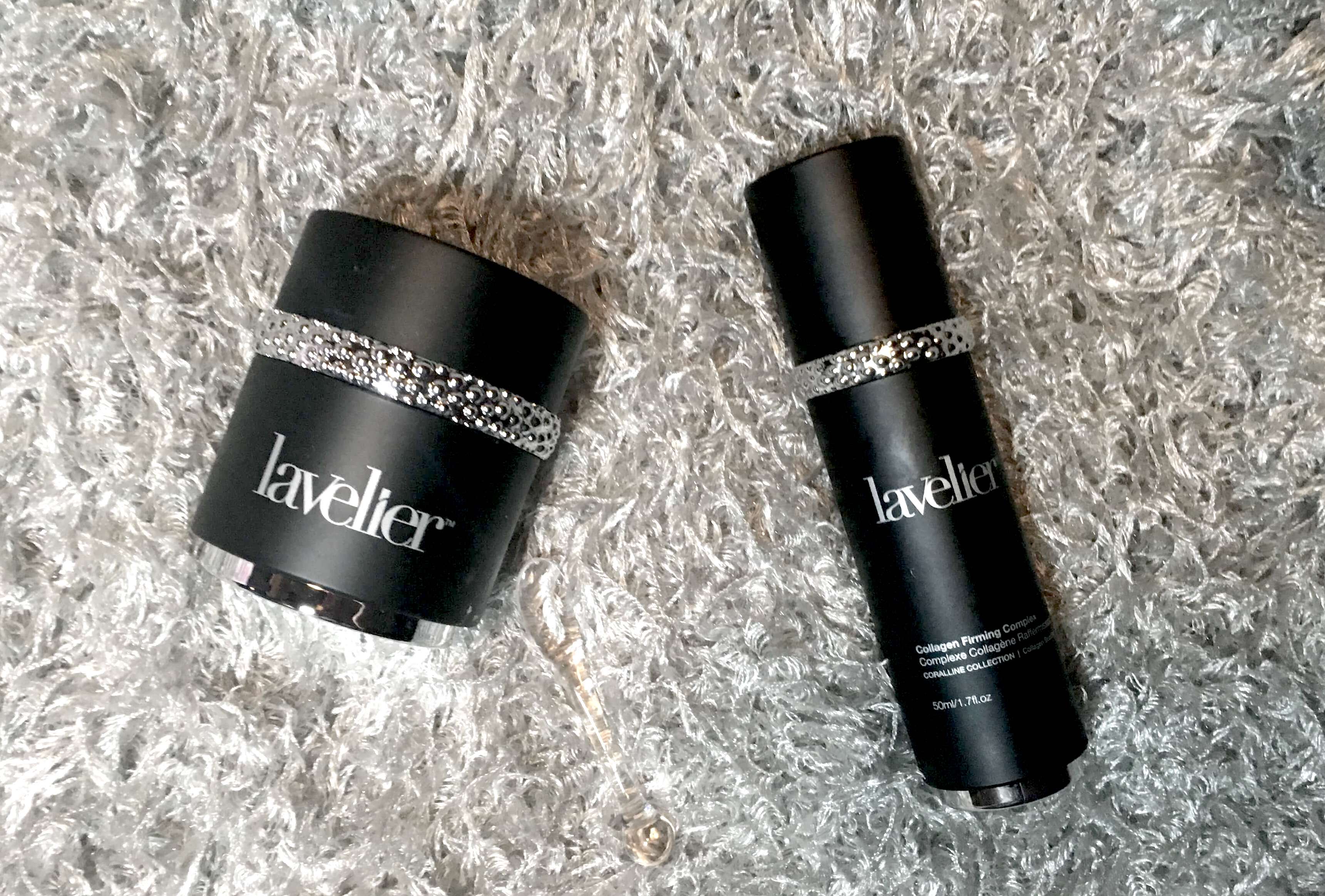 We are all in need of a little luxury and Lavelier delivers on the unspoken promise to pamper, from its elegant packaging to the first lush application, leaving this lucky recipient with a renewed sense of value and glowing soft skin, too!   
The Ingredients
The main benefits of using these products include: the promise of rejuvenation,  protection, moisturization, and the brightening of tired skin. These products are best used by someone whose skin needs the boost that collagen provides. Even normal everyday exposure to the sun depletes collagen levels in the skin. This means that things we take for granted in our sun-worshipping youth such as skin elasticity and smooth, firm skin, will inevitably decrease as we get older. Smog, stress, diets, and even lack of sleep can affect our skin. Specific ingredients in skin products such as Collagen, Coralina, Sunflower Oil, and different vitamins help with the skin's elasticity and firmness. By including Soluble Collagen and Hyaluronic Acid in the Collagen Firming Complex, this product can offer tired skin a refreshing and much-needed energy drink. My thirsty skin immediately said, "Yes please!" I was eager to try it along with the accompanying masque.  
The Coralline Collagen Boosting Masque includes such skin boosters as Coralline, Collagen and Sunflower Oil. With its antioxidant properties and Vitamins E, A, and C, and Sunflower Oil are all known to boost firmness, while decreasing redness. Coralline is type of algae, an extract of the calcified seaweed called Coralina. It helps skin cells to accept moisture and 'plumps them up.' According to an article in Consumer Health Digest, Sunflower Oil has been shown to be effective in 'alleviating a number of skin conditions including dryness, acne, sun damage and premature aging' (ConsumerHealthDigest.com; 5 Amazing Benefits of Sunflower Oil for Healthy Skin). These are some of the ingredients in these products from Lavelier make up a recipe for invigorated, healthy, beautiful skin.    
First Impressions
The moisturizer, appropriately called 'Collagen Firming Complex,' arrived on display in an elegant box all of its own. Packaged like a beautifully wrapped gift, the bottle was nestled inside the elegant box like a piece of expensive jewelry. The outside of the box had a black matte finish with a silver chrome edge around the middle, almost like a ribbon.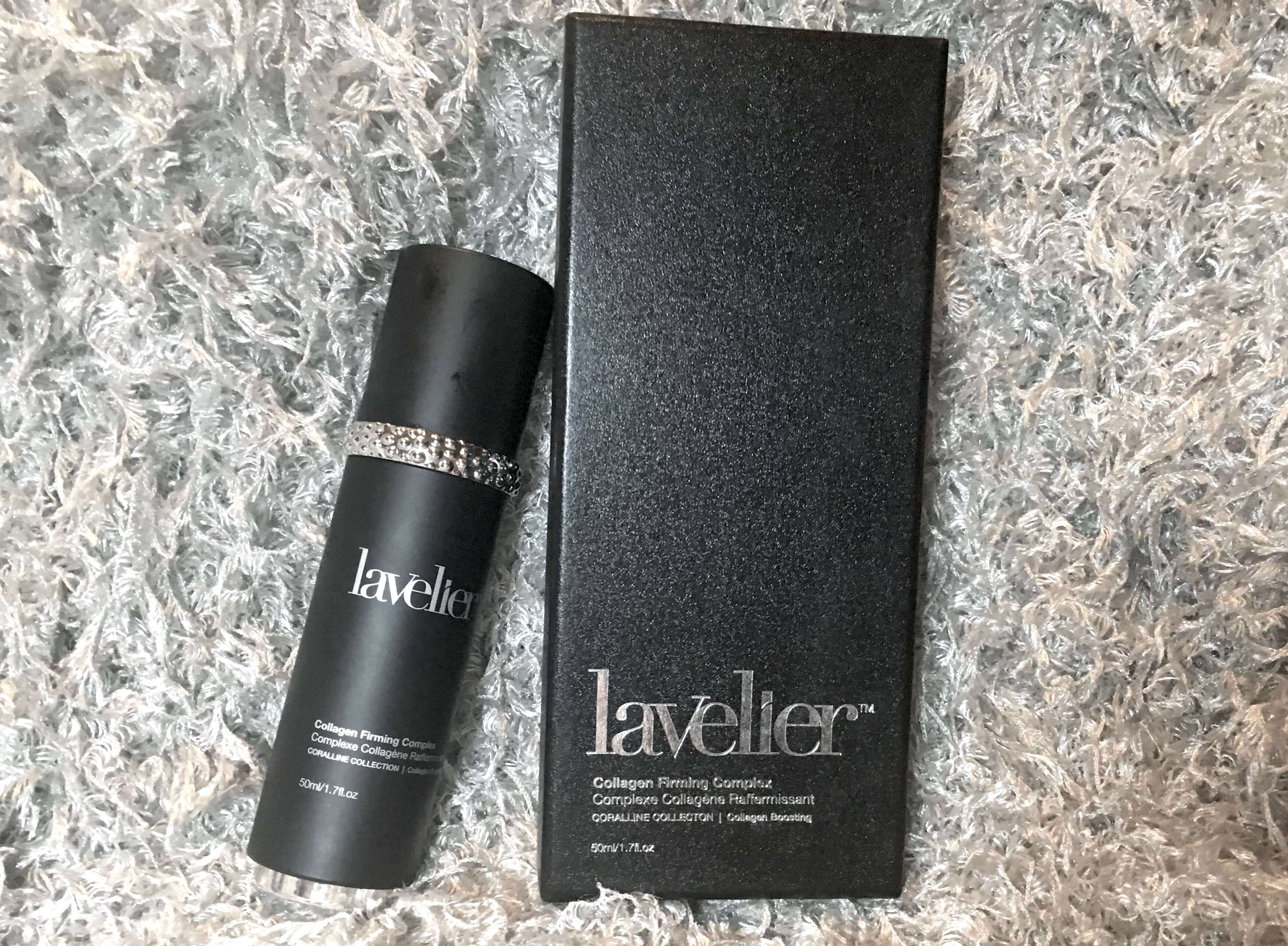 The inside of the box was shiny silver chrome, like a polished mirror on a dressing table tray, and perfectly complemented the elegant contents inside. The slim bottle was a beautiful black matte cylinder with a shiny narrow silver band with raised small bubble around the edge of the lid. The word Lavalier, written in lower case letters in a matte silver, looks truly inviting. It makes a wonderful first impression, quietly saying to me, "if you think I am beautiful, just wait until you try me. You will become a beacon of  understated glamor, just like me." 
As a life-long seeker of the perfect moisturizer and resident of this drought-plagued portion of the United States, I am always looking for something that fills this void in the world of beautiful skin products. I found myself eager to use this elegant product and become elegant myself! Upon opening the Collagen Firming Complex, I found that it had an enchanting small chrome pump. The moisturizer had an almost non-existant clean paper-like scent that was pleasant and faded quickly, which is a good thing when you are putting it on your face. Unfortunately, the pump did not work – when I unscrewed it I found that it had no stem and was broken! But I was still able to sample the moisturizer and found that it had a pleasing light consistency and was not heavy or sticky.  
The Collagen Boosting Masque arrived in an equally beautiful container. Just as understated and sophisticated on the outside with the same shiny silver chrome interior, this design perfectly set off the small black matte jar with a hammered silver ring around the middle.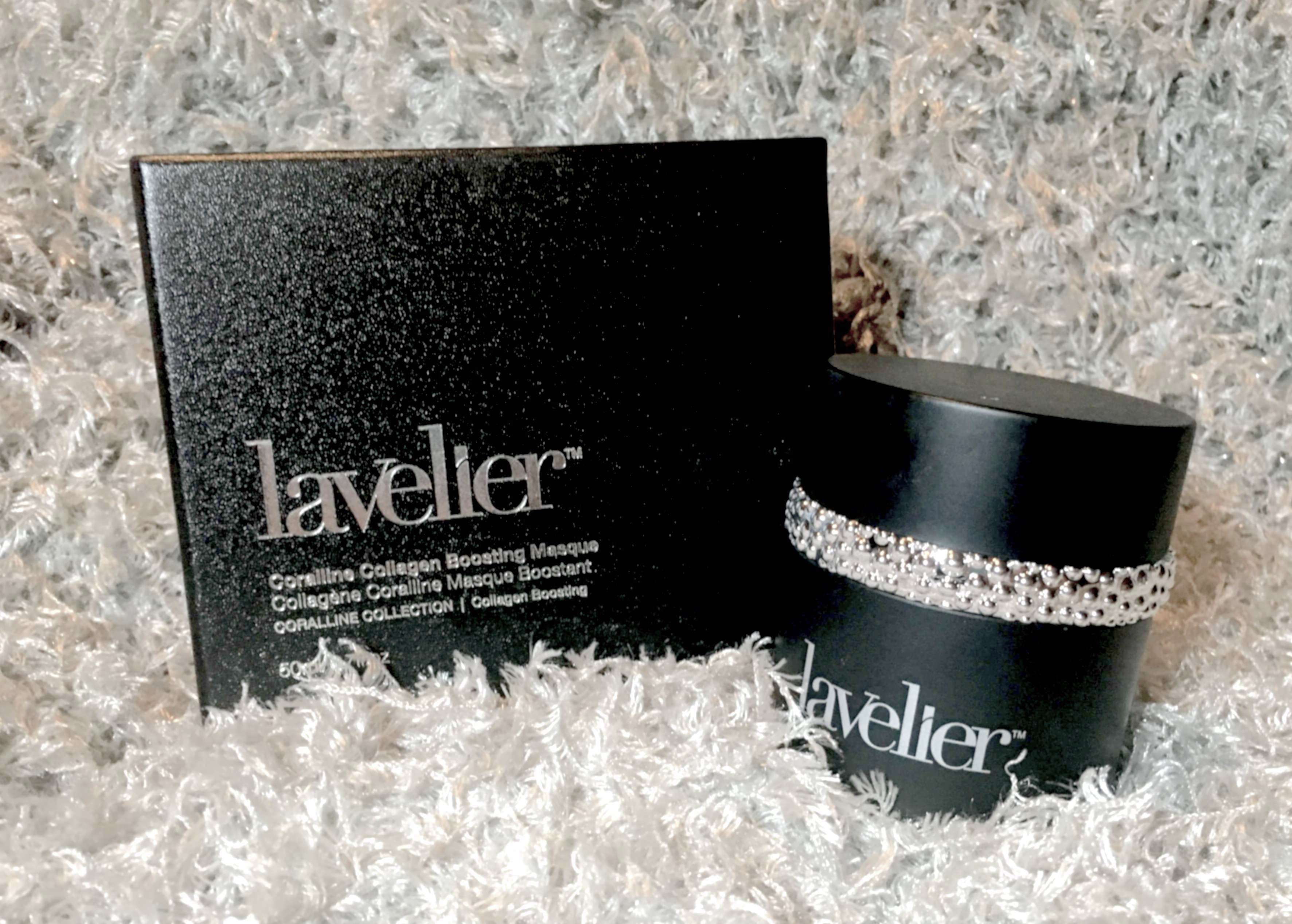 The jar was carefully fitted into the black matte box and attached alongside it was a crystal clear small spoon to use to spread the mask (no need to get the masque all over your hands). The name of the product, Lavalier, was written in the same elegant silver lowercase font as the moisturizer, giving the product an immediate identity and an air of spa-like luxurious quality. Opening the lid I found the product sealed with a secure lid to pull off, assuring me that the contents would not be spoiled. It was easy to remove and did not leave any residue or paper around the edge of the jar. The masque was the calming color of cream and smelled delightful with a faint hint of fresh summer linen. 
Living in a hot and arid climate that alternates with sometimes humid yet cool coastal fog, I am an avid moisturizer seeker. However, the moisturizer cannot be too heavy because of the mood swings in temperature – the weather doesn't always play nice. Over time, I have tried many products. Having sensitive skin that is prone to break out, even in these years that are putting distance between my youthful skin and energy, makes me equally wary of new moisturizers with ingredients that my skin has not yet experienced. I replaced my usual moisturizer with the Collagen Firming Complex for two weeks. I did have to shake it out of the bottle because the pump was broken. A little bit went a long way – it was light and spread evenly without being heavy or sticky. It dried quickly, leaving my skin feeling firm and tighter, but not too tight – just the right balance.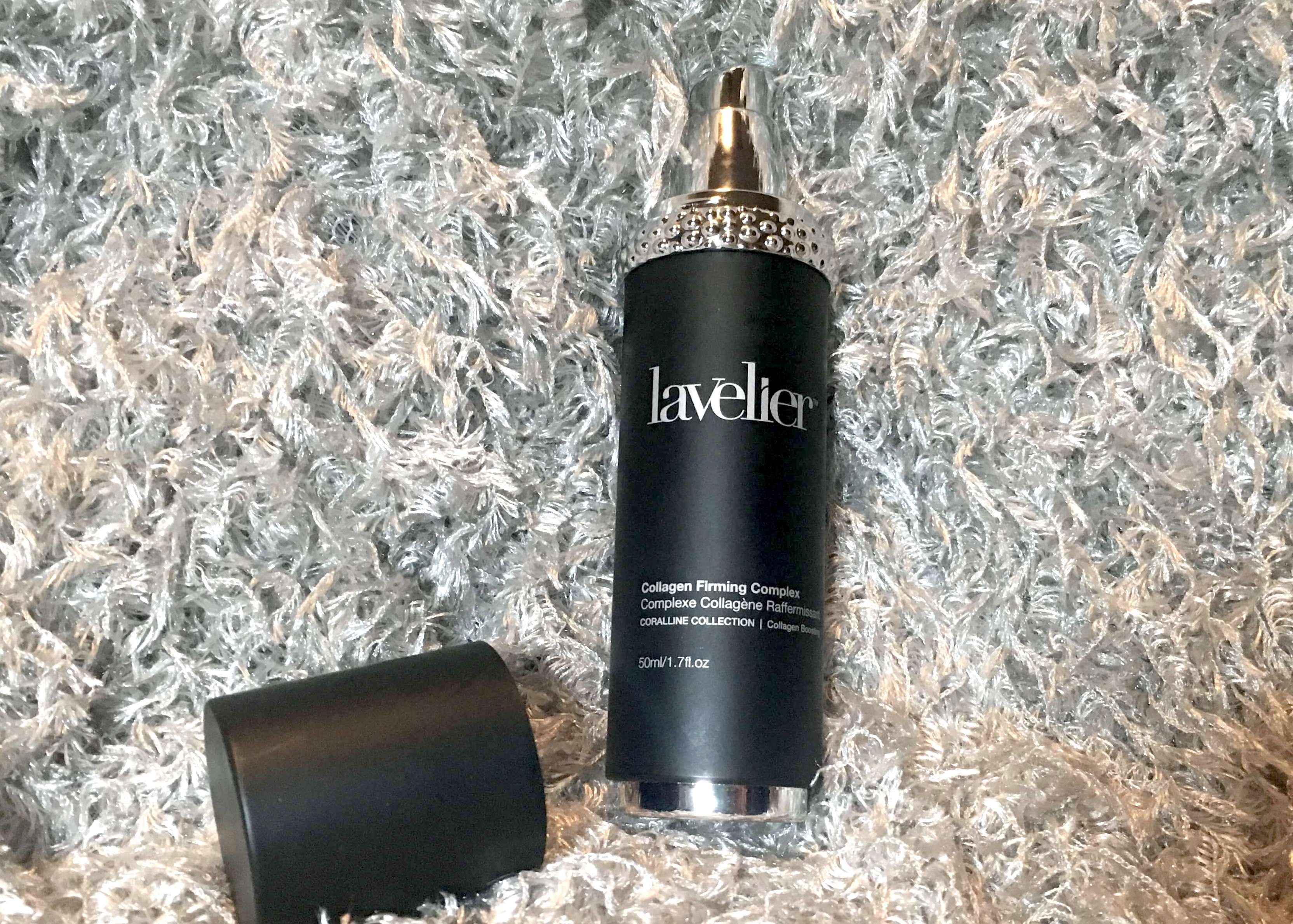 This product does have the balance that is needed between scent and substance and the way it feels on the skin when you first apply it. I was surprised because I was used to a more oily type of moisturizer and this one is definitely not oily. It did not leave my skin shiny or take forever to dry. I would be interested in trying it in the heat of summer and on a day with a little more humidity to see how it responds with that. It seems it would pass that test with flying colors. I find that it is difficult to find a product that can moisturize and feel light on the skin at the same time, but the Collagen Firming Complex actually does this.  Another plus was that the bottle was very elegant, much more than I am used to, and I felt very pampered using it.  
My first impression of the Coralline Collagen Boosting Masque was that using it was fun. The little spoon applicator was just the right shape and size and made applying the masque easy, plus it was pretty and looked like glass. The consistency of the masque was like peanut butter or a light buttercreme frosting. It went on very smoothly and did not crack or clump. I was very impressed.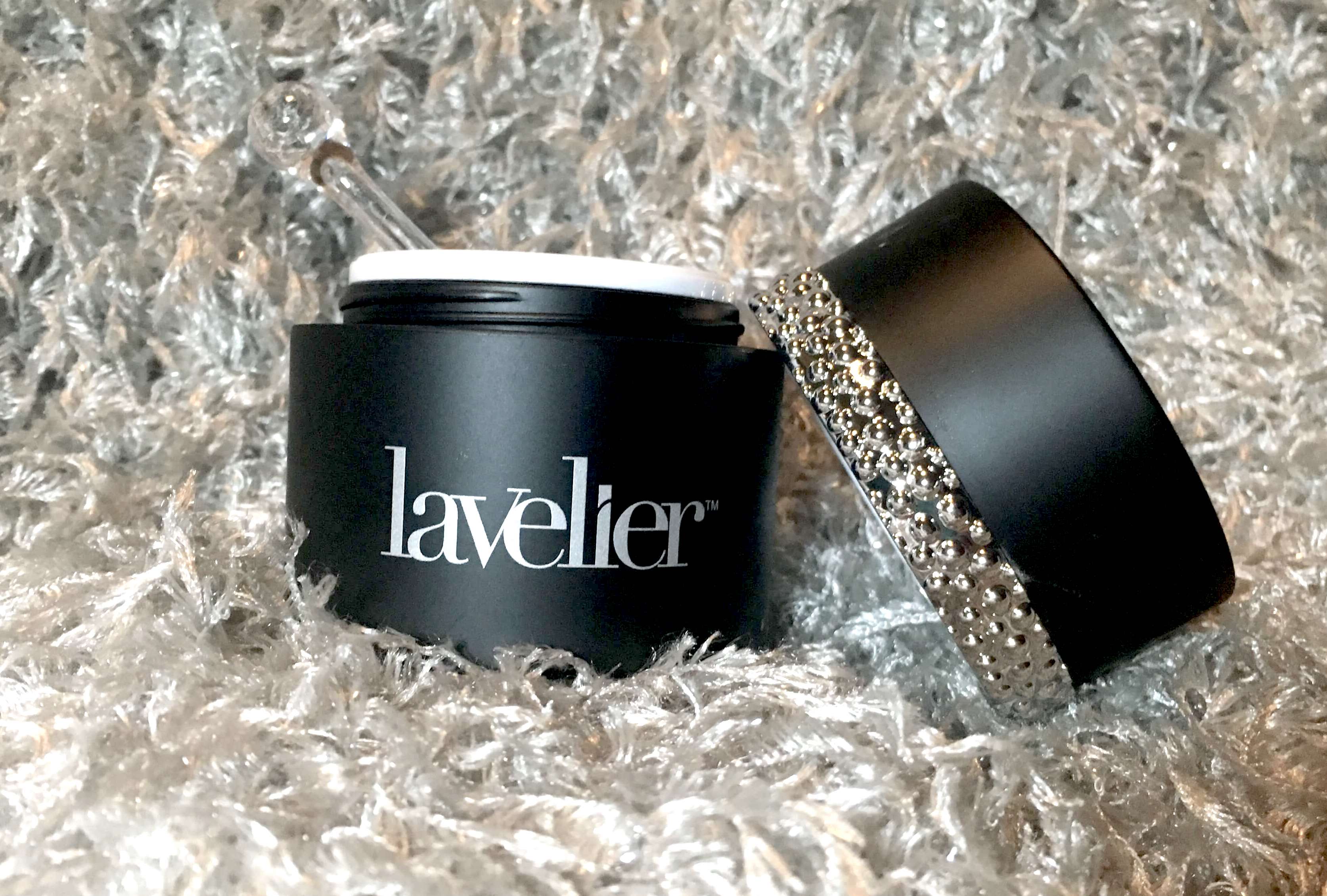 The applicator's shape allowed me to keep it out of my hairline, which I appreciated very much. While wearing the masque my skin felt invigorated and cool – it felt like an expensive spa day in my own suburban bathroom! The masque rinsed easily with cool water and my skin felt soft and clean afterwards. I would definitely rate the quality of this product very high. It was not a drug store mask, it was a 'pamper me – day out at the spa with a glass of wine' mask. Only I didn't have to go anywhere and I didn't have a glass of wine because I did not realize that I had that kind of masque!      
Two Weeks Later
After two weeks of using the Collagen Firming Complex, I have not noticed much change in the elasticity or firmness of my skin. On the plus side, it does seem softer and my skin did not react poorly by breaking out or producing a new galaxy of blackheads. The Collagen Firming Complex dried quickly allowing me to not have to wait long to apply my liquid makeup foundation. This product also works well with loose powder because it dries quickly and evenly and did not leave damp spots that attracted powder. This matters greatly to me because I usually wear loose powder instead of liquid foundation thanks to my freckles I was hoping that the crease in my forehead would diminish, but I think only botox could do that and it would have had to have been a process started way before I had children. The fine lines around my eyes are still there too, but I was not expecting a miracle. I do think they are there from smiling too much, another kind of wrinkle caused by children and the gift of aging itself.
The Coralline Collagen Boosting Masque is a once a week product so only two applications have been reviewed. The masque makes me feel pampered and even a little self-indulgent. My skin feels soft, smooth, and clean without the tight feeling of being stripped of every shred of moisture that so many products like it leave behind. The package is elegant and sophisticated and makes me feel like it is a special occasion when I use it. I appreciate that so much – in a world of too much media and information, even the extravagant can seem mundane. This product achieves the goal of setting itself and the lucky one using it above the noisy library of beauty masks available today. The coolness of the masque, the easy rinse, and the clean soft feeling after using the masque make it easily adapted into a skin care regimen.
Overall Impressions
On review, the high standards of the Lavelier brand are evident and these products are a welcome addition to anyone's skin care regimen. The benefits of using products with Collagen as an ingredient are listed all over the internet, ranging from promises of fewer wrinkles to younger-looking skin to the promise of softer, more elastic skin. While nobody can turn back the clock, the use of Collagen has been proven to improve these qualities in skin. Coralline, Hyaluronic Acid, and Sunflower Oil are other ingredients that improve and nourish aging skin. Aging and external stress is inevitable, but using these products can help skin of any age glow with health.  
As a Southern California Girl, I know that a good moisturizer in a dry climate is a necessity – finding one with quality ingredients that agrees with sensitive skin is another matter. Lavelier's Collagen Firming Complex refreshes the skin with its light consistency and pleasant smell, absorbing quickly and leaving the skin feeling moisturized and firm. The packaging and elegant bottle bring the message to the product's recipient that they are valued and special. All in all, it is a quality product inside and out.  
The Coralline Collagen Boosting Masque is another beautifully packaged high-quality product that indulges the recipient with a 'Spa Day' at home. There are many masques on the market but the unique packaging and beautiful container visually set these products apart. The ingredients pamper and invigorate the skin without drying it out and leave the skin soft and smooth – a welcome result for this California Girl.