For the past several weeks, I was offered the opportunity to test a few new products from an unfamiliar brand – Vivo Per Lei.  Specifically, I was asked to review two pieces – the Collagen & Avocado Mask and the Mineral Mud Body Scrub. Although I haven't previously used this brand or either of these types of products in my routine, I was excited to give them a try.
After using this product as directed for three weeks, here are my initial thoughts and final impressions.
About the Products
The Vivo Per Lei Collagen & Avocado Mask is a lush, unique sheet mask designed to plump the skin and smooth away fine lines and wrinkles.  Each package comes with five individually packaged facial sheet masks for one-time use as needed.
Product Usage
This lush product was crafted to be used in your routine on a weekly basis, with each individual sheet masking offering a single use.  For optimal results, it should be applied on clean, dry skin and smoothed over it until it is fully adhered.  According to the directions, this mask should set for 15 minutes before you remove and discard the sheet and rinse away residue with cold water.  
Features and Benefits
This unique product packs a powerhouse of features and benefits that are designed to give you the perfect spa treatment in the comfort of your own home.
Each mask is infused with richly moisturizing properties and anti-aging extracts to help reveal youthful, glowing skin in the user.  These ingredients include skin care superstars such as soluble collagen and avocado oil as well as other botanicals to help firm and smooth the skin.
The mask adheres easily to the skin upon pressing it in.  Additionally, there are holes cut out for the eyes, nose, and mouth so that you can use this mask comfortably whenever you need to.
First Impressions
When I first opened my package and pulled out the Collagen & Avocado Mask, I wasn't sure what to expect.  I hadn't heard of the Vivo Per Lei brand before but have definitely heard about the power of both collagen and avocado in helping fight the signs of aging!  I was very excited to give this sheet mask a try.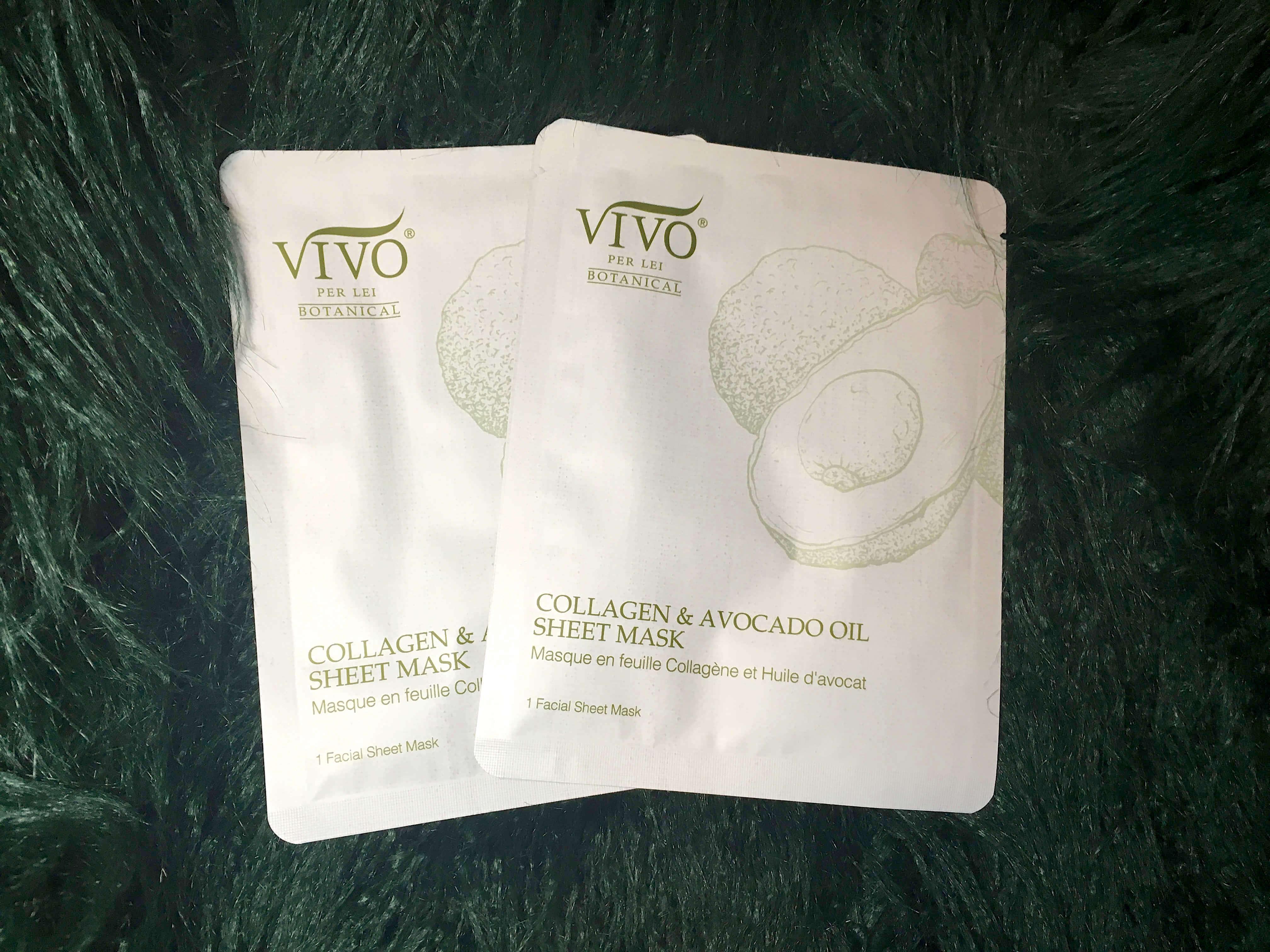 The Packaging
The outer packaging was very simplistic in design, pretty much what I would expect from a natural skin care company.  It was a soft off-white color and featured a (rather frightening looking) woman on the cover wearing the sheet mask.  I did appreciate that the brand called out that each mask for a one-time use and listed how many came in each package.  As a customer, this would make it easy for me to figure out what kind of value I was getting when purchasing this product rather than wondering how much I was spending per mask.
The inner packaging was a little more appealing than the outside unit carton for me.  Each individually wrapped sheet mask came in a light grey package that featured naturalistic green artwork featuring avocados.  Again, the number of sheet masks was labeled on the outside of the package, eliminating any concern that I was being wasteful with my usage.
The Texture
Upon opening the individual package and pulling out the first sheet mask, I was immediately taken aback by how it felt.  As someone who has never used a sheet mask before, I always had assumed that they would feel dry and airy, almost like tissue paper.  However, what I pulled out of the container was thick and sopping wet with product!  The sheet mask itself had a super soft texture that felt like it would hold up well while adhering to my face without falling apart or leaving residue behind.
The Aroma
This product definitely has a light and airy, almost clean aroma.  It did have a slight chemical smell when I first opened the sheet mask outer packaging, but this faded away fairly quickly once I pulled the sheet mask out.  While wearing it, I didn't really smell much of anything other than a light savory oil aroma that came and went over the 15 minutes.
The Application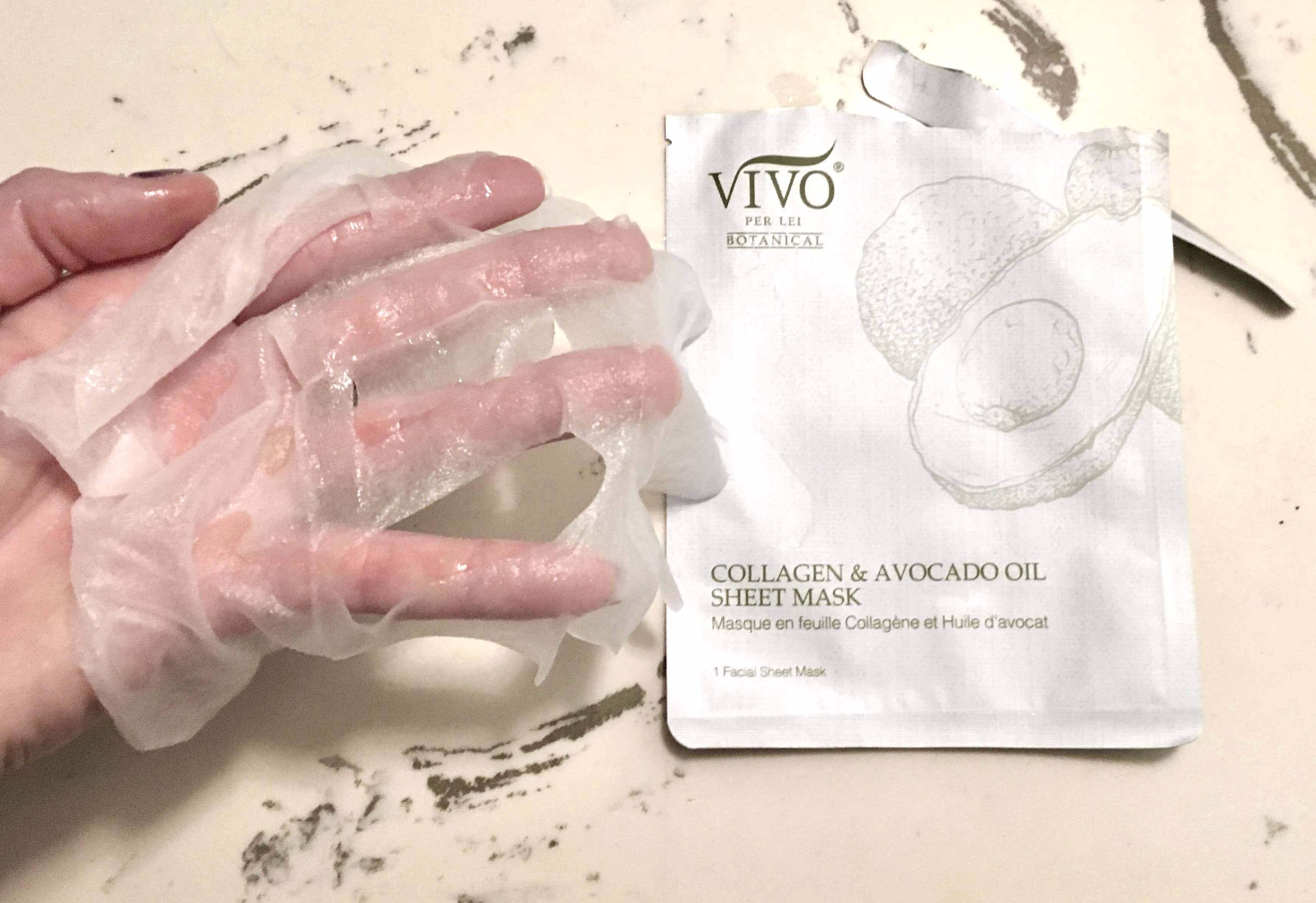 My first application of this product to my face was definitely tricky.  Since each mask comes folded up in an individual container, I was initially concerned that I would rip it apart as I unfolded it.  After delicately peeling it apart and figuring out where the eye, nose, and mouth holes were, I very carefully applied it to my face, pressing it into the skin softly and praying that it would adhere.
Much to my surprise, this sheet mask clung to my skin immediately and stayed there for the entire 15 minutes – it could probably have stayed on even longer than that if I really wanted to test that out.  It was easy to smooth out, too, without peeling away or falling off of my face.
The Effects
As someone who has never really used a sheet mask before, I wasn't sure what to expect in terms of effects.  The Collagen & Avocado Mask promises plumper, more hydrated skin and anti-aging properties galore.  I know I wouldn't see more youthful skin after a single use, but I was eager to see whether or not the other effects played out.
Upon first impression, the product that seemed to be dripping off the mask was a little off-putting.  However, feeling how it softened and hydrated my skin totally changed my mind.  After applying the mask for a full 15 minutes, I discarded it and rinsed my face with cold water to remove the leftover oils sitting on my face.  Once my skin was dry, I definitely noticed that it looked more hydrated and pretty radiant, too!  Whether it was the presence of the avocado oil on my skin or the other ingredients at work, it actually made my skin glow.  I was honestly taken aback.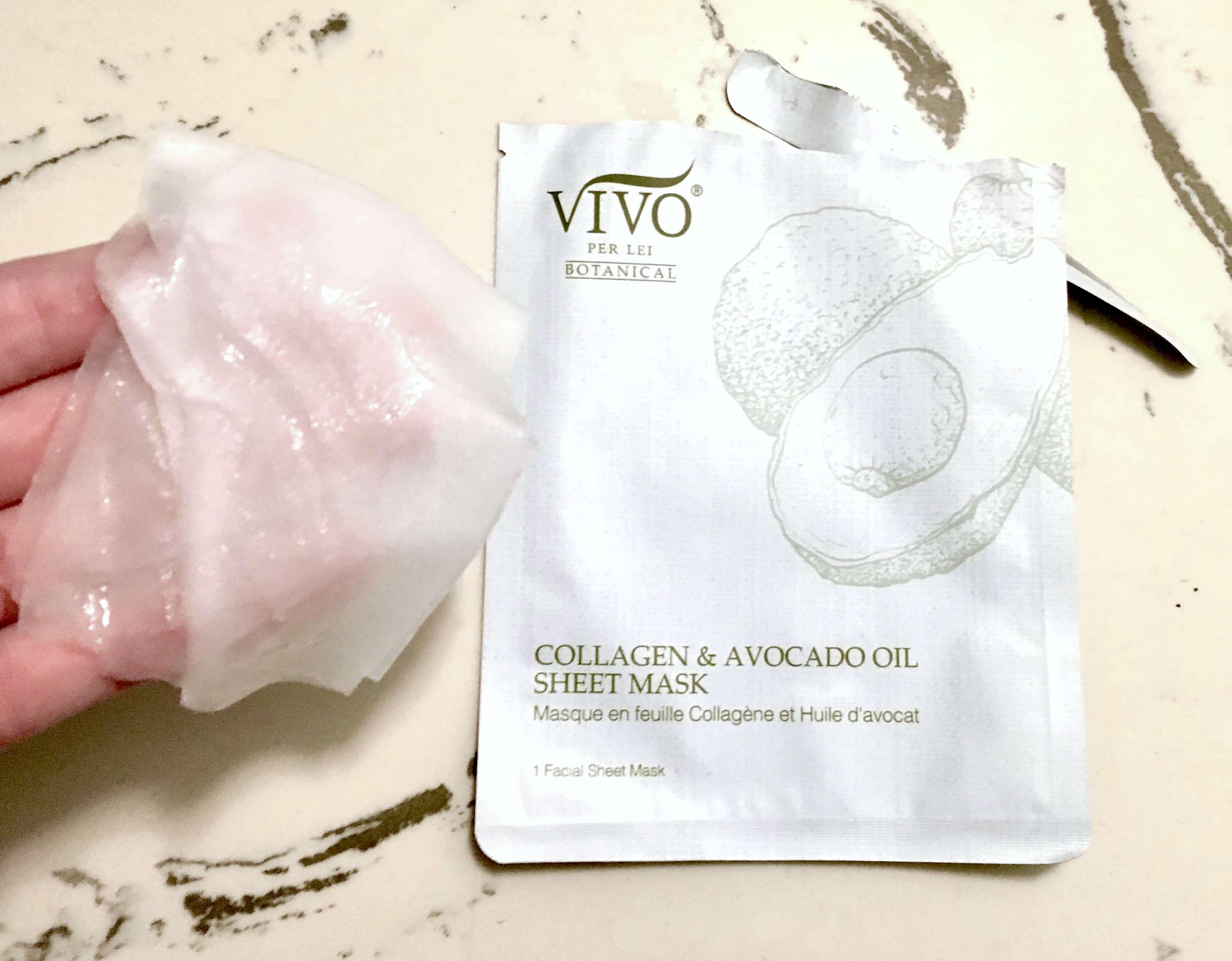 Overall Takeaways
All in all, I went into this test not knowing anything about sheet masks and having never tested one for myself – I was totally blown away.  Suddenly all of my friends' obsessions with this type of product made complete sense to me.  I can't wait to see how my skin improves over the next few weeks!
Later Impressions
Since you unfortunately can't really ever trust first impressions, especially when it comes to skin care, I decided to give this product two more weeks of testing, for a total of three weeks, to see if there was any further improvements in my skin or if any issues would arise.
One Week Later
After an additional week of testing the Collagen & Avocado Mask, I am happy to report that my skin is still radiant and my results are still positive!
The Effects
As from my initial test, my skin looked incredibly glowy and dewy after using this mask again!  I really could feel a change in hydration and the surface felt softer with a more even texture.  This effect seemed to hang around for several days after using the mask, which makes me hopeful that they will build up with long term usage.
Other Notes
Although my skin did really look healthy and radiant after this second application of the Collagen & Avocado Mask, I did notice that it became a little oiler later in the day than normal the day after it was applied.  This worries me slightly, as I tend to break out quite a bit when I have excess oil on my skin.  I'll have to see how next week plays out and whether my usage should be changed to every two weeks rather than every week.
Two Weeks Later
Upon testing out sheet mask number three, I did find some dissimilar results than before – mostly positive but definitely different.
The Effects
Much like the weeks before, I saw an increase in plumpness and hydration in my skin after using the Collagen & Avocado Mask once more.  However, this time around I did see more oiliness than before and found a few breakouts along my forehead and jawline.  I haven't changed any other aspects of my skincare routine, so this worried me slightly.
Other Notes
As I was guessing before, this sheet mask may be just a bit too hydrating for me.  After seeing breakouts following the third application of this mask, I will have to drop by usage moving forwards to every two weeks.  Hopefully this will resolve the issue and still let me reap the benefits of using this product in my routine.
Overall Takeaways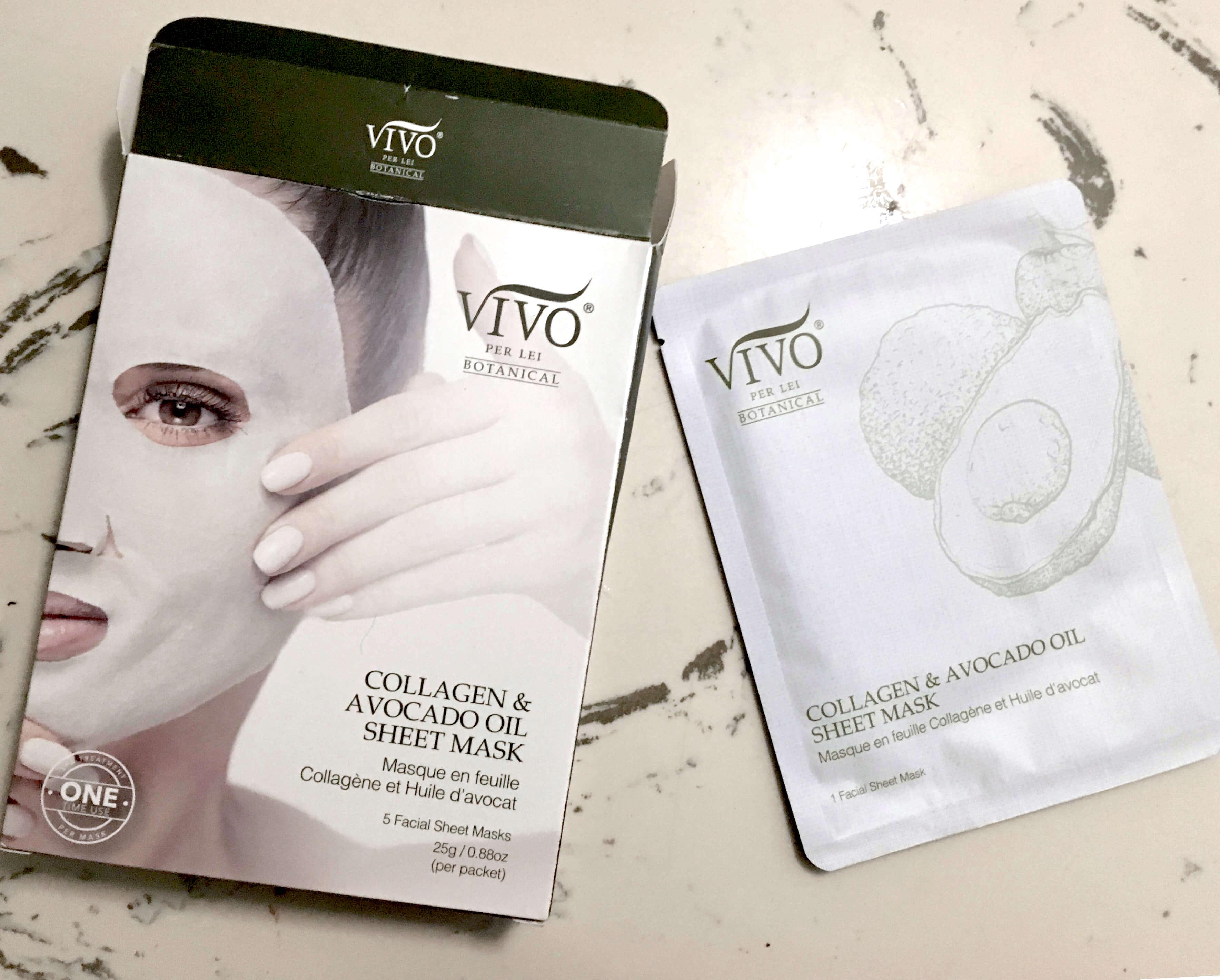 What I Liked About the Product
There are a few things that I really enjoyed about using this product in terms of usage and effects.
Firstly, I really appreciated well it adhered to my face for the entire 15 minutes that I was using it.  After my initial test, I had no fear about moving around while wearing it and managed to work on other things while my skin was being treated.
I also really loved that the sheet masks were individually packaged within the outer carton.  As someone who hates to be wasteful (especially when it comes to expensive skincare), this was a godsend.
Additionally, I loved the effects on my skin after just a single use.  I really did see a change in terms of radiance and hydration, and would love to see if any anti-aging effects make an appearance as I continue to use it.
What I Didn't Like About the Product
My only complaint about this product would be that it didn't work well as directed with my combination skin.  If there were customizable usage directions or suggestions for use based on skin type it would be absolutely amazing.
What Can Be Improved?
I only have a few real suggestions for improvement for this product.
Firstly, offer it in a larger size, too!  This package only lasts for five weeks with five sheet masks – as a busy young professional, I like to buy in bulk so that I don't have to think about running out of my favorite products until it is absolutely necessary.  If there was an option to buy 10 or 15 masks at a time, I would definitely be on board.
Additionally, it would be super useful to have a usage chart that is customized for different skin types to account for how this mask will react differently to oily, combination, and dry skin.  This would definitely help minimize the potentially negative effects that can come with continual usage, such as my breakouts, and help the consumer optimize their use of this product based on their own unique skin and personal preferences.
Who Would This Product Work For?
After testing this product for three weeks total, I can definitely say that it would be useful for a wide range of consumers.  Those with anti-aging concerns or with dry skin would benefit immensely from adding this product to their daily routine thanks to the hydrating oils and collagen.  It will also work well for those with combination skin like myself, but perhaps with less usage than recommended.
On the other hand, I would not recommend this product for those with oily skin.  Even with my combination skin, I found it very quickly changing to be slick oily after using it as directed only a few times.  Nothing else in my skincare routine was changed, so I believe this sheet mask to be the culprit.
Final Thoughts
All in all, this product has created a brand new sheet mask addict out of me.  I loved the effects, but if I want to use it moving forwards I will need to figure out how to use it based on my combination skin.