All of us have at least once sat down and watch hours of makeup or hair tutorial, I don't know about you but I am guilty of this. I love watching how these people transform their hair into some weird work of art and yet make it seem so easy. Well, because of my addiction to these videos, and hair care I got my hands and some Evalectric products, the hair mask and the 4P Curler. But before starting with the 4P and some awesome and easy hairstyles for you try with it, I'll explain my own experience with these products.
The first product that I tried was the hair mask, because a little extra pampering before styling is always a plus.  But what is really a hair mask and why are they needed?
Why Are Hair Masks Important?
Hair masks are nourishing or moisturizing hair treatments that help your hair from inside out. These masks contain oils, vitamins, butters and hydrating ingredients that transform damaged hair. So why are they so important? Well if you have over processed, dull or damaged hair these mask work to counterattack against these giving you smooth, soft and shining hair.
But you don't only need to use a hair mask if your hair is over processed, dull or damaged like mentioned before. You can use a mask at any time even if your hair looks and feels healthy to give it an extra boost of hydration and moisture.
All types of hair can use a hair mask, do not worry if you have greasy hair, there are hair mask made and designed for every type of hair or some that are individually made for a type of hair. This one, in particular, can be used on all types of hair, I have oily and sort of dry-ish hair on the top of my head, my hair gets oily faster and on the bottom, because I style my hair so much my ends tend to be a bit dry and have split ends, reason why I go regularly to cut my ends but that is another story.
If you are worried that a hair mask will make your hair greasier have no fear, if you use just once a week it will be okay and will not make it greasier at all. If you have dry hair then you can use the mask 2 times a week for that extra boost of moisture.
My Experience with the Hair Mask
My experience with the Evalectric Hair Mask was fantastic, I have used various hair masks during my life, and I have to say this one has been by far one of the best and is most definitely in my top 3 favorite hair mask. After washing my hair as I regularly, you know the drill shampoo, rinse conditioner, rinse. I applied the hair mask on all my hair but focusing on my problem area my ends, I got around a quarter-sized amount of product to distribute around my hair. But please remember this everyone is different I used this amount of product because I have straight hair and its length goes right on top of my shoulders, so depending on your hair length and volume would be the amount of product you use.

After this, I rinsed my hair and let it dry naturally and even when it was still wet I could feel my hair was way softer. The next day the hair felt great and it was so easy to style because of how smooth my hair was.  Two or three days later my hair was still soft, I washed my hair as I usually do and it still feels soft while I write this.
Evalectric Hair Mask Main Ingredients
Out of the list of ingredients that this hair mask has I need to talk you about three because they are fantastic for your hair and are ingredients you should always search for when purchasing hair products.
    Argan Oil
This unique oil comes from a seed in Morocco, and it is proven to make hair softer, smoother and shinier.  Because of the multiple vitamins, it contains which means it is literally loaded with antioxidants that help restore and protect your hair. All of this together makes argan a PRO in fighting down that unwanted frizz and restoring your hair protecting it from having split ends.
    Panthenol
If you are like me and you are always reading the ingredients even if you don't know what half of them are, you most probably have read or seen Panthenol. So what is this ingredient, well panthenol is derived from Vitamin b5. This ingredient, in particular, helps restore moisture which prevents your hair from going dry, creating split ends and especially creating frizz.
    Olea Europaea (Olive) Fruit Oil
This oil is obtained from the fruit called – yes, you guessed it – Olea Europea. This oil, in particular, helps hair elasticity and reduces the potential of hair breakage. Just like the two other ingredients mentions this one also helps reduce frizz and give extra softens to your hair.
With just these three ingredients in it, I knew this was the hair mask that I needed and everyone I know also needed; this mask full-on works on restoring your hair and giving fantastic results. Air After using it once I saw results, because this I had to try it at least in one of my friends, and let me tell you that's just what I did. While I have combination hair, my friend has straight hair and a bit oily, we tried it on her hair because just as I mentioned before hair masks are good for all hair types. With just a bit of product I covered her hair and we waited for 5 minutes, rinsed and blow dried it and there was no such thing as frizz on her hair, it was easy to style and her hair looked so shiny and smooth that she promised to come back to my house just do the hair mask again.
My Experience with the 4p Curler
After using the mask I tried the Evalectric 4P Infinite Styling Set and let's take a moment to give thanks for this curler. This unique curler is all you need and want if you want to have perfect curls and waves. The 4P has one handle and four barrels, with just a click you remove one barrel and place the other. The barrel sizes go from 32/32mm, 25/25mm to 12/25mm & 9/8mm.  This provides you the versatility to change your hairstyles without having to have 4 o 5 curling irons around or plugged in at the same time to make a hairstyle.

The whole packaging is cute, if you are like me and love black then you will for sure love this packaging the barrels and handle are also colored black. This curling wand has several features; it has only two options to heat which its full capacity at 400*F and a red colored led light indicator to tell you it is on and heating. It has a 360 swivel cord, which makes hairstyling easy, you won't end up in a tangled mess.
All the barrels are coated in Teflon and it brings a heat-resistant glove so that you can style your hair with freedom and not worry one bit of getting burned like…well, me.
Another awesome feature this curling wand has is that it comes with dual voltage. What is this? Well, it means that it comes with 110-120V and 220-240V which makes it ideal for people that travel a lot. The curling iron will adjust to the voltage and will not be damaged and come on, tell me this is not awesome you can take this anywhere and have perfectly styled hair.
Now I can't end this article without giving you some hairstyles, for you to try once you get your hands on this awesome and one of kind 4P Curler.
Hairstyle #1: The Beauty Queen Waves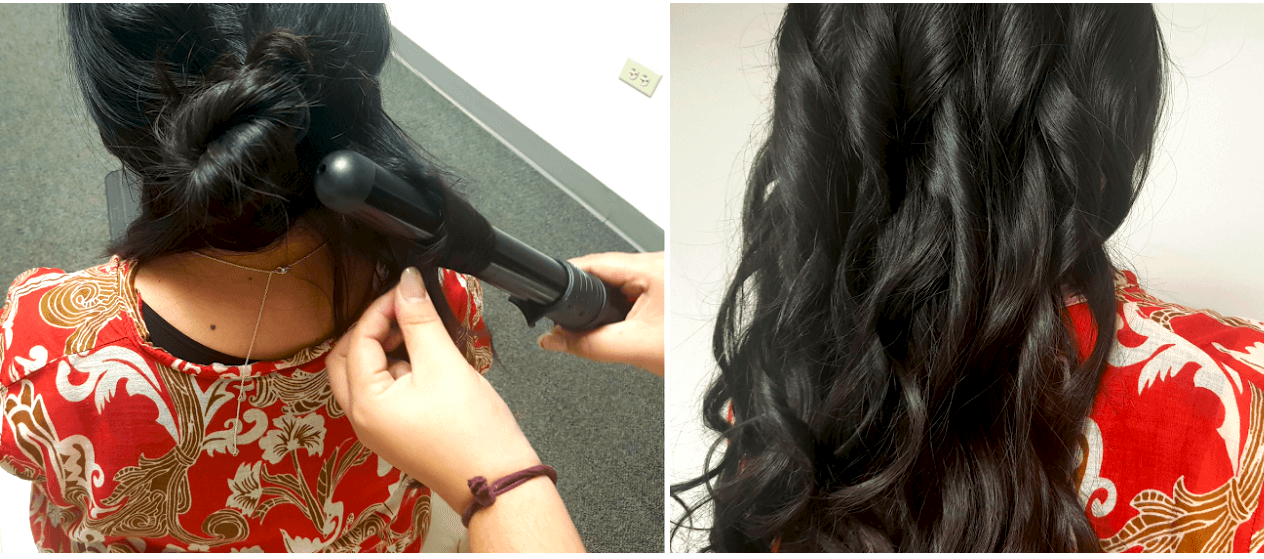 These big bouncy waves are easy to achieve using the 32/32mm barrel.
Step 1: brush your hair, this way you remove all the knots and tangles and it will make it easier for you to select hair sections. After this apply a heat protector
Step 2: Divide your hair in section and get a one or two-inch piece of hair and curl it around the barrel not to close your roots because you want loose curls not tight
Step 3: Continue doing this with all your hair and once finished with your finger comb through to make them more lose and apply hairspray.
Hairstyle #2: The Date Night Curl
With the 25/25mm curling wand, you can make some cute curls perfect for a date or just a night out with friends. These curls, in particular, are not too tight yet not lose to be called waves.
Step 1: Brush your hair, this way you remove all the knots and tangles and it will make it easier for you to select hair sections. After this apply a heat protector
Step 2: Starting from the back part of your head choose a one-inch piece of hair and pass it over the barrel and then under until all your is wrapped around the barrel, let it there for 10 to 15 seconds and release.
Step 3: After doing all this to your hair you can brush with your finger through your hair to make it more voluminous or leave the curls as they are, you can also place one side of your head a bit pushed back and place some bobby pins. Apply some hairspray to maintain a long-lasting hairstyle.
Hairstyle #3: The Shirley Temple Curls
If you are all in, into doing some nice vintage "old school" super tight curls the 18/24mm curler is the one you need to use.
Step 1: brush your hair to avoid tangles, and apply a heat protector.
Step 2: place the barrel near your root, not too near to burn yourself but near enough, so that your curl look nice, grab a one inch piece of hair and wrap it around the barrel hold it for 10 seconds and once you release it old it in your palm so that the curl can sit.
Step 3: After curling all your hair, apply some spray to maintain this classic tight curl look.
Hairstyle #4: Cute Tight Curls
If you want to achieve a curlier look, with small tight curls the 9/18mm curler is the one you should use.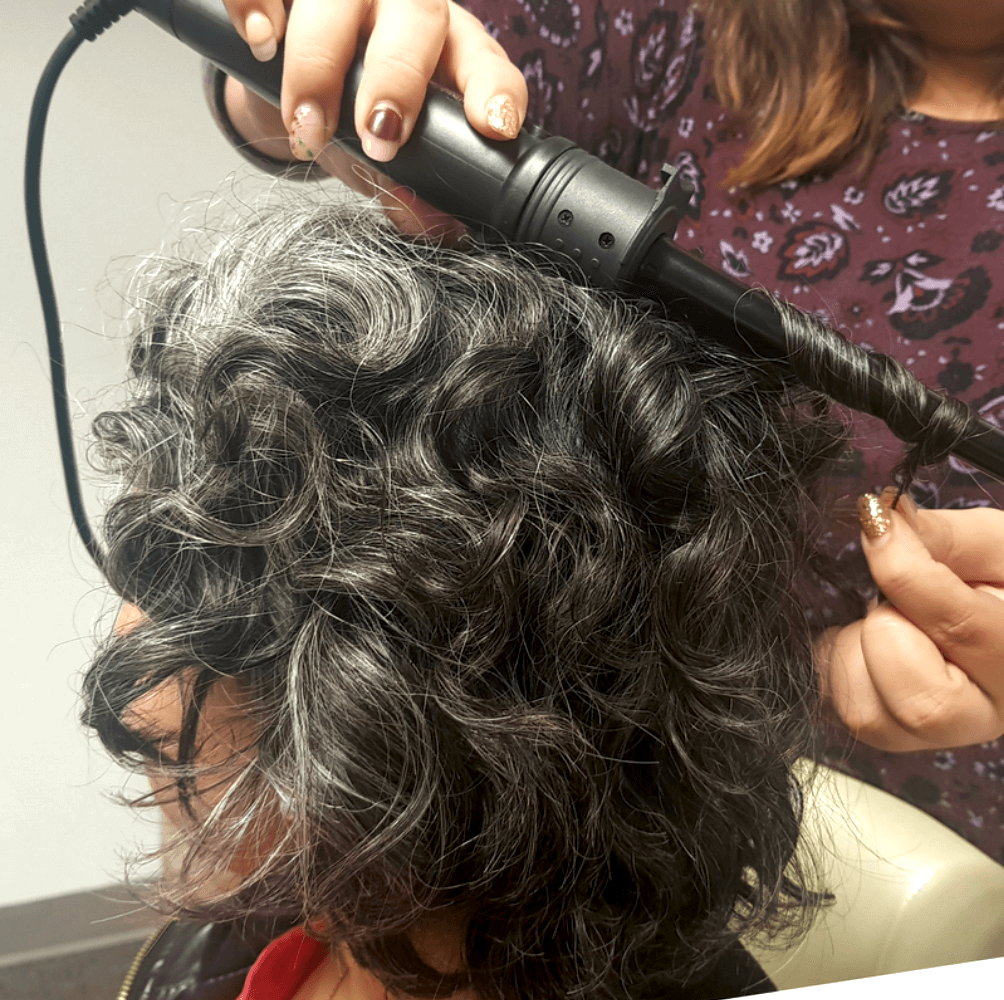 Step: 1: brush all your hair and apply a heat protector. After this, you can divide your hair into 2 or 3 sections depending on the amount of hair you have.
Step 2: grab a half an inch or a one-inch piece of your hair using the 18mm part for the part near your roots and wrap your hair around the barrel after 10 to 15 seconds release that piece of hair and continue with the rest of your hair.
Step 3: After you have done all your hair you can style as you please, you can divide it right in the middle, or style it to one side and apply hairspray or mousse to maintain these tight curls look.
BONUS TIPS
    Please remember to always no matter use a

heat protector,

your hair is your crown and you don't want it to burn. Heat protectors are important and if you love your hair please do apply it.

    If you want your hair to last longer, have a beautiful shine, and always like good please do use a

hair serum

you can use it both, before and after styling your hair, for that extra care.

    When styling your hair, use a

heat-resistant glove

, you don't want to burn your hands while making your hair pretty.
These products were amazing and as a mentioned before the 4P Curler is the only curler I needed and now have, this is all the curlers you wanted in just one package and it can't get better than this. After styling your hair you can apply a hair mask to help your hair recover from all the heat and products you used, it's called "extra pampering" you can know more about Evalectric awesome products clicking here.